A Perfectly Elegant Pair
Cute, elegant, versatile and sexy. These thigh highs with ruffles and bows are sturdy, soft, and one-size-fits-most. Read on to find out if they might fit you too! Then grab yourself a pair, or two. They're really a staple to any lingerie stash.
Published:
Pros:
Cute
Thick material
Soft material
Reinforced Toe
Garters unnecessary
Cons:
One-size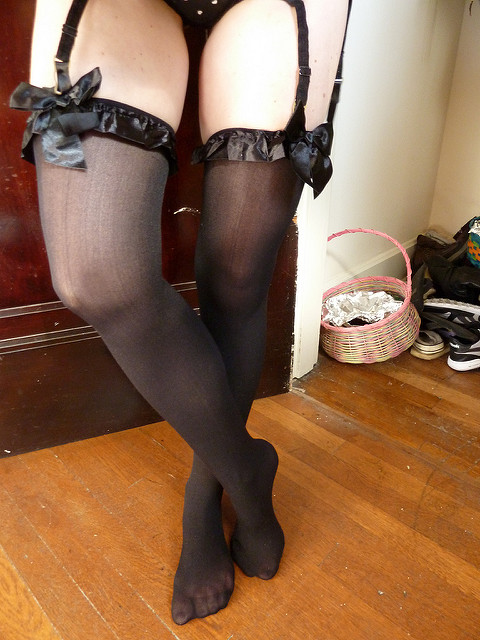 Sultry stems radiate in the luxurious light of Leg Avenue's Thigh Highs with Ruffles and Bows. These stockings are simply divine! With high quality material, silky accents and flirty features, you can't really go wrong. They're also universally cute, so you can pair them with a multitude of sexy outfits, to complete your look.
The stockings pull on smoothly, and even out your skin tone. They're not entirely opaque, but almost. The nylon feels soft and comforting against your skin. The silky accents at the top are high-quality as well.
I would've liked a bit wider ruffle at the top, perhaps 2" instead of the 1", to mirror the size of the ~3" bow. Still, I'm a perfectionist, and sometimes you just have to let things be less than
precisely
how you'd like them to be. A life lesson learned.
The stockings are thick, and won't snag easily by any means. My cat even attacked me in the ruffly stockings, and did no damage! Imagine.
Kitty claws VS. Leg Avenue. Leg Avenue wins.
I did notice other gals stating that their stockings came with frayed edges. No such thing happened to me, knock on wood. If yours happen to come that way, a quick run-over with the orange part of a flame should do a quick 'fray-check' job on them, and trimming of fly-away strands will be sufficient. My pair were solid and sturdy, however.
Stretched to my mid-thigh, these measured about 28" long. At their max, they'll stretch up to 35". So tall gals, you're in the clear. They will also stretch horizontally to comfortably fit a thigh circumference of max <20". If you're on the higher end of the circumference scale, leaving the thigh highs on for an hour or so at first initial wear will stretch them out. You may lose a bit of the ruffly effect, but they will fit better. Also, they won't dig into your thighs, creating an unflattering look.
As one-size stockings, sizing is always tricky. Through reading reviews of the hose, I noticed one gal at 180 lb found these fit her just fine. You'll want to measure your thighs to be sure they fall under the 20" max range before purchasing these. If they don't, you can always wear these lower on your thigh, or as knee highs.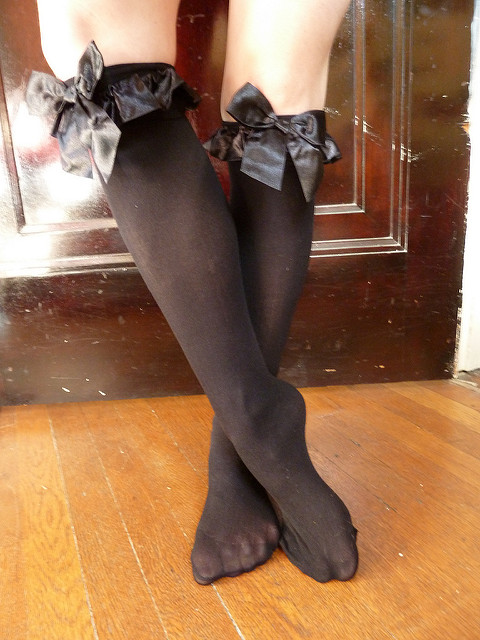 These were shipped to me in a simple, standard stockings package with a cardstock insert, and a wrap-around paper 'tag.' The tag did not go into much details regarding the product, other than its 100% Nylon content, and the suggested 90-160 lb suggested weight-range.
For care, you may handwash these in a gentle soap, and rinse them well. Hang to dry. Be sure to smooth out any wrinkles in the bow before drying them, or you'll end up with crimped bow-ends. You may take an iron on low heat to the ends if need be, once they're dry. Place a thin t-shirt between the iron and the satin bows to protect them from melting like the wicked witch of the West under pressure. Store these in a plastic bag to ward off pills, snags and runs.
Experience
A few more photos I found online showcased variations of these tights being worn in different ways.
As knee highs with the bows at the back
As thigh highs with bows at back
And with calf high boots
Cute, no? Told you they're versatile!
And
Leg Avenue's website
showcases many more varieties/colors of the same. You should really check it out. If you see something you like, you can always suggest that EF carry it on the
EF Should Carry thread
.
Pairing
These stockings are perfectly gorgeous paired with the following EF items:
Polka Dot Mesh Corset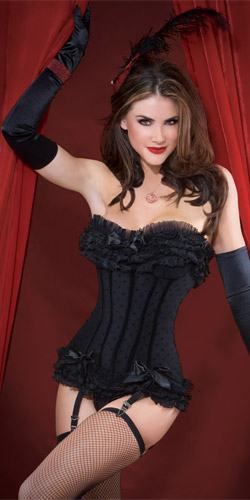 Bow Mesh Corset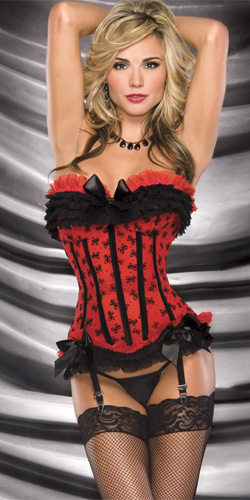 Bow Bustier by Coquette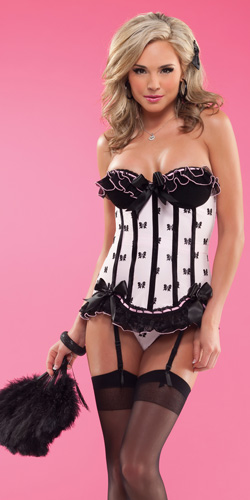 Polka Dot Mesh Chemise by Coquette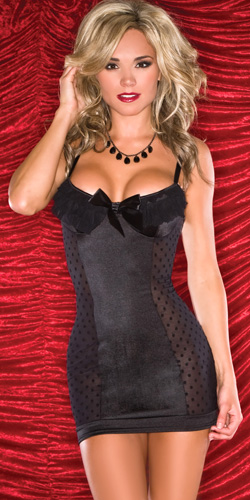 Above and on the
Thigh High with Ruffles and Bows product info page
, you'll find
some
videos
of me in them, with a couple favorite lingerie pieces. The cutesy flair on these thigh highs really make a statement, and complete a look.
This content is the opinion of the submitting contributor and is not endorsed by EdenFantasys.com

Thank you for viewing
Thigh highs with ruffles and bows
review page!