Stockings that are worth stocking!
These thigh highs are durable and comfy enough to be suitable for everyday use, while the adorable bows can spice up a romantic night. They will perfectly complement any lingerie collection.
Published:
Pros:
Reasonable price;
durable, soft, and comfortable material;
great stylish look.
Cons:
One size only;
the inward ends of ribbons get unraveled;
color is a bit washed (at least in mine).
I bought these thigh highs by Leg Avenue to complete the desired look for a photo session, but I also considered them suitable for everyday use, which, luckily, wasn't a mistake! They are a good-looking, beautifully-designed, stylish, and very comfortable piece of hosiery. They hardly have any smell, which also speaks for a rather good quality.
Those thigh highs come in a simple clear plastic bag with a cupboard insert.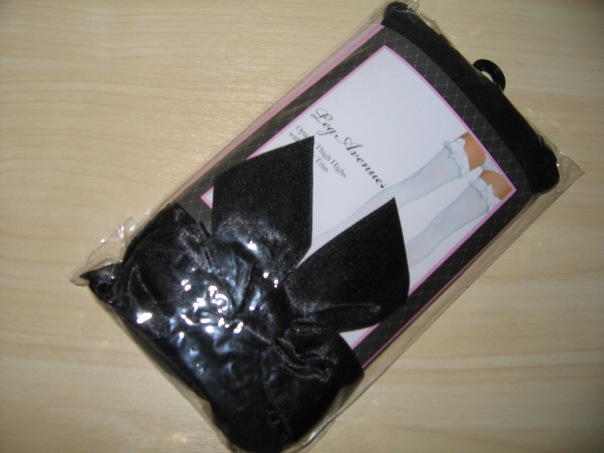 On the backside, there is some information about the product. As it is stated there, these stockings are 100% nylon, so don't forget to wash it in warm water only, preferably by hand. I would also highly recommend to rinse them very thoroughly. Nylon is quite sensitive to chemicals, so make sure no soap remains on the material. Try to avoid using strong washing agents and chlorine bleaches as well. When I got this product, the black color already did look a bit washed out, as if the material was painted in slightly noticeable stripes. That's why the best decision would be some dark wash laundry soap.
Unfortunately, I couldn't give them five stars due to several disadvantages:
Firstly, one of the biggest cons of these stockings is that they only come in one size. Even though I'm quite a small girl (in the US size system, I would probably be a size 6), the elastic band is pretty tight on my thighs. However, it means that you don't need any garters, but you can use them if you like.
Secondly, I was a bit disappointed by the way the bows were made. For example, there are threads sticking out in some places and you have to remove them carefully. Also, the inward ends of the ribbons are very simply cut, not even fixed, so the material gets unraveled easily. Luckily, the outward ends are fine.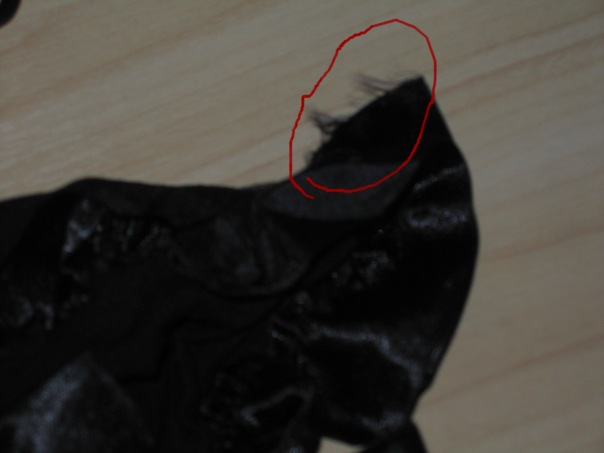 And, finally, as I said, I'm a bit worried about the color washing out, but it's too early to see.
Experience
You would probably like to iron the bows, as they come a bit crumpled. Be careful, and you'd better set your iron at low heat. I also used a piece of clean cheesecloth in the process, which I put above the ribbons to keep them safe. Any other thin white cloth will work as well.
Follow-up commentary
5 months after original review
Frankly speaking, I haven't used these stockings excessively. I probably wore them two or three times outside and several times in the bedroom, but usually that's quite enough to judge the quality of a product. My pair of Thigh Highs with Ruffles and Bows proved to be thick and durable: they are still in a perfect shape and have no signs of tearing. Most of the things I was unhappy about at first have lately turned out to be really insignificant. For instance, the problem with the unraveling inward ends of the ribbon was easily solved by burning its ends with a match. As for uneven coloring, it is slightly noticeable only on a thigh, where the fabric is stretched the most. When I hand-washed them, the water was actually clear afterward. Thus, the only real disadvantage is that these stockings run a bit small.
I'd also like to give you some measurements finally.
- Unstretched circumference of the upper band: 5.1" (13 cm)
- Circumference of my thigh: 19.7" (50 cm)
- Toe to top, unstretched: 30" (76 cm)
- Toe to top, on my legs: 34.6" (88 cm)
This content is the opinion of the submitting contributor and is not endorsed by EdenFantasys.com

Thank you for viewing
Thigh highs with ruffles and bows
review page!