Unsuitable for Fuller Thighs
Eloquently adorable, these are probably my favorite stockings on Eden for their design. They're simple enough to include with a jazzier outfit, but elegant enough to pick up the dead weight of a plain garter belt. The bows and trim are satiny and soft to the touch, but fray easily. If you're not afraid of the fact that they run small, they're fairly cheap material but are cute. Fuller figured girls, beware, these are a nightmare for fuller thighs!
Published:
Pros:
Durability, Price
Cons:
Seams fray, Not plus-size, Tight on thighs
I adore the small price and look of the Thigh Highs with Ruffles and Bows. They're sure to add a little glitz to any plain-Jane garter belt you come across, or add even more elegance to an outfit you already have. Leg Avenue has provided a lot of thickness and durability here, much unlike other pairs of tights I've bought. They don't appear to tear or get runs easily.

However,my experience alone with these tights was a nightmare. First I did a search on Eden for plus-size tights and these showed up, though they're "one size fits all." Tights can be pretty fluid with body types and sizes, but when I pulled these up onto my legs I heard a split before I even got them all the way up. The fabric clung so tightly to my legs that I literally had red rings around my thighs from my circulation being cut off. It hurt so badly just having them on for 10 minutes. I was insulted that one could find this in the plus-size section. I know thinner friends whose legs would be terrified to come in contact with the band around these tights.

Not only did I have a really tough time with the band fitting, but when I tried these on with a garter belt, the closures would not hook over the thick satin fabric on the band. It was next to impossible to find a way for my garter belt to hook onto the band unless I pulled fabric up from underneath and hooked it there. Then the tights were not only rolling down, but looked ridiculous. I wouldn't suggest these tights with a garter belt, because you'll find that they just don't function at all. They're more to wear when you're just flying solo with no garter belt in mind.

After one use for a maximum of ten minutes, the edges of the bows started to fray and come apart. I split one of the bands of the stockings just trying to get them on, but I hadn't touched the bows or messed around with them any. When I put them on a second time to see if they'd stretch and have any give after some wear, the bows started flip-flopping around on the band. I'd try to shove them back around but they'd flip back up and it was just a huge mess.

The instructions state to just wash them normally, but I personally wouldn't put these in a washing machine in fear of them fraying more and coming out a big, stringy wreck. I've spared them the washing test and given it the benefit of the doubt.

Needless to say, I won't be packing these for when I see my partner because they are not geared for fuller-figured women. I was unimpressed with them because of the fact that I am well within their weight range, as I'm 158lbs and the cut-off is 160lbs. I'm 5'0 tall and they were too long on me, as well, which made my garter belt, when I finally did get it on around the trim, look weird and the straps were adjusted to be far too short.

You can, however, wear these stockings as knee highs if you really want. If you really love the look and your legs are just too full, you can fold them down to where they will stay up and there you have it. For fuller-figured gals who wouldn't like to do this, these just aren't for you.

My thigh measurement is roughly 24" around. If your legs are only a few inches smaller I would still say these are a no-go.

If your thighs are about my size, and you feel you can brave your circulation stopping for however long you'd like, these are still a cute addition to your lingerie wardrobe.
Experience
My leg-fat spilled over the tops and I was all in all just disappointed. I purchased a few lingerie sets from Eden in black, and I wanted some tights that were adorable to go along with them that would fit my very healthy legs. I'm scared to order any more stockings just because there aren't a lot of reviews on them. But I'd love for more fuller figured girls like myself to let members know if something is worth the few dollars a pair.
The plus sizes do not have a large variety whatsoever and are usually far too long for my small frame. I've been frustrated in trying to find a pair of black stockings that will work for me, and I was sincerely hoping these would be up to par. I'm sad to say that if you are a woman that may be trying to find stockings to fit your fuller figure, look further. These fray and split, cutting off your circulation in the process and are in all an uncomfortable experience.
Due to losing these when packing, I'm unable to provide pictures of what they look like up close. This is the only picture I have of my lovely partner wearing them because she found it humorous.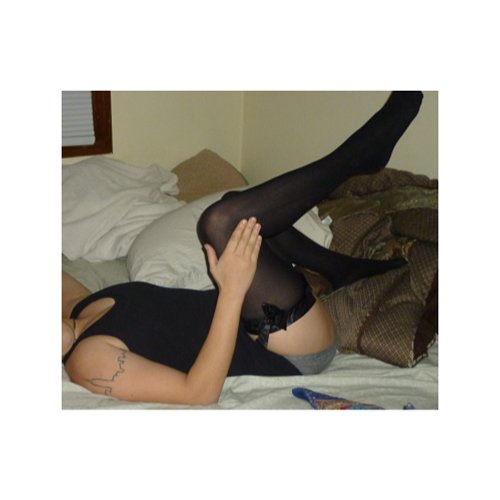 Follow-up commentary
3 months after original review
They fell apart recently and still have only been worn twice, and haven't been washed. They just weren't a good quality product to begin with, as much as I wanted them to be. Hopefully I can find a pair that are similar that will hold up longer than a week.
This content is the opinion of the submitting contributor and is not endorsed by EdenFantasys.com

Thank you for viewing
Thigh highs with ruffles and bows
review page!