Can't Find My Panties
If I were to write down a checklist for a great toy, the Inked g-vibe would be nearly perfect. It's inexpensive, it performs its function well, it's easy to clean, it's tattooed!!! If you're having fantasies about tattooed men as often as I am, the Inked line should be on your wishlist...or in your cart preferably being paid for right now.
Published:
Pros:
Finds the G-spot like a pro
Powerful
Velvet Cote feels great
Awesome look
Cons:
Battery compartment can get a little warm
Have you ever heard that song by Tiffany Foxx "Can't Find My Panties?" She basically says if the sex is just a quickie, don't even bother to take off your panties. On the other hand, if the sex is fantastic, you can't find your panties.
Let me tell you, the Inked g-vibe is a panty-displacer! For $14.99 on sale, I was just rounding out my order. I've been more than rattled by its performance. Jello legs? Check mark. I think I might be seeing spots! Somebody kiss the manufacturer! Now that I've gotten my personal feelings across, let's delve into the details.
The Inked g-vibe is plastic with a velvet cote, and velvet it is! As a matter of fact, I skipped the lube because this vibe's coating makes it particularly comfortable to slide right in. This is what I found on the velvet cote, copied directly from Eden: Velvety to the touch, non-porous and phthalate-free, Velvet cote™ is easy to clean, lubricant friendly and a great conductor of vibrations.
Although velvet cote is listed as silicone and water-based lubricant compatible, directly on the side of the box it says to use water-based lubricants. I do find this to be weird since the Inked g-vibe is waterproof, and you definitely can't use a water-based lubricant while showering or taking a bath.
Packaging: a picture's worth a thousand words. Here it is (solely packaging and no product):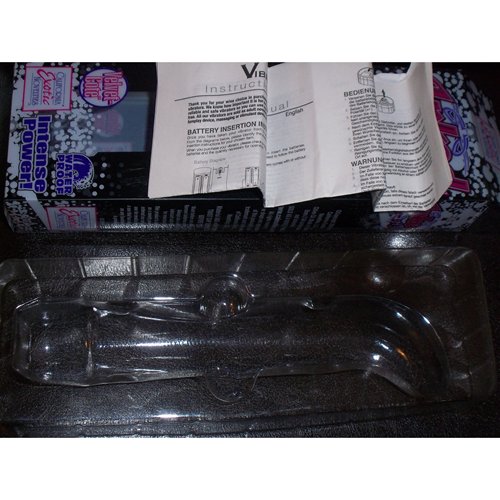 The Inked g-vibe takes two double A batteries, which are not included. There is a piece of paper in the battery compartment that shows which direction the batteries should face, but it does not show the type of battery used. For reference, both of the batteries go in with the raised end first. The battery compartment is a little difficult to screw back on, and the compartment itself can get a little warm during play that lasts longer than 15-20 minutes.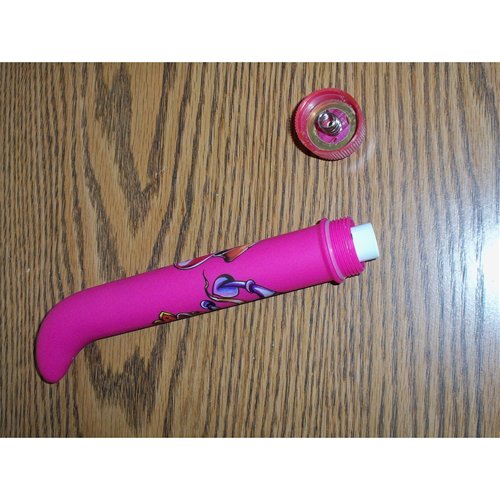 The vibration does not change modes, but instead there is a twist dial on the end of the Inked g-vibe that can be turned to increase the intensity of the vibration. I didn't find the vibrations to be buzzy at all. In fact, I lose interest in anything with less than 4 vrooms and some seriously powerful and penetrating vibrations. I did not lose interest even with the lower vibrations on the g-vibe.
Uses:
The g-vibe also performs well for nipple and clitoral stimulation. I generally don't orgasm solely off of clitoral stimulation from toys, but I can with this vibe. As for other functions, there is no flared base for anal play. You could always tease yourself externally, but this vibe can't be boiled to sterilize.
Smell and Taste:
There was a slight odor when I first opened the box. It wasn't rubbery, and it wasn't plastic. I'm not sure quite how to describe it, but it doesn't matter because it disappeared after one wash. There is no taste to this toy, as expected.
The g-vibe is waterproof, and I have tested it in the shower without any water leaking into the battery compartment. However, I have not submerged it. I'm so smitten with this toy that I don't want to take the chance until I buy a backup!
Copied directly from Eden:
Length:
7 1/2"
Insertable length:
6 1/4"
Circumference:
3 1/4"
Diameter:
1"
Width:
1"
Weight:
4 oz
This is definitely not overly heavy, nor is it particularly large. There may be some individuals who enjoy toys with a lot of girth, but they won't find that here. On the other hand, I definitely don't find it to be small. Over 6 insertable inches is actually lengthier than the average man.
The design on this g-vibe has withstood quite a bit of use (think basically every day for the last couple of weeks). It doesn't seem like it's going to wear off like with some other toys. Also, even though I tend to think tattoo designs are a tad overrated (look at all the t-shirts, hat, and apparel now), I was pleasantly surprised with the many different aspects of this design.
Overall, I have to rate this 5 stars because I have never used it and failed to orgasm. The vibrations are powerful, the coating feels phenomenal, the curve finds my g-spot perfectly, and the design is so cool. The only con I can find is that the battery compartment and batteries can get a little warm with lengthier play sessions, and I don't even find that I need the vibration 100% of the time with this toy. It just wasn't enough to knock this vibe down a star. If the battery compartment did end up overheating, for the price and how much I use this thing, I'd buy a couple more without any disappointment.
Size comparison: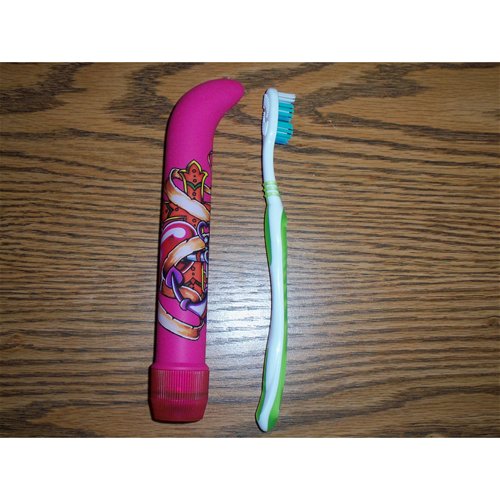 Follow-up commentary
22 days after original review
Can I say I still love it? This is my favorite vibrator of all times. I haven't figured out any different ways to use it, but I'm just so happy with what it already does. It's definitely holding up also even though I feared the battery compartment would overheat. On the topic of batteries, even my cheapo batteries have lasted quite some time in the g-vibe.

Some things I would love to see:
1. More tattoo designs possibly not from Ed Hardy.
2. Possibly a thicker version with the tapered and curved end still.
3. Different colors. I think a skin color with tats would be cool.
4. Have you seen the Black Magic Pleasure Kit? I'd love for this to come with some recommended side items or in a kit.

This content is the opinion of the submitting contributor and is not endorsed by EdenFantasys.com

Thank you for viewing
Inked g-vibe
– g-spot vibrator review page!