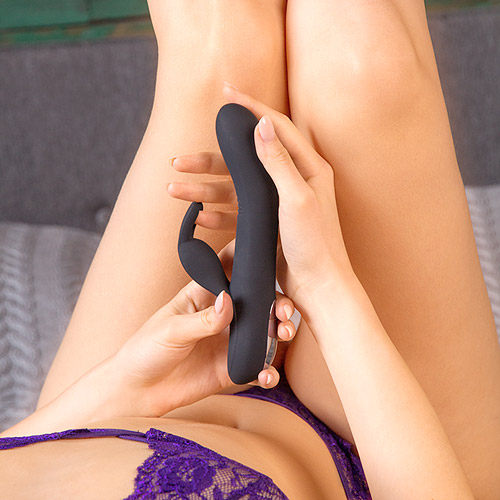 Sway
Come-hither rabbit vibrator
by EdenFantasys
"Come Hither" To Play With The Sway
The alluring, almost hypnotic gif demonstrating the finger-like motion is what drew me in, making the Sway a must-have for me. With the definition of the word "sway" being to move rhythmically forward and backward or side to side, it's quite easy to see how this is a fitting name for this sleek vibe with its beckoning come-hither gesture. And "come" to it I did.
Published:
Pros
Rechargeable, Aesthetically Pleasing, Quiet Vibrations
Cons
Control buttons are hard to see, Weak "finger wiggle"
So far, with all of the sex toys I've tested, none have been nearly as anticipated as the Sway. I was checking my tracking information on a level bordering on obsessive as if this devotion would make it arrive any faster. I was eager to get my hands on a premium toy, and this one's particular finger-motion feature had me intrigued. Did it live up to my expectations? Well, yes and no.

Let's start with my first impression of the toy in person. Its packaging is phenomenal. Of course, the giant letters spelling out "Bending Motion Rabbit Vibrator" don't make it entirely discreet, but this is only on the outer cover. The box easily slips right out of this sleeve, and it is a plain, nondescript black box that shouldn't raise any suspicion. Opening the box, you'll find a bit of plastic on the inside with an indent for the toy itself and a smaller indent that holds an EdenFantasys's mesh drawstring toy bag and a USB charger.

I love the look of this toy! The Sway is made from a soft, smooth, silky silicone that is both great to touch and look at. This vibe gives off a more modern-vibe with its black, sleek appearance and a shiny silver oval on the grip-handle that is the only part of the toy's core that isn't concealed by the silicone. One big downfall to the design, however, is that the control buttons aren't easily distinguishable from the surrounding silicone, especially in the dark. You can feel the bumps where they are present, and if you know where each button is, you shouldn't have any problems. But it would be nice if they were a little more visible.

The Sway comes with a charge, but in the hopes of it having a long battery life, I let it charge for an hour before using it despite my anticipation. I was so excited to test out the finger-motion! When the time came... this key function of the toy was a bit of a let down for me. When it comes to internal stimulation, I seem to require a rather firm touch to truly experience the stimulation, which the gentle swaying motion of the shaft didn't bring. With the shaft motion alone I didn't find much enjoyment in this toy, but when combined with the clitoral vibrations from the rabbit extension it felt incredible. The internal stimulation still left something to be desired, and the bending motion causes complications when thrusting the toy, but overall I enjoyed my experience with the Sway.

I would have personally enjoyed a rougher finger-motion and perhaps a little more insertable length and girth. For those who don't require this rougher pressure for internal stimulation, the automated G-Spot stimulation from the "come-hither" gesture would likely work out well for you, with there being four different modes to choose from. A big plus in the Sway, despite not being strong enough for me, is the fact that the motor never ceased up during play. I have a vibrator with a rotating head and rotating beads that will shut off if its rotations get obstructed, but that was not a problem with the Sway's bending.

During a sound check, I found the shaft movements to be almost entirely silent. The clitoral vibrations are a bit louder, with slight volume changes based on the vibe setting, but I left the toy on and left the room, closing the door behind me, and I could not detect any buzzing from within.

All-in-all, I found the Sway to be a great toy. I don't think I'd ever consider purchasing it at full price but it's certainly a quality toy and the price for its value is understandable. I'm glad it's rechargeable, removing the need for batteries, and look forward to my next session with the Sway.
This product was provided free of charge to the reviewer. This review is in compliance with the FTC guidelines.
Thank you for viewing
Sway
– rabbit vibrator review page!