Curiosity Crash Lands
Overall a disappointing little clit vibrator. It doesn't have enough power for someone with a certified clit of steel but it does have some nice gentle vibrations and a wonderful toy shape.
Published:
Pros:
Shape, rechargeable, year warranty
Cons:
Not powerful, vibrations get buzzier with strength, expensive
Use
The Bcurious is best used as a clit vibrator. It could be used to stimulate other external areas of your body, such as nipples or the perineum, but it isn't designed to be insertable. That being said, do not use it for anal play as there is no base, or really anything to hold on to. The Bcurious can be used both in the bed or the tub.
Performance
Overall I was a little disappointed with the Bcurious' performance. It has shallow vibrations that start out loud and buzzy then only get worse when the power is increased. The motor is only near the smaller end of the toy which means the tip really can't be used for vibration detailing. The toy has a nice progression of vibrating functions (the vibrations get stronger with each vibration), but the buttons are so easy to push cycling through them becomes a habit instead of a choice.
Specs
The box says the Bcurious is made of silicone and plastic, and while this is technically true, I feel that it is misleading. There is a small strip of silicone that wraps around the toy, but the majority of it is made of a soft plastic. This puts it at an 8 on the Eden safety scale.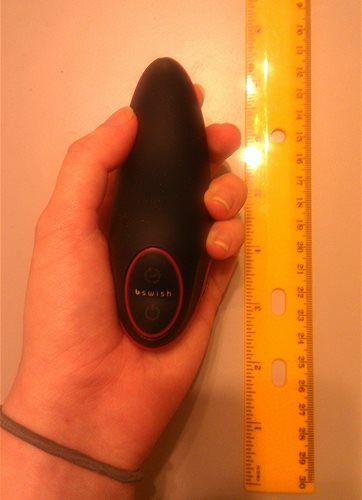 It has a:
• Length: 4¼"
• Width at widest point: 1¾"
• Circumference at the widest point: 5½"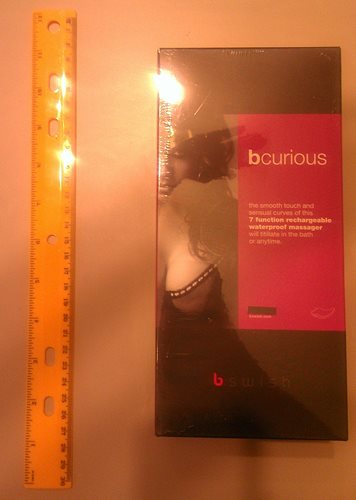 One good thing I can say is that Bswish does know how to package their product. It comes in a nice, discreet-ish black and magenta matte box. The toy itself comes with a personal pouch, so another plus there.
Design
I really like the shape of the Bcurious. It feels great in my hand, the curve matches my body well, and the tip should be the perfect size for more refined spot vibrations. Unfortunately the motor is not close enough to the business end of the toy so the small tip is mostly just wasted with far too weak vibrations. For me, a great shape doesn't make up for weak vibrations. Another design flaw is how easy it is to press the buttons during use. When the toy is on the buttons light up with a soft blue light, but because they are facing the same direction as the business end of the toy I am constantly accidentally changing the vibration intensity or speed. Believe me when I say this gets very annoying after a while.
Initially I was disappointed that it was mostly made out of plastic but it is a soft, smooth plastic with a matte finish. Eventually it grew on me, but it did take a while. While the toy is charging the buttons light up and flash. When the toy has finished charging the light holds steady. This is an important change because it is possible to overcharge the toy. The most surprising thing to me is just how light the toy is. It feels like holding as a tennis ball, which I guess is only surprising if you were expecting a baseball, but the point still stands. The little thing is abnormally light.
Functions
The best part of this toy is the fact it is rechargeable. Now, you can overcharge and burn out the toy, so don't keep it plugged in for more than a couple of hours. The box says "2 hours of charging for 2 hours of use" so keep that in mind before you plug it in for an overnight charge. The Bcurious will also keep the charge for about 60 days. The toy has 7 functions: low, medium, high, building, pulsing, fast pulsing, and a three short one long rhythm.
Toy Care
Because it is waterproof it can be easily cleaned with soap and water, but I wouldn't boil it, or stick it in the dishwasher, because the charging port doesn't look THAT waterproof to me. Even though only a small portion of the toy is actually made of silicone you still shouldn't use silicone lube with it. Also, to keep it from other toys, and to keep it safe, I would use the cloth bag that it comes with when you're storing it.
Final Thoughts
Even though this toy's design looked like a perfect clit vibrator, I was not impressed with Bcurious' performance. Between the weak, shallow vibrations and just how buzzy and loud the toy got I do not think this toy is worth the price. If you need any power at all to get off, stay away and spend your money elsewhere.
Experience
For me, this little vibrator isn't worth the money. Any of my other vibrators are stronger than this little guy and if I try to used them both at the same time it just leaves me wanting more.
This content is the opinion of the submitting contributor and is not endorsed by EdenFantasys.com

Thank you for viewing
Bcurious
– luxury clitoral vibrator review page!