Curtain or clothing?
This babydoll is sexy, beautiful and elegant. It's so easy to take care of, lightweight and comfortable to wear. This is the perfect piece of lingerie for someone who wants nearly effortless sexy. It will flatter most body types, but may swallow you whole if you're very small. If that's the case and you don't mind making alterations, you can easily make a more flattering fit.
Published:
Pros:
Vivid, gorgeous color.
Comfortable.
Elegant.
Can be worn outside the bedroom.
Cons:
Pricey for what you get.
Fit is not flattering for small figures.
Measurements (taken laid flat)
14" wide at bust
14" wide at top of back
14" wide under bust
18" wide waist.
22" long from top of cups to bottom of lace.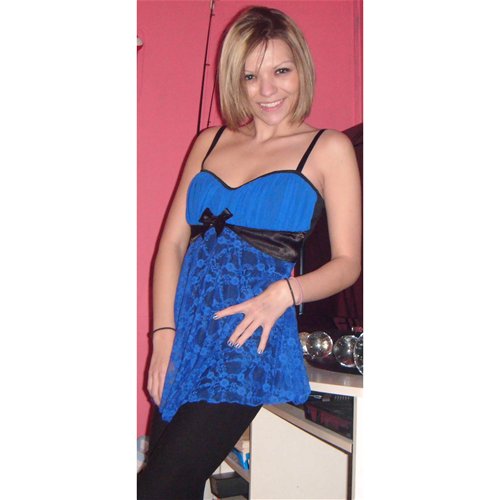 MATERIALS:
82% Nylon & 18% Spandex exclusive of trim which is the sating ribbon under the bust and straps.
CARE:
The babydoll should be handwashed only! Thankfully, the majority of the babydoll is lace so cleaning and drying is super quick and easy. It also doesn't wrinkle easily.
Since caring for this babydoll is so easy and quick, it makes a great piece of lingerie for those who don't have time or patience for pieces that requires extensive care.
From under the bust down is all lace. It has what looks to be a floral pattern. Lace is transparent so take that into consideration. You can choose to do as I did and wear a black cami underneath if you like.
The bust is a beautiful royal blue color. The fabric feels similar to tulle, but not near as stiff and scratchy. It's the same material that's used on the bustier that matches this. The bust area has quite a bit of ruching. It looks nice and will give a fuller look to your chest. If you're not looking for a fuller look in that area, you might want to consider skipping this babydoll. One thing I love about babydoll tops with ruching at the bust is that ladies like me, that don't have huge breasts, won't need a bra! If I still like to wear a strapless bra with it, but since the ruching is there and there's some weird, thin foam padding, you won't be able to see the outline of your breasts or nipples!
About that padding I mentioned, it covers the entire chest, not just the cups. It's a strange thin foam and it makes loud rustling sounds when I move. It doesn't bother me, but keep in mind that it doesn't offer support and doesn't work as a padded bra might. It won't give you the appearance of a push-up and won't add much to your chest. However, I don't think it was meant to in the first place.
The straps are like bra straps. They're adjustable, of course, but mine came on the Coquette hanger and the straps were twisted and wrapped multiple times around the metal studs on the hanger. They were wrapped on that stud so tightly and roughly that they're a little damaged and weak. It made them stretched out and damaged the elasticity. A small problem, but worth noting. I have to tighten them all the way due to that and I am positive that they will tear soon so I'm going to have to buy extra straps so when that does happen, I'll be prepared and can sew new ones back on. It's a shame that they were done that way though.
And if you happen to care about the hanger, here it is:
It has a metal bar and those two alligator snappy things to hold the included G-string. I don't hang my panties, I put them in a drawer, but it's nice to have a hanger for the babydoll. You could always use the hanger for both the babydoll and a skirt if you wanted.
Surprisingly, the G-string fits nicely! It's a G-string so it'll ride up into the crack of your booty, but it's comfortable and looks lovely! I liked it so much that I've worn it under jeans! It doesn't have a crotch liner so those of you who don't like that may want to consider cutting a piece of cotton and sewing your own in place.
The upper back of the babydoll is black, Lycra material, not blue like the bust. It's comfortable and allows some stretch. There's black satin material under the bust and in the middle of that lies a beautiful satin bow! Bow-haters don't fret, it's removable. As you can see, the satin fabric under the bust widens at the sides adding something unique and flattering.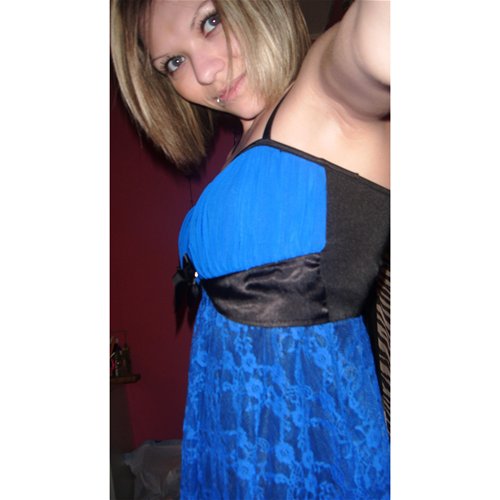 Experience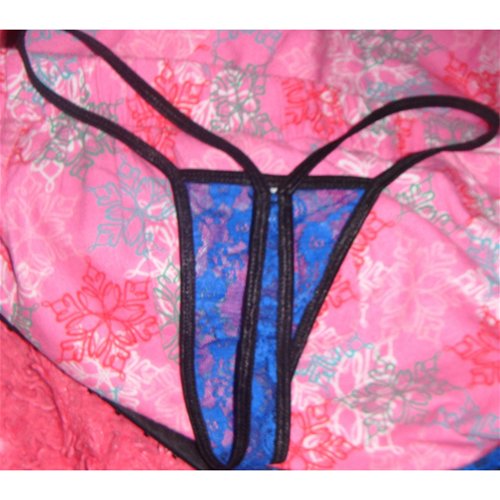 [img|https://www.edenfantasys.com/Images/CustomerImages500x500/634666863191123750.jpg|
The lace has a lot of gathering and is flowy. This area of the babydoll will accomadate up to a size medium and may swallow up a small. It swallows me whole because there's so much flowy lace. Adding the black cami under the babydoll helps, but the back is hard to explain. Most babydolls have something at the mid-back that kind of cinhes in so not to lose your waist in there. Sometimes they'll have an elastic band that runs from under the bust to back. This gives a slim appearance and prevents the boxy, bulk. Unfortunately, this babydoll doesn't have anything like that. It's flowy! The back doesn't actually touch my back, if this makes sense. Instead, it flows out making me look somewhat lost in the garment. I alterations on that because it looked as if it didn't fit me properly.
Mostly, the reason for the very loose fit is that Coquette has decided to make these lovely blue pieces larger than what they normally make their smalls. I planned on getting all the blue pieces, but after getting this and the bustier, I won't. They both have flaws and were unflattering. The bustier was disasterous, but thankfully I've made some adjustments that helped. This babydoll fits more comfortably than most Coquette pieces. It's baggy and lightweight. That's a good thing, but the small is a bit baggy on me.
It's also very long. Most babydolls hit somewhere around my waist, usually leaving my booty exposed. This reaches half way down my booty and past my crotch. It fits more like a dress. No problem but worth noting! It is nice and the quality is decent. The lace on both of the blue pieces I've bought are luxuriously soft! Do know that the lace snags easily! It's soft and delicate that even the slightest hang nail will catch. The lace could snag if you're really rough, but it's held up for me through quite some wear! You should be careful around zippers and the like. My broken nail caught on the lace and it didn't tear or damage.
EXPERIENCE:
I fell in love with each of the vibrant blue pieces available and started with the bustier, which needed adjustments to make a decent. I knew the corset would be a total bust so I opted not to get it. Instead, I got the babydoll in hopes of layering it over a cami and wearing it as a top. Without the cami underneath, it swallows me whole. With the cami, the lace clings and falls nicer over my body rather than looking like a curtain draped over me!
After wearing it out several times, I've come to like it. The back flows out so it kind of hides that I actually have a body somewhere under all that lace. With a couple of stitches to the back this made a better fit for me.
The babydoll , it will flatter many body types and if you prefer a very flowy babydoll, this is perfect. For the price, I am disappointed somewhat. Other than the strange fit with these last few pieces, the quality is good.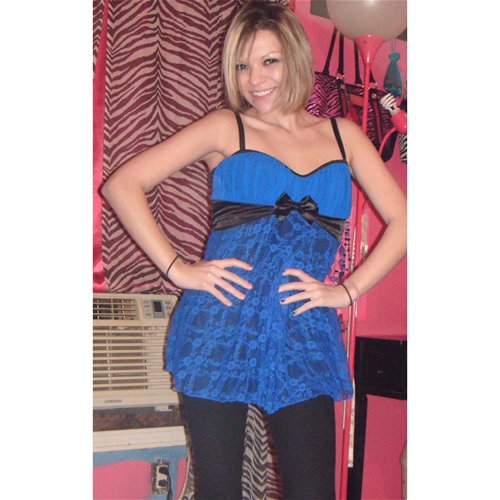 This content is the opinion of the submitting contributor and is not endorsed by EdenFantasys.com

Thank you for viewing
Blue lace babydoll and g-string
– babydoll and panty set review page!