Cute, Cheap, Smooth, and perfectly beginner friendly.
The Mimi pearlessence is a cute and cheap vibe for someone looking for their first vibe and don't want to spend too much money. Her settings are limited, and she is louder than I would like her to be. She's still a good beginner toy, or even a good warm up toy.
Published:
Pros:
Beginner friendly, Discreet, Cute
Cons:
Limited settings, Loud,
Sometimes you are just looking for something that is simple, cheap, and gets the job done. Well that item would have to be the Mini pearlessence. The mini pearlessence is a cute little traditional vibrator. Although it would not be my first choice over a couple of other items. I don't think it's a bad choice. If your new to the world of vibrators. This would be wonderful. Its reasonably priced, mulitsettings, and discreet, and most of all it is not scary.
The mini pearlessence comes to you inside of the normal, clear package. It isn't anything special, and it can be used for storage if you choose. You can also toss it if you don't need it, and have some place else where you store your toys. The casing for the pearlessence isn't the most discreet. You can see the toy in full view. There is a girl pictured on the package, but she's fully dressed, and it isn't anything that would make you blush.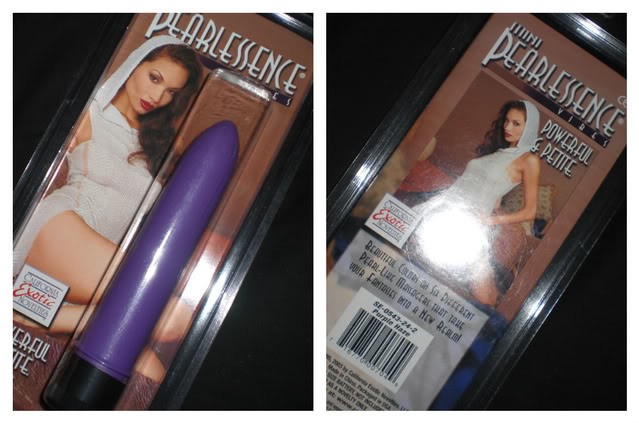 .
When you open the casing the first thing you notice besides the size is the texture. The pearlessence doesn't have any texture to it at all. It's completely smooth, which makes for good and easy insertion. If, you are into texture than this vibe may not be the one for you. The pearlessence is made of plastic, so it doesn't have any type of give or anything to it, so when using it. I'd recommend using caution so that you don't mistakenly hurt yourself.
The pearlessence isn't a very large toy. The measurements of the pearlessence is a length of 4 1/2inches, an insertable length of 3 1/2 inches, a circumference of 4 inches, and a diameter of 1 1/4 inches. The pearlessence has a little of 3 inches of insertable length. For me, this didn't do anything, I felt it was too short, but I'm one person the next women may think this is perfect. I also notice that the pearlessance is perfect for clit stimulation, as well as all over stimulation. I wouldn't recommend using this anally, but it can be used to stimulate the sensitive areas around the anus.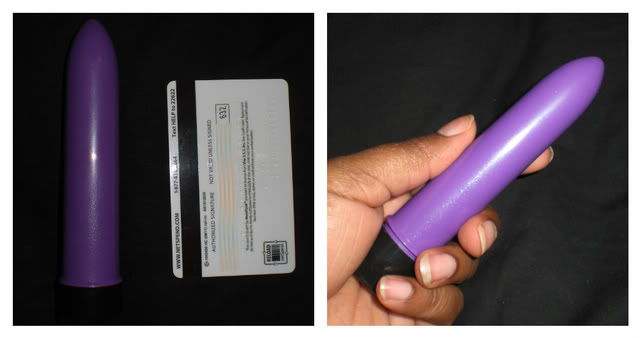 .
The pearlessence does lack in the vibration department. Although, the vibrations are decent. You get the normal low, medium, and high settings. You don't get any type of patterns or anything. She is also a little loud. You can hear the vibrations through the cover and through a closed door. It almost seems as if the battery is rattling around inside of the compartment. The noise volume can be a problem for those who are living with friends and family and don't want anyone to know. She is operated by a turn dail base. I didn't have a problem changing the setting while she was in use.
The pearlessence is not waterproof, nor is it splash-proof. You can not take her into the bathtub, and you can not take her into the shower. When you are washing her, you should use a cloth, wipes, or your favorite toy cleaner. If you were to happen to get water into her. Allow the vibe to completely dry before seeing if she still works. Never leave batteries in her when you aren't using her. The pearlessence runs on one double A battery.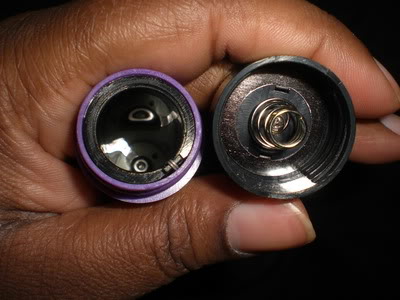 .
When using lube with her, you can use any lube. She is made of plastic, so she doesn't hold onto bacteria, but I'd still recommend using a condom if you plan on sharing her. She doesn't have any type of smell or taste. She can get a little cold, but if you hold it in your hands for a few seconds, it will warm up. She can be paired up with your favorite dildo, or even another vibrator and just use her for clit stimulation. The pearlessence is a cute toy and is very much worth a try.
Experience
Only because I'm personally use to stronger vibrations. The pearlessence didn't do much for me. She was a really good warm up toy for me. I do recommend her for women who are really sensitive and don't really mind the sound. At times, she did seem to be a little too loud for even me. I didn't try her with a partner. I've had her for about 6 months, and I've used her a handful of times. She's good to have on hand, but like I said before, she isn't my go to toy.
This content is the opinion of the submitting contributor and is not endorsed by EdenFantasys.com

Thank you for viewing
Mini pearlessence
– traditional vibrator review page!