Elegance Incarnate---But Not as "Njoy"able As Other Steel.
Lelo delivers elegance incarnate in Olga---the same effortless precision g-spot arches and curves that made Ella successful, rendered in stainless steel, the sexiest of all metals. The weight, the mirror finish, the slip---Olga sedately says nothing but "Elegance. Sex." Sadly, I can't give Olga the five stars its design would earn, because its grade of steel tarnishes if not cleaned immediately after use---and interrupting Olga's orgasmic afterglow is almost criminal.
Published:
Pros:
Brilliant g-spotting design, sleek and sexy, mirror finish and weight of steel.
Cons:
Steel tarnishes, Veblen pricing. Steel tarnishes AND Veblen pricing.
Let's let pictures speak first.

Breathless? I was.
Steel. Stainless steel. Sexy, slippery, weighty, rigid, mirror-finished, one of the best metals made by mankind. One of the best materials you can put inside a woman. (Personally, the base of this isn't quite pronounced enough to make me feel comfortable with anal use, so I'd suggest Olga for women only.)
The shape of Olga is the shape of
Ella
, and the shape is brilliant. It's a double-ended dildo, one end is traditional and comes with a sexy lines, a graceful bulge, and finishes with a point. This end, though lovely in its own right, is often used as a handle---because the other end curves up and presses a lovely thumbprint right into the g-spot. I'm sure Lelo has lost count of the number of women they've introduced to g-spot orgasms by way of Ella. In creating Olga, they've done the right thing... by not changing a thing.
Not changing a thing, of course, except for the material. Opening the luxurious, lacquer-finished, velvet-lined box, all my lust looking forward to Olga was actualized. Picking the slender object up, and putting it immediately to use, I felt everything I had loved about Ella, rendered in the sexiest of materials. The weight. The slip. The graceful arches and curves pressing themselves without compromise into me, while Ella had flexed a bit under my pressure. I love that steel refuses to give a millimeter. Though
I'm
not
new
to
toys
of
steel
, I even found something new about Olga to love: its flat head actually serves as an accurate mirror as I guide it down between my legs, allowing me to see my body reflected in this beautiful medium.
Olga feels amazing. I have a bit of the same problem I have with the
Pure Wand
, which is that when you let go, it flips over. That's hard to help, though, and the g-spotting is completely effective when it's held rightside-up. I've been left in steel-heightened bliss each time I've taken Olga in to me.
So why the three stars?
Well, when I'm left in my-g-spot-has-been-graced-by-something-harder-than-life bliss, sometimes I don't get up to wipe off my toy immediately. With Olga, I actually did take care for the first several days to immediately wash it and delicately dry it, because I wasn't sure what grade of steel it's made of. I'd submitted a support ticket to Lelo's site, and I figured once they replied, I'd be able to relax and treat Olga with the same reverence that I treat my Njoy toys with (which is to say, I can wash them the next morning, because they're non-porous, 316-grade, surgical quality stainless steel). But a whole business week passed, with no word from Lelo, and I just made the assumption "well, at this high price, and this slight weight, there's no way they wouldn't use the best stainless steel available, right?" So I used it this morning and let it rest about 6 hours before washing it. And now, just under the head, it's tarnished.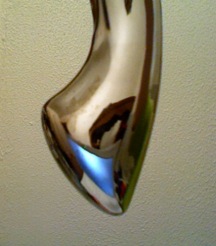 I bleached it and boiled it (both acceptable sterilization methods) and the tarnish hasn't left.
Olga still feels like a cold or warm slice of heaven against my g-spot. I can't fault it for that. But it does kind of make me sad to have paid more for the 1.4 lb of Olga than for the 2.75 lb of
Eleven
, which is made of 316-grade steel---and to not have gotten the same, untarnishable grade of steel that my vagina has become accustomed to.
Or, Olga only earns three stars because I have to interrupt my orgasmic bliss to tidy up.
Experience
If you're considering Olga vs
Ella
, well, first I'll suggest you try Ella to see whether the g-spot head suits you (it is one tenth of the cost, after all). It likely will, it's a brilliant, easy-to-insert design that's given many a woman her first squirting orgasm. If you like Ella, Olga is identical in shape, size, and design. There are really only a few differences: first is that, whereas Lelo engraved their logo on Ella, giving the plain end some asymmetrical texture, it is thankfully only printed once, in tiny letters, on Olga, so there is no interruption of the sleek sexy texture. The other differences, of course, spring from the material---Ella has some drag while Olga is incredibly slick. Ella's neck has flex while Olga's is impervious to any force the human body can apply. Ella weighs but a few ounces---and Olga has excellent heft. Short answer---if steel gets you going, Olga is worth the upgrade.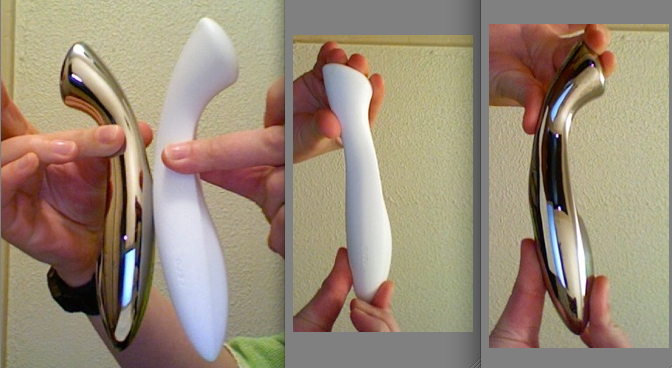 If you're considering Olga vs Njoy's
Eleven
, size answers your question. You've already decided that you covet the slipperiness, the weight, the gorgeous mirror finish, the pure sex that is stainless steel. You've also decided you don't mind dropping upwards of $300 on a sex toy---
how conspicuous consumer of you! But what am I saying? I have both!
.
So which ultra-luxury dildo will suit you best? Well, do you want a double ended dildo with options for 1.25" and 1.375"? Or do you want a double ended dildo with options for 1.75" and 2.00"? If you're an equal-opportunity size enjoyer, like me, and that doesn't make your decision for you, the next place I'd direct you to is the neck. The Eleven's slimm
er
end has three textured ripples along it, while Olga is completely textureless. More important to my vagina, for some reason, is that the slimmer end of Eleven tapers off very quickly after the head. In Ella, the head taper is mostly irrelevant, the body of Ella mainly exists to propel the head into the g-spot. With the thicker end of Eleven, the neck narrows enough to remain filling. With the thinner end of the Olga, there is hardly a neck taper to speak of, so it remains equally filling throughout.

Aren't they all so pretty, though? Who needs to choose only one?
This product was provided at a discounted price in exchange for an unbiased review. This review is in compliance with the FTC guidelines.

Thank you for viewing
Olga
– dildo sex toy review page!