Fetish Fantasy Ben wa balls
While I didn't have a perfect experience with this set of Ben wa Balls, I think they are a good option for someone looking for a slightly larger size ball that can be worn for extended periods of time. I don't feel that they were very stimulating when worn for shorter periods of time for play reasons, because of the lack of weight. However, while being worn for long lengths of time as an exerciser they were much more effective.
Published:
Pros:
Great size, perfect storage pouch.
Cons:
They don't weigh enough for my taste, quality control.
The Fetish Fantasy Ben Wa balls by Pipedream are smooth, seamless black balls made of Borosilicate glass, also known as Pyrex glass. I was excited to see the new Fetish Fantasy Ben Wa Balls here at Eden Fantasys, and even more excited about the size options available.
The stock image that was first placed on the product page was a computer generated image that looks nothing at all like the actual product and since I have received and started reviewing this toy, they have updated the image and it's now an accurate depiction of what the product actually looks like. I thought it was going to be a translucent black/grey glass and it turned out to be a solid, opaque black that really isn't as pretty as I imagined they would be.
This is the first time I have tried Ben was balls of this kind. I have the Emigi, that is 2 balls that are in a housing and connected to a string. The Emigi is made of a thermoplastic and I really wanted to try something that was made of glass or metal so that I might try a little temperature play with this type of toy. It's a bit of a different experience, having the two separate balls, as apposed to have one compact shell that holds everything together for you. Insertions is not much different, but removing the balls was a bit more challenging. I wore them for a couple of hours around the house and by the time I needed to remove them they were very slippery and trying to remove them both without dropping them proved to be a challenge.
The Fetish Fantasy balls came to me nicely packaged and with a cool little storage bag. The storage bag is not padded, but it has a bit of a texture to it. It feels like microsuede type fabric. The drawstring bag has two separate sections so that when in storage the balls cannot bump against or bang into each other, protracting them very nicely.
When I got everything out of the packaging, I noticed one of the balls had a section that had a few little dots all over it, when I looked closer I realized that they were inside the glass. I think they were tiny air bubbles. So I started checking the glass more thoroughly and found a chuck of glass missing on the same ball that contained the bubbles. When I fan my finger over the damaged area, it wasn't really very sharp. I looked all over the packaging and in the box to see if I could find any evidence that the ball was broken while inside it's packaging, and I couldn't find any. This makes me think it may have just be defective and slipped through factory inspections. The type of glass that these balls are made of, Borosilicate glass, is less likely to suffer thermal shock and tends to break into large chunks when it breaks, instead of splintering into tiny shards. This is a good thing. If something were to happen and these were to break or chip while in use, I think breaking into larger chunks is much safer than tiny shards. Although, I don't know what we could be doing that would cause the glass to break.
These glass balls are a 1/4 inch larger in size than the typical (1 inch) loose metal/glass ben wa balls, but very similar in size to vaginal exercisers that come in a single unit (like the smart balls or the Emigi). The thing is, even though they are a bit bigger, they don't weigh much. The Fetish Fantasy balls weighs 1.1 ounces where as the Emigi weighs 3.4 ounces. The lighter weight makes them easier to hold for long periods of time, but less stimulating if you are looking for a shorter "play" session.
The great thing about glass is that it's easy to clean, easy to sterilize and you can use any lube you want with it. You can wash with soap and water, toy cleaner, toss in the dish washer or boil for a couple minutes. Just be sure to give them a once over before each use to make sure the glass is still in pristine condition.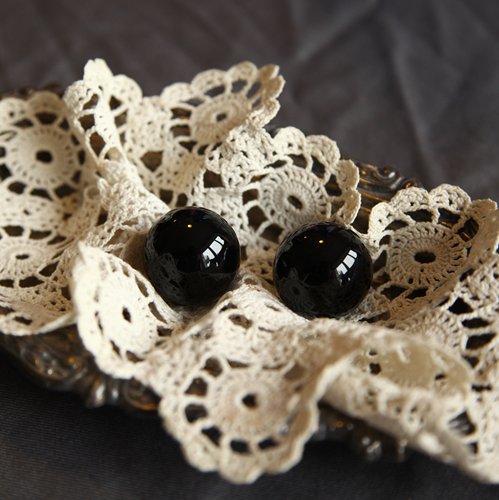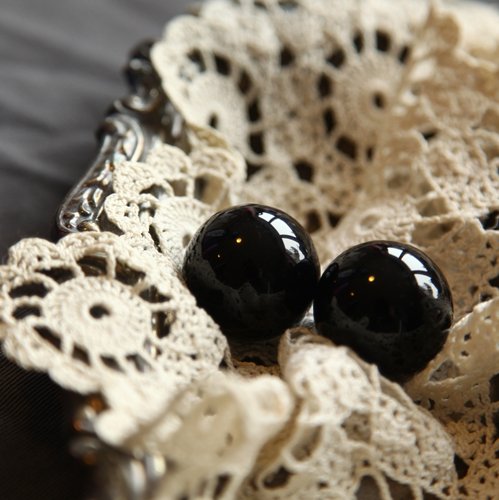 Experience
I contacted Eden Fantasy about the defective ball and they sent me a whole new set the same day. The new set, along with the second ball in the first set where in perfect condition, but having had one broken piece, I was a little nervous about using this product. Had I not had one arrive broken, I most likely would not have thought twice about it. But honestly, broken glass and my girly bits don't mix so I was really afraid to do "too much" while wearing these ben wa balls. But, as I said before, what could I really do that would cause the glass to break? I think I was just a little overly paranoid, but I would still rather have this same size ball in a metal. It would be less breakable and hopefully weigh a bit more.

The main thing that I didn't like about this set of Ben was balls was the weight. When looking for a shortened wear time, that stimulating, these just don't have it. The weight is light enough that you can go about your day and really wear these for a long time. That's great for vaginal exercise purposes, but not so much for when you want to wear them, and really know and be conscious of the fullness and weight.

As far a temperature. I haven't really had an opportunity to use these the way I wanted to, but I wanted to test out how long these would stay cold. I did a bit of an experiment. I got a small glass of ice water and I let one of the glass ben wa balls sit in the water for a solid 5 minutes, then I to it out, dried it quickly and put it in my hand and squeezed my fist around the ball and timed how long it took for the ball to go from cold to near body temperature. It took nearly 2 minutes for the temperature to rise back up to near body temperature. If you are inserting the cold balls it will give you a couple minutes of sensation, but if you are not inserting them, but using them to stimulate the skin, the temperature should stay colder for about double the time. This could be alot of fun with a partner. If you have a bowl of hot/cold water and have a one partner can stimulate or massage the other partner with one ball, and when it looses the temperature, switch out for the other ball in the hot/cold water.
This product was provided free of charge to the reviewer. This review is in compliance with the FTC guidelines.

Thank you for viewing
Fetish Fantasy ben wa balls
– exerciser for vaginal muscles review page!