Gloss Over This One
I would recommend anyone trying to find a topical arousal product to try this discreet one first. It only has the one active ingredient & that makes it easy to tell what may or may not work for you. It doesn't have the usual ingredients that cause trouble, such as glycerin, menthol, peppermint or cinnamon, nor does it have a scent or leave any residual feel on the skin.
Published:
Pros:
discreet, no scent, warming sensation
Cons:
didn't do much for me, small amount in tube
I am chemically sensitive & yet, I still wanted to try an enhancement cream after seeing so many of them available; I thought I might be missing out. I was interested, but cautious about ingredients. I know from experience that most commonly tolerated ingredients irritate me. So, I started a long search through ingredients until I found the only clitoral creme I dared try! This creme is supposed to increase the blood flow to the genital area it is applied to. The science for topical application is sparse, but there is evidence that the main ingredient, the amino acid L-Arginine, can increase blood flow.
Arginine in the body is a precursor to Nitric Oxide which is essential for maintaining cardiovascular health. In fact, the 1998 Nobel Prize was awarded for the discovery that Nitric Oxide is a chemical signaler made by the cells in the blood vessels to help them dilate & remain elastic & flexible. This, in turn, allows more blood to circulate & increased blood flow in the pelvic region, which is important to penile & clitoral engorgement, as well as for orgasm. When people take L-Arginine supplements internally, they are flooding their body with what it needs to make Nitric Oxide. (I should also add, that as we age, our ability to produce Nitric Acid decreases). So, some people thought applying it topically to mucous membranes such as your vulva & clitoris, would cause localized release of Nitric Oxide & thus more blood flow to the area. However, there have been no definitive scientific tests to prove this even though it seems to make common sense.
What drew me to this particular formula is the lack of commonly used rubefacients, which are substances that cause redness & increased blood flow in the are they are applied, often through irritation of the tissues. Commonly used ones in sex products include menthol & peppermint. What I found unique about this formula is that the active ingredient, the L-Arginine, is
not
an irritant & that, along with the other innocuous ingredients, is all that's in it. Here are the ingredients, copied from the product page:
Purified water, propanediol, carthamus tinctorious (safflower) seed oil, cetyl alcohol, cetearyl alcohol, polysorbate 60, L-arginine, xanthan gum, ethylhexylglycerin, phenoxyethanol
The white creme has the consistency & texture of a hand cream, not a lotion. It comes in a tube that looks like a lip gloss & allows for easy control of the amount you squeeze out.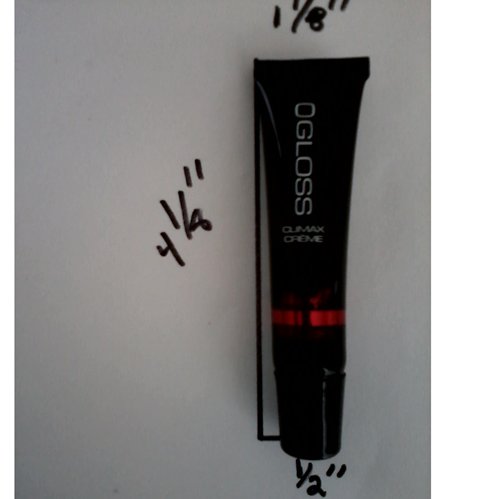 This product was marketed to to be discreet, as was the entire line & I think they succeeded with that, even with the subtle black box it came in.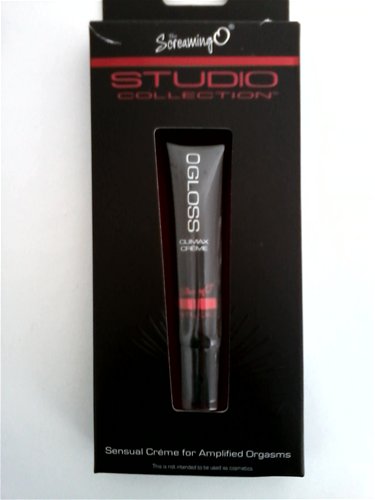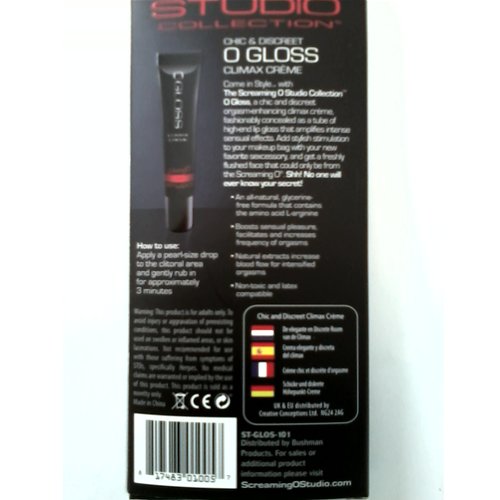 I did not detect a smell, but did not taste it. The directions say to apply to the clitoris and massage in for 3 minutes. I laughed reading that, as 3 minutes rubbing a clitoris is bound to cause its own stimulating effects! The packaging also warns not to apply to broken or inflamed skin & not to use if you have ever had herpes. The reason they mention that is because in some studies, people taking oral supplements of L-Arginine had flare ups of herpes. However, there is no evidence if topical application will have any effect on herpes outbreaks. I think it wise to be cautious, but it is always up to the individual & that's the reason I mention
why
they recommend not using it. As always, use your best judgment.
Experience
Because of my many negative reactions to products in the past, I first tested a bit in the crease behind my ear & wore it overnight. I had no irritation, so I decided to use a tiny amount, about half the size of a pea, on my clitoris. I did not rub it in for 3 minutes as the directions suggest because I wanted to see if the product worked and not be confused by the rubbing causing any arousal! It absorbed immediately & left no trace that I could feel. After about 3-5 minutes, I began to feel only a slight warmth to the area. I waited, and in about 15 minutes the sensation was gone & I then tried applying more; about a pea sized amount. This time, the warmth was more noticeable, but after 20-30 minutes it, too, was gone. However, I did masturbate during this time & felt no increase in sensation, other than a mild over-sensitivity to my clitoris. My orgasm felt no different.

This sensitivity was enough that I had to wash the product off to stop it from irritating me. I must emphasize, it wasn't a burning or stinging problem, I just felt a little raw & thought I should remove it. Since I know my reactions so well after all my negative ones I've had over the years, I knew that this raw feeling was only going to get worse, so I decided not to use this product again.

That does not mean I don't recommend it. I do & mostly because I did feel a difference using it. I suspect others would as well and that's why I say give it a try. Unlike many topical arousal products, this one is the mildest one I know & that's why I would try it first. If it works fine or isn't enough for you, then you can safely move on to something else. If you have a problem with this, then you know you will likely have one with the other products available & can then avoid them as they are stronger, in my opinion.
Follow-up commentary
3 days after original review
It's too bad this item is discontinued at the time I write this! I think it is the best climax cream for the first time user. Most of the clitoral enhancement creams use products that are more irritating to the skin, so this one is a nice way to start because L-Arginine is not irritating.

It didn't do much for me, but I did get a mild, warming sensation. If I had used more product maybe I would have gotten better results. However, in retrospect, I was wise not to have used more because I developed an irritation from it which lead to a virulent yeast infection!

After more research of the ingredients, I discovered a sneaky labeling tactic that is becoming more common as people become vocal about avoiding the ingredient propylene gycol. I already know that this very common ingredient in water-based lubes, irritates me, making me raw & then giving me a very bad yeast infection. However, as more consumers are avoiding this ingredient for whatever reason, the manufacturers have coincidentally started to label using the other chemical name for propylene glycol, which is propanediol. Yes, different names for the same compound! That is how it is listed on this product's label & it's why I missed it! It's also the second listed ingredient, which means after water, it is the most common ingredient in the product. I was bound to have a reaction to this cream!

But, even though I react to it, most people do not & it is in so many body care products I can't even begin to list them for you. Don't let it deter you unless you already know you have a problem with it.

P.S. I bought & used this O Gloss creme months ago, but only recently wrote the review. That is why the follow-up is so close to the review date.
This content is the opinion of the submitting contributor and is not endorsed by EdenFantasys.com

Thank you for viewing
Studio collection O gloss climax creme
– clitoral gel review page!