Grr! I don't like it when toys don't live up to their names!
A great warming up toy this Mood vibrator, but it is nothing to write home about. It does have seven settings, and the lowest setting to me is the best one as it is the least buzzy out of all. It just doesn't live up to it's name.
Published:
Pros:
whimsy colouring, many settings, waterproof, can fit up your nose
Cons:
Buzzier on higher settings
Vibrating, waterproof, velvety to the touch, pretty quiet, multi settings. The lowest setting I find works the best as it is the least buzzy. On the lowest setting, the volume can barely be heard from the other side of the room, the higher up you go in settings the more buzzy louder it goes. I could hear the buzz on the highest setting through the door.
1) lowest strength steady
2) medium strength steady
3) highest strength steady
4) declining escalator; starts out on high then declines to almost off before repeating
5) sortof a high high medium hold, high high medium hold and repeat
6) an up and down pattern from an intense high to high repeated (my favourite pattern)
7) it kind of feels like the sixth one only faster
To turn on; press the single button on the bottom of the toy, scroll through the seven settings.
To turn off: press the single button on the bottom of the toy for three seconds.
The Mood is made from plastic but is phthalate free and latex free. It really does feel oh so velvety and is probably my favourite part of the toy. I've got the purple one (more of a magenta purple), but he comes in a sky blue, a rosey pink and black. On mine, he's got almost a grayish-green swirl design.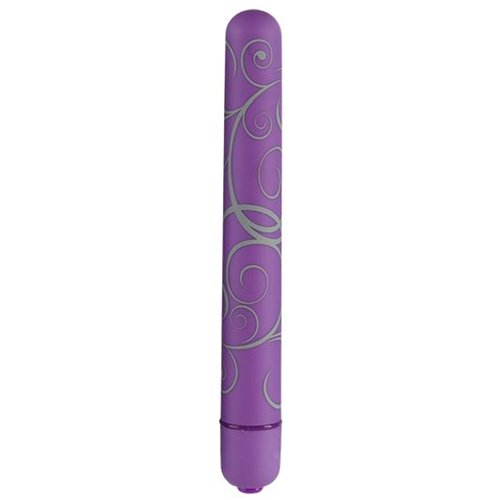 Size: five inches, with approx 4 inches insertable and .7inches wide. His head is rounded, and with his trim width, he does provide very fine clit and other pin point massages.
The Mood Powerful requires 2 AAA batteries, but there is something odd about this toy that I've never seen before. When you unscrew the bottom to insert the batteries, there is a gray little insert that you have to remove as the batteries are housed inside this battery case. BUT be warned. There is a peice of paper within that usually one would remove, but as I said. Be warned. Do not remove the paper! I don't know why, but it just says, "Do not remove".
Even though he is made out of plastic, you still have to clean him. Use lots of hot water and some mild soap and voila! Let him air dry before packing him away. Wipes and toy spray I am sure would work, but I personally use good old fashioned soap and water. You could share him if you really wanted too, but to play anally with him you would need to be uber careful as he'd be sucked right in. Toy around your anus but I'd not suggest more than that!!! Too risky for my books!
Lube: water and silicone based will work!!!
Packaging: well, he ain't so very discrete. He comes in a loud, "look at me I'm a sex toy" type of box. The box is quite small, and can easily fit into your purse. BUT might want to be careful that he doesn't fall out because I think everyone would know he is a sex toy and not a tube of mascara or a marker. On the back is a pretty easy features guide with everything pretty clearly marked.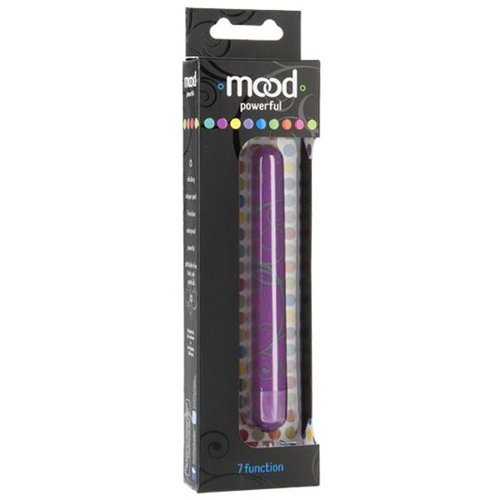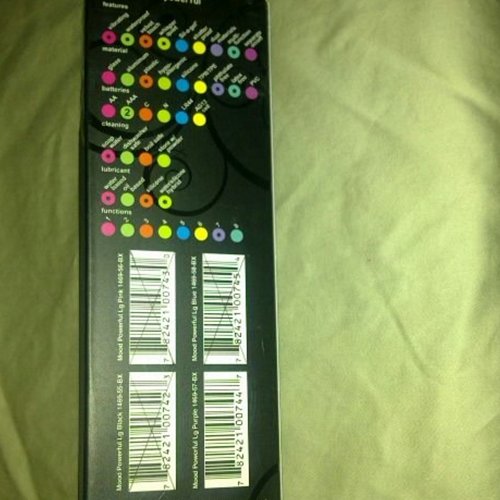 I thought I'd share this vital information; if you are so inclined, he's small enough for a nose massager. I learnt the hard way when I went to see if he had a scent (he doesn't by the way). And he's tasteless. Not that he doesn't have any class, even though I personally don't really like this Mood Powerful, he's got class.
Experience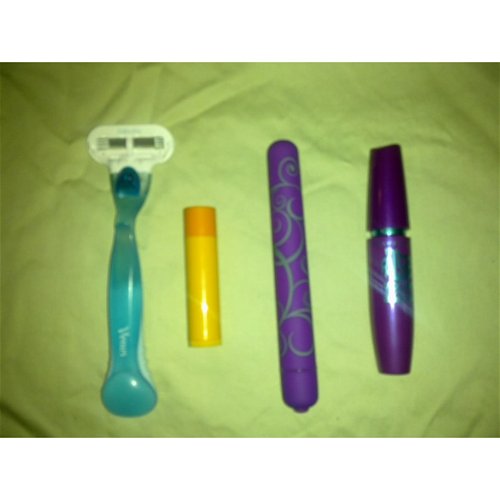 If we take a gander here at the comparison picture (I really need to learn how to take photos with my camera I know!!!) from left to right... Venus Razor with original head, a tube of Burt's Sunscreen Lip balm in passionfruit (it's labeless I know!!!) Mood Powerful, and a tube of Maybelline's Falsies.
Personally; I am not a fan of this toy. I found the vibrations too buzzy for my likings. I prefer deeper vibrations. If you are curious what this means, think of it like this. A hummingbird would be buzzy. If it were it flap against your skin, you'd not feel it all that much. But if a great horned owl were to flap against your arm you'd feel it for a while. I find that deeper vibration orgasms are more powerful and longer lasting. With buzzy toys, my clit feels painfully numb, and cannot have an extended play session. With deeper vibrations, I can continue to play for quite a time longer.
I did really like how this was much longer than a regular bullet vibe, making it easier to slide along my labia and hold onto it.
If you are looking to compare this to another toy... He feels just a little more velvety than my
Bottle Rocket Orion
by Evolved. If you turn on the Orion, it only has one setting. This setting on the Orion is the same setting as the Mood Powerful on the medium setting.
Personal note when going to use this toy? Make sure you tighten the battery cap on extra tight!!! In case you forget? It comes with a sticker to remind you! As with all battery operated toys, if you are not planning on using your toys that require batteries, make sure to remove them to prevent accidental battery spillage. And in case you are wondering? It has been known to happen!!!!
Follow-up commentary
2 months after original review
I am still not a hug fan of this toy, although, I would upgrade it from a one out of five to a two our of five. I really do like that this is like a longer bullet. That still makes me happy about this toy.

But, I feel that I should tell you all... this guy has just recently been put back into his original packaging and put into my "hardly ever used" toy box.

Now, let me just set the record straight. This guy can be used by anyone. Beginners or advanced users alike. The only think you have to look at, is the vibrations. If you like buzzier vibrations, you would enjoy this lots and lots. But if you prefer deeper and thumpier toys... I'd say overlook this one.
This product was provided free of charge to the reviewer. This review is in compliance with the FTC guidelines.

Thank you for viewing
Mood powerful vibrator large
– traditional vibrator review page!