Half and Half
I wasn't sure if these leggings would work for me, but I ended up REALLY liking them! They're a fun little twist to add to your wardrobe without going for a full out leather pants look. It's up to you if you want to really play up the rocker/motorcycle look with the rest of your outfit, tone them down with more casual pieces, or even use them in the bedroom for role play!
Published:
Pros:
Super comfortable, easy to wear
Cons:
Weird crotch area
I went back and forth about ordering these leggings for weeks! At first I loved the front but hated the back, but eventually they grew on me. Still, I wasn't sure I could actually pull these off. I even posted on my FB asking for friends' imput, and got mixed responses. I finally gave in and ordered them. I mean really, what's to lose?

The leggings are made in China by ForPlay. These came packaged in a simple plastic bag printed with ForPlay's logo. The bag isn't really suitable for storage, but you can easily toss these in a drawer with your other pants or put them on a clothes hanger.

These leggings are available in sizes XS-XL, and I went with the large after the advice in sktb0007's awesome review. The ForPlay size chart isn't up on EF yet, but I looked at their official site and found that large should fit sizes 10-14, 28-30" waist, 38-40" hips, 135-155 lbs. I'm size 10/12, 33" waist, 39" hips and 155, but these fit me perfectly other than a slightly baggy crotch. (We'll get into that later!)

The leggings are made of 50% polyurethane (I'm guessing that's the front half), 34% polyamide and 16% spandex. The tag says to hand wash in cold water and dry flat, which sounds like pretty good advice to me.

These are pretty interesting in design. The front half looks a lot like leather, is very matte (not shiny at all) and has a little bit of give to it but no stretch. The inside of the front half is nice and soft, and almost feels like flannel. The back side is super stretchy and soft, a lot like swimsuit material or spandex bike shorts. I was worried these might have a funky smell to them, but there is no funk to speak of. They actually look a lot like plain black leggings from a distance, so they don't immediately draw attention to themselves from across the room. I guess that can be a pro or a con depending on how attention-grabbing you want your pants to be, but I like it since (to me) it widens the range of other items I can pair these with.

At first I wasn't a fan of the half and half design, but I ended up really liking it in person. You get the cool leather pants look without all of the issues that go with actually wearing leather pants. The stretchy back half makes these SUPER comfy- you could easily dance in them all night, but they're actually comfortable enough to just lounge around in! Plus, while regular leather pants only look good on very select body types, you do NOT have to have a perfect body to look good in these! They're very forgiving.

The down side of the spandex back half is that it's a little see-through. Not transparent, but I'd suggest wearing a longer shirt with these if you're wearing them out of the house, because they give serious visible panty lines. I found that a camera flash makes the back half super see-through, but if you're just wearing them out at night, it shouldn't be as much of a problem. You should also be pretty comfortable with the shape of your legs to wear these, since these will definitely hug their shape in the back!

The crotch area is the only real problem I have with these. It isn't super baggy on me, but it could definitely stand to be a little more fitted. That said, I'd rather have it a little baggy than have a camel toe situation! Plus, since I plan to only wear these with longer shirts, it will mostly be covered. The thing that I find both annoying and kind of hilarious, though, is that the crotch MAKES NOISE when I walk! I guess it's the excess fabric going loose and then tight again as I move, but it makes a kind of slapping sound. I got a huge kick out of this and enjoyed parading around my living room announcing "My crotch is making noises!", but it's something to keep in mind. If you're wearing these out to a bar or concert or something, nobody is going to hear it anyway, but it could make for a slightly awkward walk out to the car with someone at the end of the night!

I also noticed that the stitching in the crotch area might not last over time. Since the front half isn't stretchy, I found that the front of the crotch sometimes pulled uncomfortably, making me worry about it tearing. Upon careful inspection, I found that the seam there isn't sewn all that well, so if you aren't careful you may accidentally have crotchless leggings after a while!
Experience
Measurements for size Large:
*Waistband 17" across when flat. The "leather" part is 19" across and the "spandex" (Refering to them with those not quite accurate terms is just easier) part is about 15" but will stretch to at least 20" comfortably. I measure 36" around where the waistband sits, which is near the widest part of my hips. There's plenty of extra room though, so they should fit up to about 40".
*9.5" rise from mid crotch up to the waistband. The back comes up about an inch higher.
*6.5" across at the ankle, will stretch to about 8"
*39" long along outside leg seam
*30" inseam
These are a tiny bit short on me (but then again, I'm 5'11") so I am having some issues figuring out what kind of shoes to pair them with. The leggings seem a little too short to wear with heels, but the boots I thought might work with them look a little awkward.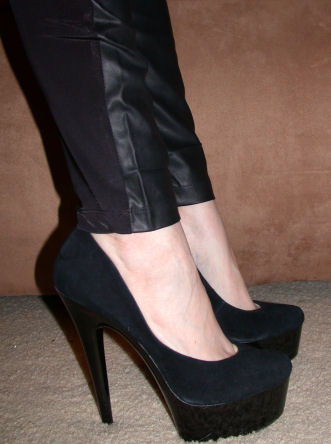 Maybe? Maybe not?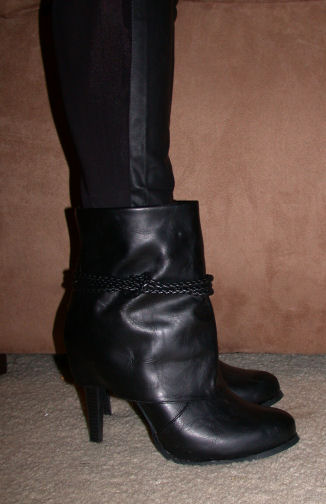 I thought these boots would work, but they're kinda awkward.
Pardon the less than awesome photos, these turned out to be really hard to photograph! The ledge in my bathroom I usually stick my camera on for lingerie photos is way too high for pants pictures. Photographing your lower half is hard!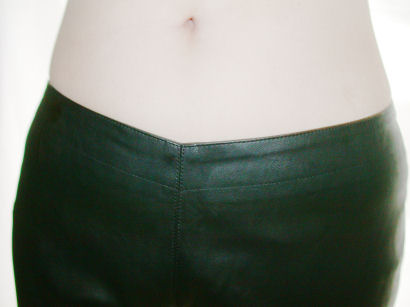 I had to play with the brightness/contrast on this a bit to get a clear view of the front, I promise I'm not THAT freakishly pale in person.
I LOVE the rise on these! They're low rise without being TOO low rise, and hit me at a perfect spot to avoid any muffin top action. The smoothness of the front of the waistband gives a really nice, flat appearance under clothes, too!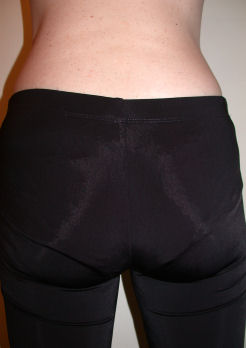 Holy panty lines, Batman! I purposefully tried these on with lace panties to see if the texture would show through. You can't see it that well in this pic, but in person they're definitely bumpy.
Overall, I like these a lot. I'd give them 3.75 stars if we could get extra picky, but we'll round it to 4. I love having a fun alternative to jeans or plain black pants/leggings, and I really love how comfortable they are. I do wish they were a little less see-through and revealing of every little bump, though. (I don't like how they exaggerate the stick-outyness of my hip bones, and I imagine if you have cellulite, the back would show it off.) They also ride up a little if I've been sitting or bending my legs a lot, causing the need to reach down to the ankles and tug them back down. If I could redesign these, I'd fix the crotch fit (and sound), make the stitching a little sturdier and use a slightly thicker stretchy fabric in back, to allow a little more coverage.
This product was provided at a discounted price in exchange for an unbiased review. This review is in compliance with the FTC guidelines.

Thank you for viewing
Camden motorcycle leggings
review page!