(Size XL) These Leggings Give You Vroooom to Move!
The Camden Motorcycle leggings fit and feel wonderful. You don't have to be a biker chick to love these leggings. They work great with "Wet look" styles, or more casual wear. Added to how great they look and feel, they also allow you to move in them. These are leggings for everyday living.
Published:
Pros:
Super comfortable, Will match "Wet look" clothing
Cons:
Back will show panty lines, Squeaky
Sometimes, you just want to try something different. Having collected a few "Wet look" pieces, I decided I would like have something to wear with them other than jeans or dress pants. Searching through the
EdenFantasys
pants selections, I discovered the
Camden Motorcycle Leggings
. Now, I am
definitely not
the type to own or ride a motorcycle - the things scare me silly even driving behind them in my car - but I could appreciate the look of these leggings, so I thought I would give them a shot.
The Basics
Let me get this out there right away - these may be called motorcycle leggings, but they are definitely not going to protect you if you have a wreck on your Harley. As noted in the Motorcycle.com article
"What to Wear When You Ride - and Why,"
fashion leather may shred as quickly and easily as cloth in a crash. Make no mistake - these are purely for fashion purposes. Wear them if you were "Born to be Wild" in the bedroom or on the dance floor - not on the open road.
These leggings are basic black, but they have two different looks and feels to them. The front of the leggings have a slightly shiny, leather look to them, while the back of the leggings have a matte finish. They are "low riders," falling a couple of inches below your natural waistline, and have a slim fit down to your ankles, as you would expect leggings to do.
The material make up of these leggings are 50% polyurethane, 34% polyamide, and 16% spandex. You can tell that the spandex is in the back, making these leggings super stretchy and comfortable. The front "leather" side does not have a lot of give to it, but the back more than makes up for this lack. There is a 1" elastic band around the top back of the leggings, which helps to insure a perfect fit and keeps the waistband from sagging.
Sizing and Measurements
The Camden Motorcycle Leggings are available from Eden in sizes XS, S, M, L, and XL. I chose the XL. According to the
ForPlay size chart
, these should fit someone with a waist of 30-32", a hip size of 40-42", and a weight of 155-175 pounds. My natural waist size is 34", my hips are 40", and my weight is in the low end of the given guidelines, so I figured these would fit me comfortably.
As for measurements, the leggings are 17" across the waist band (which, as I said, is a little below the natural waistline), but can be stretched to 22". This means that the waistband should accommodate someone up to 44" around the waist, though not as comfortably as those who are smaller in this area. The length of the leggings, from top to bottom, is 38". The inseam is 29" from crotch to the bottom of the leg. The legs themselves, at their narrowest point, are 5" across.
Packaging, Care Instructions and Storage
These leggings were shipped to me in a simple, thin, clear, plastic envelope. They had a ForPlay tag safety pinned to the care tag - not the leggings themselves, as that might leave a hole in the material. The care instructions say to hand wash these leggings in cold water. Then they should be dried flat, but never bleached, as if you would. These may be stored on a hanger, but be aware that the "leather" side does show wrinkles. Fortunately, these stretch out when being worn, so it is not a major issue.
Experience
I am exceedingly pleased with my purchase of the Camden Motorcycle Leggings. They are so stretchy and comfortable, I would wear them anywhere for any length of time. They are great for standing, walking, dancing, sitting...whatever your activity level will be, these leggings can handle it with ease. The waistband does not slide down, nor does it bite into your waist when you sit in them. The crotch does not cause a "camel toe," nor does it hang down below where it should be. I was afraid the length would be too long for me, as I am just a little over five feet tall, and any sort of pants shopping can be a traumatic experience for me. Surprisingly though, the Camden leggings were, at most, about four inches too long, and the extra material was easy to push up over my ankles and have it stay there without looking too weird. I would say though, if your inseam is much over 29", you might find these to be a little too short for you.
Length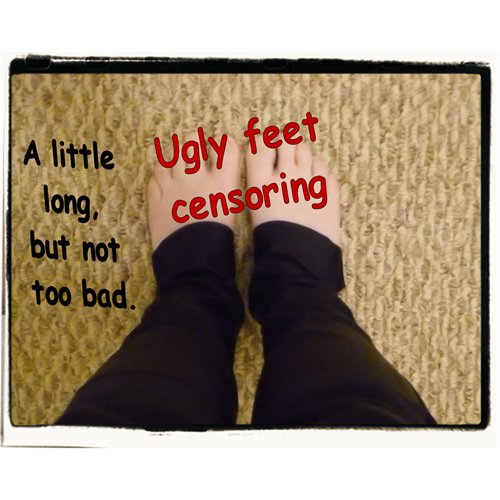 Top left: Waist and front detail
Top right: Front view
Bottom left: Side view
Bottom right: Rear view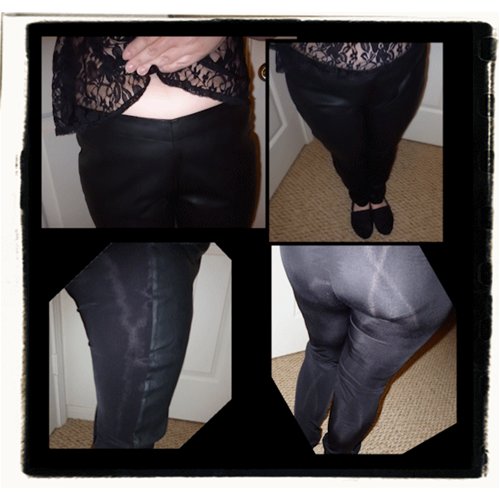 Please note: There is NOT a shiny X anywhere on the back of the leggings - that is purely a trick of the flash.
I should note that the material on the front of the leggings is a little squeaky when you move. I gave it one "Bee" for this, but unless the room is totally silent, no one else will notice it.
The one other thing that everyone will have to deal with in these leggings is that the back, spandex portion of the leggings will show panty lines. You will either have to: A) go without, B) wear a thong or something similarly cut, C) accept having panty lines showing, or D) wear a long shirt. As I will likely go with D, if I were to wear this out in public, I am not taking off any stars for panty lines. The Camden Motorcycle Leggings get a full five stars from me.
Follow-up commentary
18 days after original review
I still love these. They are comfortable and go with so many things. You do have to wear something that will hang over the bottom of it to keep your panty/panty lines from showing, but I like longer shirts anyway.
This product was provided at a discounted price in exchange for an unbiased review. This review is in compliance with the FTC guidelines.

Thank you for viewing
Camden motorcycle leggings
review page!