I Feel Like a Tough Biker In These Comfortable Leggings!
The Camden Motorcycle Leggings make me feel like a bad ass when I'm wearing them. They have a biker look, but they are oh so comfortable! The leggings are very stretchy, and breathable. They are only available up to size XL, but a 1X would be able to fit in the XL fine. Overall, I'm happy with my purchase!
Published:
Pros:
ridiculously stretchy, comfortable, breathable, interesting style
Cons:
a bit pricey, gathers, puffy crotch
The Camden Motorcycle Leggings by ForPlay arrived folded inside of a clear, plastic bag. There was no text or photos on the bag. The leggings are available in sizes S-XL. I had ordered the size XL because I figured they would fit me more comfortably than the size large. The motorcycle leggings are only available in the colour black.
I ordered these leggings so that I could wear them with longer shirts, or shorter dresses. Being a size XL, I don't feel comfortable wearing these just as pants because they are really tight, and I've got thick thighs. These leggings could be worn as pants because they are not see-through, but I'm just a bit too insecure to do that.
The leggings are made of 50% polyurethane, 34% polyamide, and 16% spandex. They are extremely stretchy. The leggings have an elastic waistband, and the material on the back of the pants has an amazing stretch to it. I probably could have ordered the size large because of the extremely generous stretch these leggings have. Below is a photo of the leggings. The photo on the left is the front, and on the right is the back.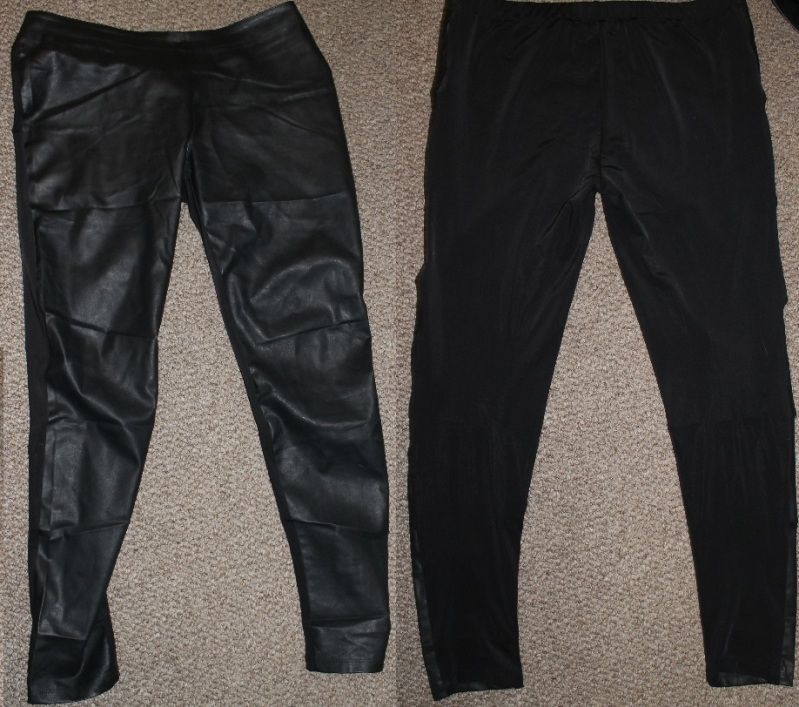 The material on the front of the leggings likes to hold any wrinkles/crinkles/folds, and that is why in the photo above they look so…unattractive. After I had worn them, I had left them on the floor instead of hanging them up. The folds and wrinkles aren't as noticeable when you wear them, but to avoid this, you can just hang them up or lay them flat. I've taken measurements of the leggings lying flat, unstretched. If you need additional measurements, please send me a message and I can get those for you.
Waist width: 16 ¼ inches
Leg length: 38 inches
Crotch to top of pants (front): 8 ½ inches
Crotch to top of pants (back): 11 inches
Leg cuff width: 5 inches
Thigh width: 9 ½ inches
Above is the company's sizing chart. I fit into all of the XL specifics, except for my bust, but my chest size has no relevance to a pair of leggings. I would recommend ordering a size down with these leggings because they are so stretchy, and they are supposed to fit tight.
The front of the leggings are polyester, while the back is spandex. I really like the contrast between the two materials. Even though the leggings are snug and the front is made of polyester, I did not find them to make me sweaty or warmer than I would be in any other leggings/pants. The spandex back allows for me to move much more freely and makes the leggings that much more comfortable. When I'm wearing them, I don't feel constricted at all. If I knew how to do the splits, I'd totally do them in these leggings. Below is a photo of the contrasting material.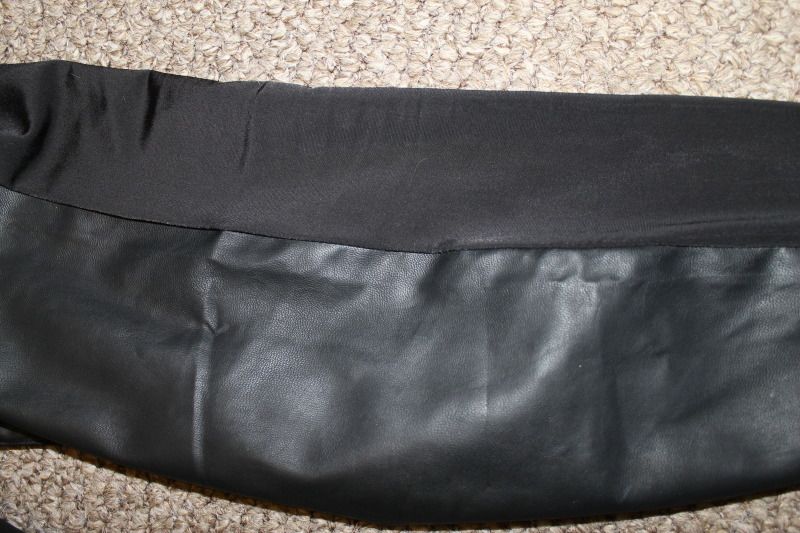 The care tag in the leggings say that the leggings should be hand washed in cold water and should be dried flat (this will avoid any folding/crinkles in the material). Also, the leggings should not be bleached.
As for my experience with the leggings… well, I like them! I feel like a tough biker when I wear them. I just feel like a rebel rocker, even though I'm not. Like I had mentioned previously, they are ridiculously comfortable to wear. The leggings are extremely lightweight. I probably could sleep in these leggings because they are so comfortable.
One issue I did have with them though is that they seem to gather on different areas of my legs. I believe the gathering is because my legs are not the length that the leggings were designed for (see measurements above). I'm 5'6; so if you are shorter than me, expect more gathering.
The gathering wasn't the most annoying issue; the baggy crotch was. Whenever I would sit down, the crotch area sort of puffed out because there was a bit of room in that area. I'm not sure if this is because I should have ordered the large instead of the XL, but it was really odd looking. This really isn't a deal breaker for me though because when I wear these leggings out, I wear long shirts or short dresses with them so it covers my bum and front area… I just figured it was worth mentioning!
Experience
...continued
Overall I rate the leggings a 4 out of 5. The reason they had lost a star is because they hold folds, gather a bit, and make me look like I have a puffy crotch. These things are avoidable though so I've combined them into a loss of one star. Below are the photos of me wearing the leggings. The first photo is a front view (you can see some gathering in this photo), second is a side view, third is a back view, and fourth… well, that's just a picture of how the leggings make me feel when I wear them; tough and bad ass.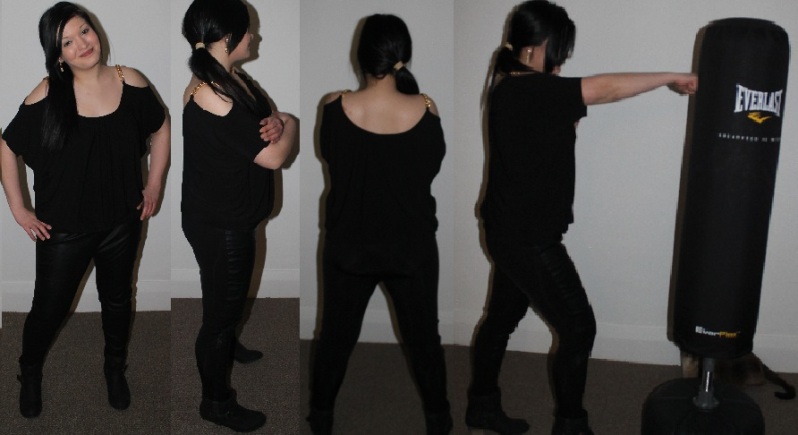 This content is the opinion of the submitting contributor and is not endorsed by EdenFantasys.com

Thank you for viewing
Camden motorcycle leggings
review page!