Icicles are around this light
Lightweight and cordless are not a good design for benwa ball, even a first timer can tell that. Although the packaging looks pretty, this isn't worth it at all. I would definitely look somewhere else unless your vaginal muscles are THAT weak.
Published:
Pros:
Looked pretty
Cons:
Light
Gets stuck
Ben-wa balls are traditionally used for Kegals, which helps strengthen the vaginal muscles helping hold in pee easier, as well as tightness. Sort of like weight lifting for your vagina. These are made of borosilicate glass which doesn't shatter into sharp pieces, but chunks, if it does break. It's a very durable glass, that can withstand a lot of torture. Glass makes a great material for things like this, because it is so easy to clean and doesn't trap bacteria inside it.
I got the icicles because they looked pretty on the site. I thought they would look like frosted glass, or ice with a bluish tint, but they did not. They were just glass balls. Albeit, the packaging looked pretty. I say looked because it came kind of smushed which was a HUGE disappointment.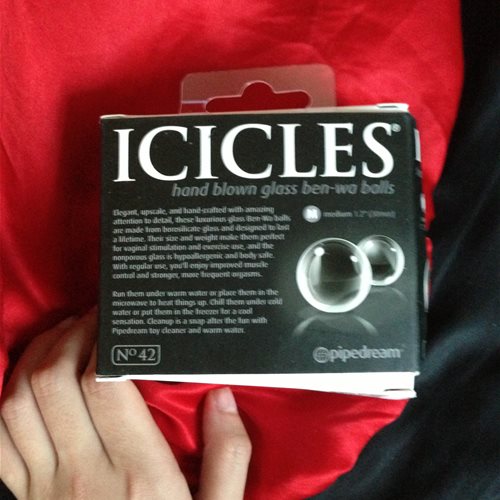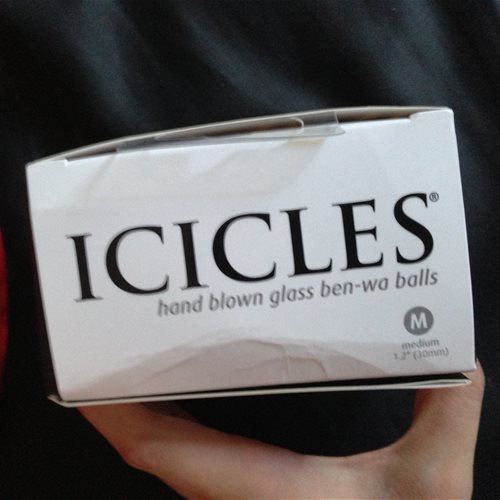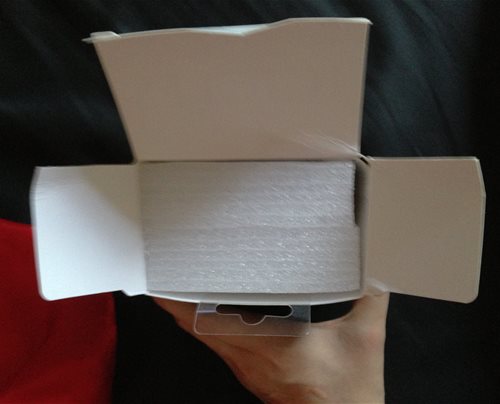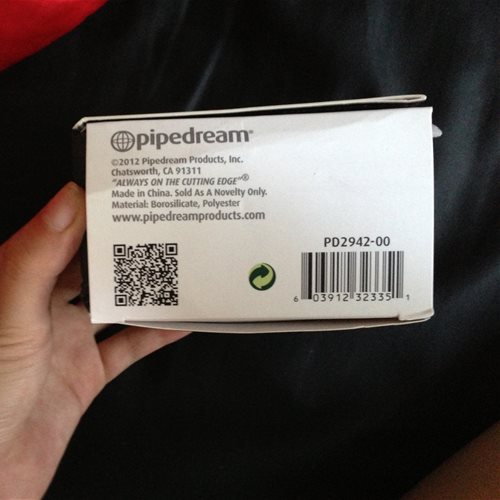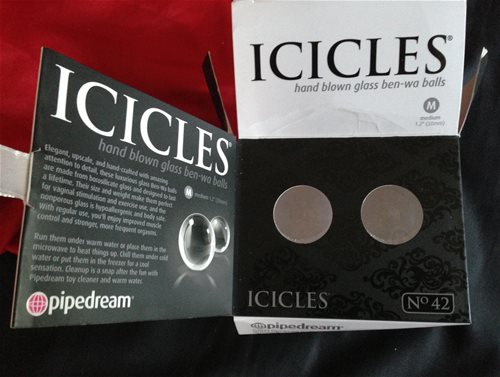 Eden should ship things in boxes again, it prevents packages from getting a bit crushed.
I love the magnetic closure to the information flap. The packaging wasn't LELO, but it was well designed; shame it got crushed a bit.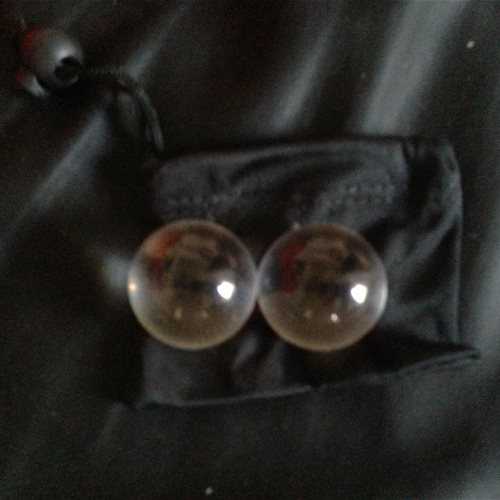 This came with a little draw string pouch which looked nice, but I hated that little push thing that keeps it closed. Good drawstrings don't open easily and these don't; I felt that was unnecessary and design-wise a poor choice. The bag is bi-compartmental so when you put the balls in it does resemble a pair of balls, and that was a bit funny.
There were no informational inserts or instructions which I did not like. These were my first pair of benwa balls, and I wasn't sure how to use them. I stupidly just put them in thinking that's how it worked, when I wanted to take them out I struggled due to the lightness of these. I could not push them out at all. I had to reach in and almost scratch myself and scoop them out which was a hassle. Without a string to pull them out, this could be problematic at best. Although they cannot get lost in the vagina, keeping things inside there isn't too healthy since it could trap bacteria in there. Not in the glass, but in the nook it creates inside since those areas cannot be cleaned past the balls. That being said NEVER PUT THESE IN THE ANUS THEY WILL GET LOST AND YOU WILL HAVE TO GO TO THE ER, EVEN WITH A CORD THIS IS DANGEROUS.
These benwa balls were really light. I don't see how these could help strengthen anything for me, but for beginners or people who are incontinent, these might be great. For me, it felt like nothing was there. I didn't even feel it inside me, that's how light-weight and small these were; note I got the biggest ones I could. Maybe I have really good muscles already, I don't know but I'm really sure this is not what the results are supposed to be. When I read about benwa balls most people give tips on keeping them from slipping through, and I had NO problem keeping them inside even when I'm pushing like I ate something really bad that day; I even tried jumping.
Overall, these were not worth the price at all and I was very disappointed.
This product was provided at a discounted price in exchange for an unbiased review. This review is in compliance with the FTC guidelines.

Thank you for viewing
Icicles ben wa balls
– vaginal balls review page!