It's All About Control...For Him and Her.
The box states that the Barbell is "sturdy enough to be a family heirloom." I don't know about you, but I would not want to pass my vaginal exerciser on to my daughter--and she would not want to inherit this item. I do agree the material is top of the line, the shape is wonderful and pleasurable, and this is one heck of an amazing exerciser. This is one workout you won't want to miss!
Published:
Pros:
For men and women, health and pleasure benefits, stainless steel, sanitizable.
Cons:
Weight takes getting used to, slippery with lube.
Betty Dodson, the woman behind the Vaginal Barbell, is an incredible and very interesting woman. While researching her background, I was amazed at her accomplishments, past and present roles in women's sexuality acceptance, and her ability to teach others that sexual needs are normal and welcome. This 84 year old woman has been a large part of the success in opening the doors for women as comfortable and happy sexual beings. She is an author, masturbation specialist, and artist. Now, on to the Vaginal Barbell, which is one of her tools for teaching women about orgasm, pleasure, and the important role that Kegel exercises play in your sexual well being and health.

The Barbell arrives in a cardboard box that is 3" tall, 3" wide and 7 1/2" long. There is a decal attached to the lid opening that explains about the Vaginal Barbell in detail. Once you remove the decal, the packaging is discreet.

The Vaginal Barbell is made of stainless steel, but has trace amounts of nickel. If you have an allergy or reaction to nickel--do not use this Barbell. If you are not sure you have a nickel allergy, just remember: if you cannot wear any jewelery other than silver or gold--you may have a reaction to nickel, and it is best to avoid this object.

The Vaginal Barbell weighs 1 pound. This may seem like an excessive amount of weight, but the benefits of using weight, shape, and size for Kegel or PC exercises will take your tone to a higher level than basic Kegels.

The Barbell has a 1 1/4" ball on the large end and a 3/4" ball on the small end. The shaft diameter is 1/2", and the rounded rings are 3/4" diameter. The texture aids in keeping the barbell inside by acting as a gripping agent, and also for pleasurable feelings when using it as a dildo.

This Barbell is designed to exercise the PC muscles. These are the muscles that are used when controlling urine flow. By building up their strength, you are proactively ensuring future health, control of bodily functions, and escalating your personal pleasure. These exercises are just as important for men as they are for women.

Benefits For Men:Stronger PC muscles can prolong ejaculation, making this a great treatment option for premature ejaculation. It can also prevent urine leaks and loss of bladder control in older men. It strengthens the muscles used for erections, and can help prevent erectile dysfunction. Stronger PC muscles add to the strength and pleasure of orgasms; making them last longer and aiding your ability to control ejaculation.

To use, lube the end of the barbell and gently insert into the anus--make sure you keep a firm grip on the end of the barbell to prevent slipping inside. Pull out the barbel gently, while squeezing the PC muscles. When you get to the large ball on the end, hold the tip and breathe out. Then relax your muscles, breathe in and out a couple of times, and then pull it back in by tightening the muscles and pulling up. Repeat 15-20 times, and do this twice per day. Maintain your strength by continuing to exercise daily.

For pleasure during sex, you may insert this and use an up and down or rocking motion to stimulate the prostrate. Prostrate stimulation during orgasm can heighten the feelings during orgasm and may help produce more ejaculate. Studies have shown that prostrate stimulation may prevent future problems.

Benefits For Women:Stronger PC muscles will prevent bladder leakage, can prevent prolapse of the vagina, aid in childbearing, and will strengthen your orgasm. The benefits are amazing and well worth the time to work the muscles.

To use the Barbell, lie back with pillows propped under your butt. Insert the lubed barbell gently, squeezing the muscles about every inch. You may also squeeze the muscles while pulling the barbell out to the last ball. With the ball still inside, release your breath and let the barbell slide back inside. When tightening the muscle, pull up as well as closing off the muscles.

For using this for pleasure, you can use a gentle thrust, rocking, or swirling motion. Tighten the PC muscles while in use, grab a vibrator, and enjoy. This will heighten your orgasms, aid in lubrication, and be a pleasurable experience. Add a bit of temperature play: the steel is fun for cooling or heating--just make sure to test the temperature prior to insertion.
Experience
Wash the Barbell thoroughly in warm, soapy water and rinse well. Go back over it with a toy cleaner that is formulated to sanitize, soak for 15 minutes in a 10% bleach and water solution, or boil 15 minutes for sanitization. Towel dry and store in the box, a toy pouch, or other safe container. You may use water, oil, or silicone lube with this product.
Do NOT use if:
**you have had a baby within the last 6 weeks.
**you have had pelvic surgery or miscarriage within the last 6 weeks.
**you have a UTI.
**you are wearing a tampon.
**you have an intrauterine device inserted.
**if you have any vaginal or pelvic pain.
**you have an infection.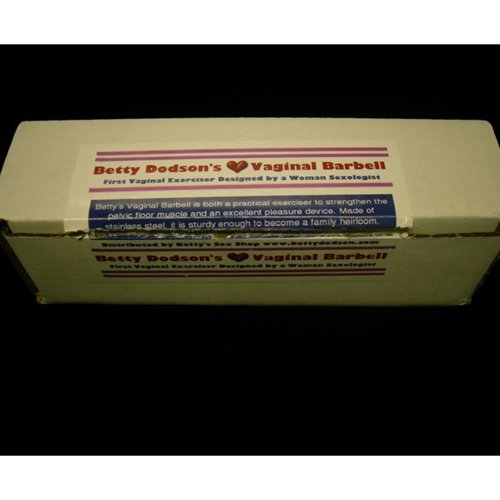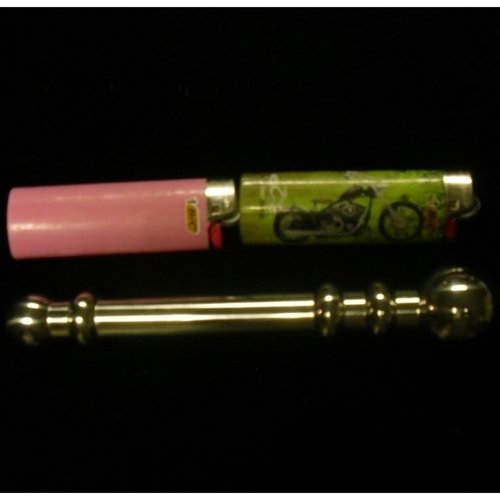 **you have an enlarged prostrate.
Follow-up commentary
2 months after original review
Kegels of steel - that is what I am getting from using this barbell vaginal exerciser. The learning curve for correctly performing the exercises is fairly short, but the benefits can be noticed after about a week.

This is a wonderful dildo as well. The cool metal is sensual and smooth against the skin and warms up gradually. To cool it down between uses, just refrigerate or let it set out at room temperature for a few minutes. Please make sure you check the temperature prior to insertion.

You may heat this up by running hot water over it, placing in a pan of hot water, or by placing it in a slightly warm oven. Do NOT overheat the metal - that will cause serious burns and possible hospitalization.

Practical, fun, and versatile - the Vaginal Barbell may protect your prostrate health, helps stop bladder leakage, benefits your sexual pleasure with stronger orgasms, and can be a fun sex toy.
This product was provided free of charge to the reviewer. This review is in compliance with the FTC guidelines.

Thank you for viewing
Betty Dodson's vaginal barbell
– vaginal exerciser review page!