Lacey Loveliness
These sexy fingerless lace gloves come up to about mid-forearm on most people. Despite the lack of Lycra, which would have facilitated fit better, they fit me fairly well and looked like nothing else I own. At this price, one can buy a pair in both white and black and find myriad uses for these attractive, yet inexpensive pair of gloves.

Club wear, gender play, bedroom play, costuming or even formal wear would all be appropriate choices for using this set.
Published:
Pros:
Sexy, fun to wear, fingerless, inexpensive
Cons:
Not stretchy, tops too tight, different pattern than shown
These gloves are fingerless and said to be "elbow length." They are made of black lace and are completely nylon with no other fabric added.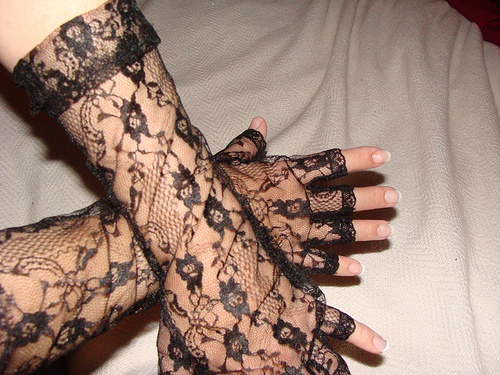 The pattern on the lace (I chose black) was quite different from the one shown in the Product Page, but it was a pretty lace pattern and looked very attractive. In fact, I like the lace pattern I received better than the one shown on Eden's page.
The sewing was fairly well done, the seams straight and strong, the hems straight and the lace around the finger holes well attached.
The material of the lace is nylon and is quite stiff and slightly itchy. The length of the gloves, from the end of one finger hole to the opening, which come in one size only, is about 13.5 inches long. These were long enough to be able to reach my elbow, but I am a very petite woman. One of the problems was the gloves are only made of stiff lace; they do not stretch or give at all.
My forearms are fairly well muscled, from both carrying small children and playing guitar. As a result, the not-quite 10 inches in circumference opening of the glove, which should rest in mid forearm, had to be folded over about ½ inch in order to fit me properly.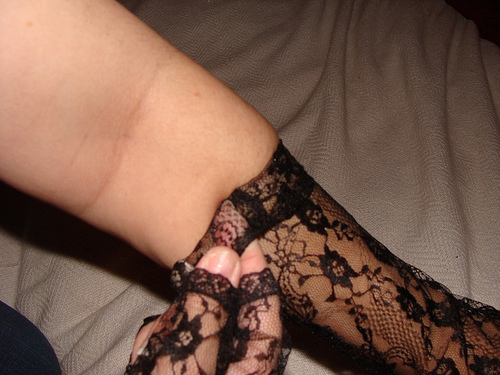 The right glove seemed to fit fine, but just barely and quite tightly at the top, while still slightly loose around my wrist.
Each finger hole has about an inch of the same fabric which the glove is made of, surrounded by a tiny lace edge. These do not cover the finger completely, but go up about one inch into the finger, giving the hand a very petite and arousing look.
The gloves could have been improved by adding Spandex or Lycra to the fabric. So that the glove will go over the hand well, the wrist of the glove is slightly bigger around than it needs to be. If the fabric of the glove contained a stretching material, this would not only fit the wrist better, but probably would stretch more to fit different sizes of arms.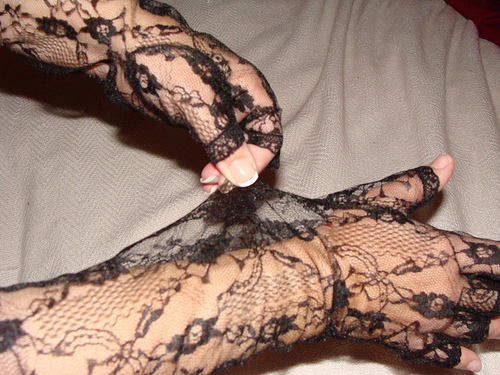 As it is, there is an amount of fabric than can be pulled away from the wrist, making the glove look a little big on me. (My wrists are only 6 inches in circumference, so I had quite a bit of room in these "tube gloves.")
I don't really think anyone noticed either my need to fold down the top of one glove or the material overage at the wrists, but it did bother me a little.
Overall, for the price, these were fairly good costume quality gloves. The seams held up well, the lace was fairly good quality and except for the aforementioned issues they fit my hands well and they look good.
These may be worn for other costumes or for very formal dinner plans. I would not wear them to bed to have sex, as not only is the lace slightly itchy, but I would not want to get the lace damp or dirty. The gloves can easily be washed
by hand
in a sink of tepid water using either a small amount of hand wash soap, such as Woolite, or what I use: diluted Bath and Body Works hand or body wash, so that the gloves will then retain my signature scent.
Experience
(continued)
My only reservation for use by others is the size of these gloves. These gloves fit me well, but I am a petite woman, and even then the tops of the gloves were a bit tight. Many people's arms are longer than mine, so the top of the glove will probably hit them below the middle of the forearm, avoiding the problem I ran into when the glove hit me right at the strongest part of my forearm. These gloves are not really "elbow length" for too many people, but more "mid forearm length." My only other complaint was the lack of stretch in the gloves. Aside from that, they suit my purposes well.
These gloves will fit wrists up to about 8 ½ to 8 ¾ in circumference. A person with hands much larger than 4 ½ inches across may not be able to wear these gloves comfortably or at all. Also, those with thicker wrists or thicker forearms, (although I had plenty of room in my wrists, too much in fact, my left forearm is 10 ½ inches in circumference at its thickest point and I had to fold the glove over in order to fit properly) may find the gloves do not fit at all. These people may want to go with large sized gloves or choose gloves which have Spandex or Lyrcra in the fabric so that they will stretch to fit. The gloves are 13 ½ inches long, from the ends of the finger openings to the top of the arm opening.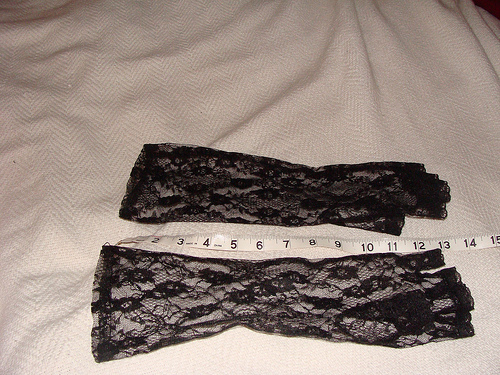 I wore these with a black Victorian style dress for my Halloween Costume as Bellatrix LaStrange (an evil witch from the Harry Potter series portrayed in the movies by Helena Bonham Carter) and I did get a lot of compliments on the costume as well as the gloves. A few people did ask me where I obtained them, and they were referred to Eden.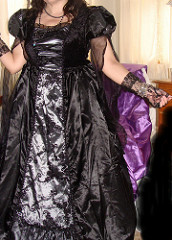 They were the perfect accessory for this use, and I am sure I will find other uses for these gloves.
They were a lot of fun to wear, and if the wearer can fit into them well, they will add a lot to club-wear, cocktail dress, gender play, some formal occasions and even role play in the bedroom.
Follow-up commentary
3 months after original review
I have found that once you get a little older, no longer work at a music store or a head shop and don't really go to clubs anymore, there aren't a lot of places to wear something like this.

It fit my Halloween costume perfectly. I may wear these to a wedding or a formal event.... when one comes along.

The lack of spandex or elastic in the wrists is the most irritating part of these gloves, along with the fact that I have to fold down the edge of the tops to fit my forearms, which are muscular from playing musical instruments and taking care of small children.

These are very pretty, I like the lace and I will use them again. But, in my life, they simply aren't an every day item.

I do look forward to the event I can wear them to again.
This content is the opinion of the submitting contributor and is not endorsed by EdenFantasys.com

Thank you for viewing
Elbow length fingerless gloves
review page!