Land Among the Stars
Waterproof, discreet, and relatively quiet, the Bottle Rockets Orion is a perfect addition to any collection. It won't be your starring piece, but it will provide a great supporting role. Plus, it's perfect for gifting thanks to the cute packaging and a cost of less than $20!
Published:
Pros:
Waterproof
Under $20
Discreet
Cons:
3 Vrooms
Small
With the Orion, I was shooting for the moon and landed among the stars. The story of Orion is a long and complicated one, but let me sum it up for you: Orion is a constellation (one of the most easily seen) in the sky. Story has it that a kind old man wished for a son, and Orion was granted to him. Orion was loved by many women, a fantastic hunter, and genuinely a good guy. However, bad luck seemed to always find him. Eventually, he was stung by a scorpion and placed into the sky along with the scorpion to teach us that no one is invincible. However, his dogs were also placed by his side in order to provide companionship to him.
The Bottle Rockets Orion has a few similarities to the one in the story. Though I'm sure it's loved by many women, it also doesn't please every one of them. The Orion also has the all the aim and control of a hunter when focused on the clitoris. Is it invincible? Well...it's waterproof. Finally, the Orion really only becomes great with the companionship of another toy.
As some of you will recall, I previously provided a review on the Bottle Rockets Nova, and I found it to be relatively good for foreplay and clitoral stimulation. However, it didn't leave me in awe. I had assumed that due to its swirl (in comparison to the Orion's bulbous shape), it would outshine the Orion. In this aspect, I do believe I was wrong.
The Orion is offered in three colors: red, purple, and pearl red. I ordered the red because it was the only one left in stock, but I was pleased because it is a true red, which is my favorite color. The Orion did smell a bit like plastic upon opening it, and it also had a slightly bad taste. I'd recommend washing it before your 1st use, which completely got rid of both the smell and taste for me.
The Orion is made of plastic, which is an 8 on the safety scale. Plastic is non-porous and phthalate-free, and it can be used with water, oil, or silicone-based lubricants. The finish is velvet-like. Also, plastic is especially easy to clean with just antibacterial soap and warm water or rubbing alcohol. The Orion is even more easily cleaned because it is so small in size.
The dimensions copied directly from Eden are:
Length:
4 1/2"
Insertable length:
3 1/4"
Circumference:
3 1/4"
Diameter:
1"
This means that the insertable portion of the Orion is basically the length of my middle finger. The Orion takes 1 AA battery (not included), and it has a push button on the end that can best be described as a rubbery candy dot. There is only one speed, but it's of medium power. If you require 4 or more vrooms to get off, this vibe could still easily be used as foreplay.
Vrooms and Bees:
The Orion won't be heard through a closed door, but it is very similar to a cellphone's vibration alert. It provides average vibrations, and these vibrations can be felt among the body, though I don't personally find them strong enough for nipple stimulation.
Multi-use?:
I personally use the Orion for clitoral stimulation and some minor insertion fun (more on that in experience). It is not intended for anal use, nor can it be sterilized. Once more, I don't find the vibrations to be right for nipple stimulation. Perhaps they aren't deep enough.
Packaging:
The Bottle Rockets are always adorable. Here's a pic of the Orion next to the Nova (and showing size)...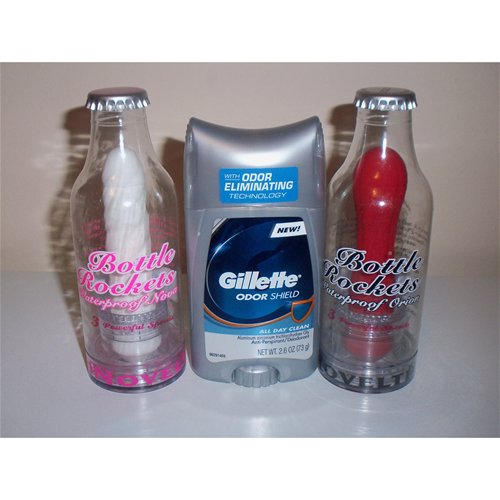 Experience
The Orion reaches my g-spot in a way that the Nova just didn't seem to, despite being of the same size. Perhaps the bulbed end just rubs that area more noticeably. However, this small vibe will not be long enough to comfortably reach the g-spot of every woman.

The Orion has a bulbous shape, and I've found that if I barely insert the large end and try to continually squeeze while also stimulating my clitoris, it can produce a more intense orgasm. It's very similar to a kegel exercise (pull your pelvic muscles up towards your belly button).
Follow-up commentary
13 days after original review
I've found that I still like to use the Orion for insertion play. I've sporadically inserted it and squeezed, and I do actually believe that I have noticed a slight difference in pelvic strength. I love to store both the Orion and the Nova in their little soda bottle packaging, which I never get bored of seeing. Finally, I really love that the Orion doesn't eat batteries and is small enough for what I call an essentials purse. However, I'm still pairing the Orion with other toys in order to get the maximum amount of stimulation and pleasure.
This content is the opinion of the submitting contributor and is not endorsed by EdenFantasys.com

Thank you for viewing
Bottle rockets Orion
– traditional vibrator review page!