Put the Screws To Them
Great for both men and women. This is an unusual style of nipple clamp. It is a press as opposed to a tweezer or alligator clamp. The additional surface area helps to give pressure to a larger area of your nipple. The clamps open to nearly 1" and close fully. No matter what size your nipples, they will surely fit into these. The threads to the screw can get off track if the press is not kept straight.
Published:
Pros:
Heavy
Well Made
Big
Cons:
May get off threads occasionally
These are great for those who do not like a delicate look in your nipple clamp. Men will particularly appreciate the industrial look to these. They are masculine but look great on a woman as well.
The clamp/press is quite large at 1" square. They open to just under 1" and press fully closed. This should fit any sized nipple. The width of the metal is 1/4" and it is 1/8" thick. This is a heavy clamp. Attached to the clamps is a substantial 12 1/2" long chain. I have large breasts and found the chain to be a good length. It is well secured by a keychain type connector. So if you did not want the chain or wanted to add a different chain this could easily be accomplished. You can pull hard on this chain and it will not come loose from the clamps.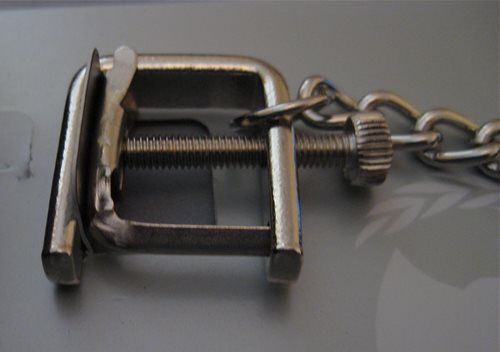 These clamps work differently than most clamps. They work as a press. You pull as much of your nipple as you want pressed up into the clamp. Then you screw it to the desired tightness. As I stated earlier, these are substantial. They are also quite weighty clamps.
The clamps come in a black Spartacus box. The clamps are clearly visible through the plastic on the front of the box. Except for the clamps being on display, the rest of the box is quite discreet. It is black with Spartacus symbol on the back.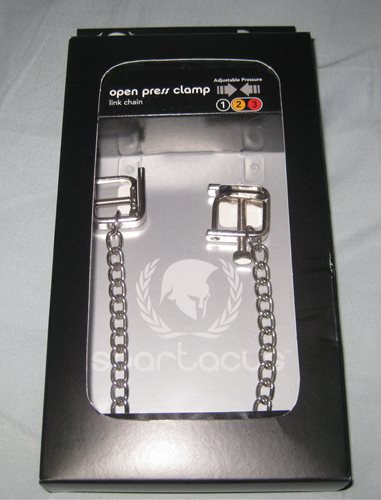 Inside the box you will find the clamps secured to the removable cardboard insert. The chain is hidden in an area at the bottom of the insert.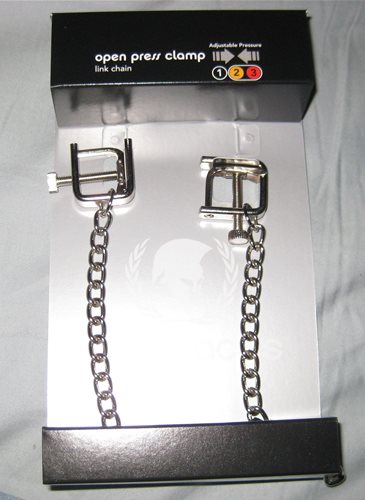 These are made of metal. There are no plastic components. If these need cleaning, use a gentle soap. Be sure that they are completely dried before putting them away. Metal tends to rust if not dried properly.
Experience
When I first saw these presses, I said "Oh My! Those are some big clamps." These are big and imposing. If you are a beginner, these may be a bit too heavy for you. Due to the weight, you need to get these a bit tighter so that they will stay on.

Men or those with bigger hands will love using these. They are substantial and those with larger hands will find them easy to grasp on to and adjust.

These look equally good on a man as well as on the woman. These are high quality and you will be able to keep these in your toy chest for a long time.

The only drawback that I found was that occasionally you will need to push down on the bar next to the screw to keep the press even. If you do not do this then it can get off the threads and not tighten. That is the only drawback from a design standpoint.
This content is the opinion of the submitting contributor and is not endorsed by EdenFantasys.com

Thank you for viewing
Adjustable clamp
– nipple clamps review page!