Short and Sweet(ish), but Buzzy
The Short and Sweet Vibe may be pleasant for some and boring for others. If you want something on the smaller side, then this might be good for you. If you want any bells or whistles you might want to look elsewhere.
Published:
Pros:
Price, Plastic, Well Built
Cons:
Buzzy
Use
The Short and Sweet Vibe is a marrying between a bullet and a traditional vibrator. It is small and easy to travel with, but it is larger than some bullets and can provide some (shallow) insertion. The Short and Sweet Vibe is an affordable toy and is an option for beginners. There is nothing glaringly horrible about the toy. It provides decent vibrations. Even if a beginner does not care for this toy they learn more about what they do like and they have not spent much money.
For a beginners, this vibrator is a good option for the price. more advanced users may wish to pass on this one because it is not "great" in anyway. There are better toys out there. The Short and Sweet Vibe can be used for external stimulation of the clitoris as well as erogenous zones like the nipples, stomach, and thighs. It can be used for vaginal penetration, but it is not designed or intended for anal penetration. The toy is simply too small and could easily get lost inside the body. The Vibe is not the most discreet, but it is waterproof, so it can be taken into the shower for privacy.
Material & Texture
The vibe is made from plastic. Plastic ranks an 8 out of 10 on the Materials scale. Plastic is non porous, so bacteria cannot harbor inside the toy. While it is plastic, the toy seems to have some coat, potentially polyurethane or velvet cote. The toy has a slightly velvety feel when you rub it. The Short and Sweet Vibe is completely solid and unyielding. It will stay where you put it with no problem.
There are textures present on the Vibe. Along the length of the toy there are vertical, indented lines. They are ripply, so if you twist the toy in your hand you can feel the raised textures from the lines.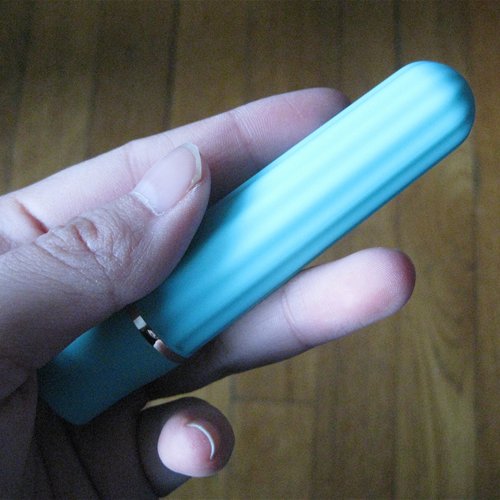 There is a seam that bisects the toy, but the textures of the toy make the seem almost invisible. The top of the toy has a bit of roughness to it. This is probably due when the mold is cut during manufacturing. This could be a bit annoying if you like using the very tip of toys for clitoral stimulation. Some tips may be more smoothed out than others. Mine was on the rougher side. There is no overt smell to this vibe.
Design & Size
The Short and Sweet Vibe is fairly simple in design. It is marketed as a discreet vibe and is really a mix of a bullet and vibrator. The Vibe is 4 inches long with an insertable length of 2.75 inches. This may be enough for some women who have shallow G-spots. The toys is on the thin side as well with a circumference of 2.5 inches around.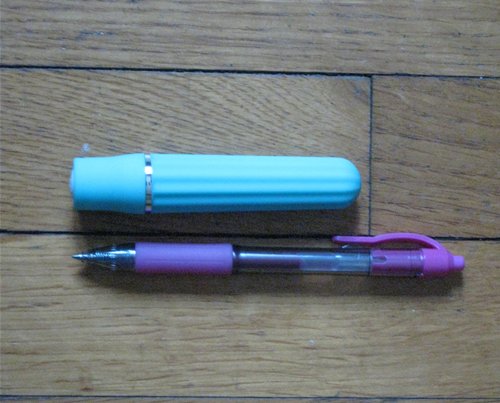 The toy is not intimidating in either size dimension. In this way, it's beginner friendly. If you want more than a couple of inches, then look away. This toy won't give any feeling of girth or fullness. If anything, the textures can be appreciated if the toy is gently twisted during use. If used for insertion, the toy is not the most ergonomic because is has a small base to grasp from. The plus side is that the Short and Sweet Vibe is easy to travel with. It can easily be tucked away in a purse or pocket. It might be best to remove the batteries since the toy could accidentally turn on during travel.
The Vibe is not as discreet in terms of sound. It's around 3 Bees, so it may be heard beyond a door is there is not any background noise going on. For utmost discretion, it might be best to turn on the TV or fan before using this toy.
Functions & Controls
The controls for this Vibe are also short and sweet. There is only one button that does all the work. The button is located at the base of the toy. Pressing the button makes a clicking sound. Push it once to bring the toy to its first and lowest setting. Press it again to move it to its highest setting. Both settings are more buzzy than rumbly in nature. In general, buzzy toys are more likely to make hands numb. If you need to quiet the toy quickly, you can push it halfway and the toy will go quiet. Otherwise, there is not automatic off for the vibe.
Press the button a third and final time to turn of the Vibe. The vibrations are fairly decent. They are a high 3 to low 4 Vrooms. Both settings are standard vibrations; there are not patterns with this toy.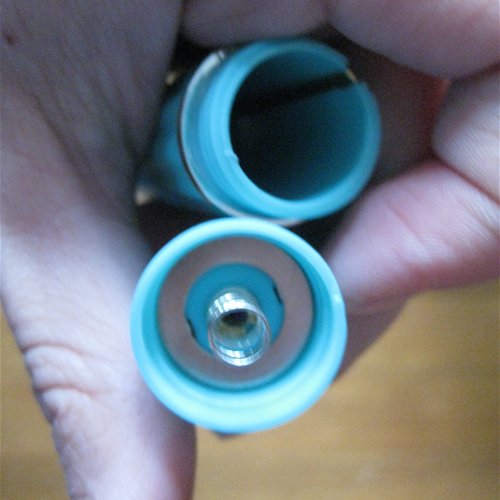 *to be Continued in Experience Section
Experience
The Short and Sweet Vibe only takes 1 AA battery, which is easy. The battery lasts long enough. The toy does have a rubber O-ring, which makes the toy waterproof and allows it to be used in the shower. I have submerged this toy in the sink to test the waterproofing and it survived with no noticeable damage.

Maintenance and Packaging

Caring for the Vibe is easy. Soap and water are the easiest to use, but you can also use toy wipes and cleaners. Both silicone and water based lubricants can be used with toy. It doesn't really collect lint, which is a plus. Once clean and dry, it can be stored in a cool, dry place. If storing for long periods of time, it is best to remove the battery from the toy.

The packaging is fairly standard sex toy packaging. The Vibe comes in a clear plastic box. It is not lewd with pictures, but it is not discreet since the toy is visible.

Other Comments

This vibe is not a bad purchase given its price, especially if you catch it on a great sale. It is made of a solid material and, frankly, doesn't suck. There are better toys out there, but the Short and Sweet Vibe is not a bad purchase for someone who prefers smaller toys and doesn't mind buzzy vibrations. For me, this one will probably go in the "hardly-used" toy box, but I don't actively despise the toy.
This content is the opinion of the submitting contributor and is not endorsed by EdenFantasys.com

Thank you for viewing
Short and sweet vibe
review page!