Sue's a Playground
Sue by SinFive is a low priced luxury vibe. It's rechargeable by USB and hold a charge really well. The vibrations are pretty strong; there's plenty to choose from too. Whether pinpoint or broad stimulation, this toy could achieve either. Sue can be used for G-spot stimulation. As long as it fits with your anatomy, it could be awesome for that, but I didn't get much from it. It's wonderful just as a clit vibe.
Published:
Pros:
rechargeable, best materials, easy to care for, nice design
Cons:
lint/hair magnet, not great for G-spot
Sue is a quality made vibrator by the German based company, SinFive. Not only is the tapered tip great for pinpoint clitoral stimulation, but it's also useful for G-spot play! It's solid build can be used to massage any area of your body you wish. Use solo in bed, or even in the shower. You don't have to worry about getting any water through a charging port because this vibrator features inductive charging. Give it to a partner and let them do the work. A versatile toy indeed. I really wouldn't recommend it for anal play, because it could go awry easily.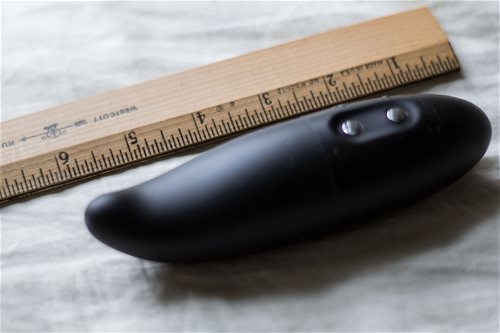 Sue's pretty body is coated with silicone. It's non-porous and hypoallergenic, so it's awesome for just about any user. Silicone is a 10 on the safety scale. This material makes Sue very easy to clean and care for. It can be cleaned with mild soap and water, or your favorite toy cleaner. Silicone can be disinfected in a bleach and water solution, though I would not recommend boiling it or it can destroy it's internal motors. It's a lint and hair magnet, so if I leave it out when not in use, I quickly clean it with a toy wipe before use.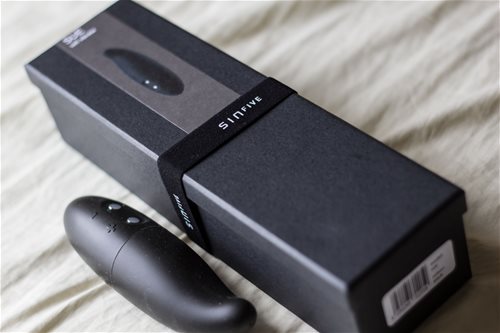 It's firm and has a slight squish, which makes for easy gripping. The tip has the most squish, but it does not bend. Sue's easy to hold on to, even when slippery with a lubricant. It's very smooth and the only texture you'll find on it is the SinFive logo in raised letters on that back and the two silver buttons. There is a seam near the center of it, but I can't imagine it being an issue for anyone. It's very slight and that's pretty much the cut-off line for insertion. Mine is a slick black in color, but it also comes in violet and raspberry.
I like the size of Sue. Moderate size, but very light weight.
Here's some specs:
Length 5.75 inches
Insertable: 3.5
Widest circumference: 5 inches
Circumference at tip: 2.75
Weight: 0.4lb/6.4oz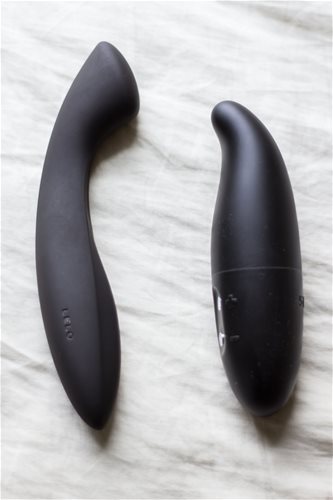 The controls are easy to get the hang of. There are two buttons that control the vibrations. They're marked with a plus(+) and a minus(-) symbol. Press the + button once to turn it on and it starts with a steady vibration. You can hold the + button to make the vibration stronger and you can press it 8 times to get to the highest speed. To bring it back down to a lower speed, just tap the - button. Once you get to the highest vibration, you can press + to start cycling through the patterns. The first one is a quick pulse. The second is an escalation with two quick pulses. The third is a rollercoaster. The fourth is completely random. It almost sounds like music. To go back to the steady vibration during the patterns, just press the - button. You can not adjust the intensity of the patterns, only the steady vibration. The vibrations are fairly strong and not too buzzy and they are surprisingly quiet. The steady vibrations are where the power is, but the patterns are kind of lacking in intensity. I normally don;t use many patterned toys, so that's not a huge deal for me.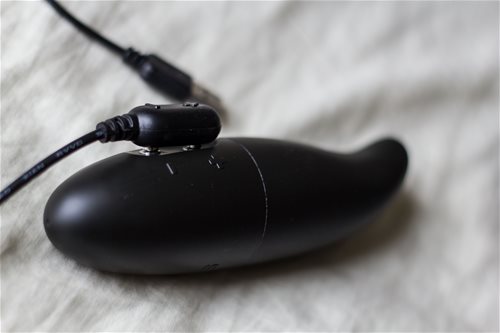 Sue is rechargeable. She comes with a USB charger, so you can plug it in your computer to charge. Or, you can use the wall attachment that comes with most phones. The charger doesn't plug inside the actual toy, like we normally would see, but it's magnetic. It matches up with the control buttons. It's strong, so you don't have to worry about it falling off while charging. Some of the great things about this is that it reduces the risk of electrical shock and corrosion doesn't happen. A few cons of this type of inductive charging is that the toy can be costlier. Lower efficiency, so it takes longer to charge. I can't quite say how long Sue takes to charge because there's no lights indicating when it's finished. I charged it for an hour and I've used it a few times in about a week and it's still going strong. So, if it's anything like most toys, it probably takes about three hours when completely dead.
Experience
Sue didn't some with any storage pouches. I keep it in one of my spare pouches from another toy. The box is quite large for the toy, but that could also be used to store it in. The box is 10 x 3 x 2.25. It's pretty discreet. It's long, but also slim, so it could be hidden or stored on a shelf easily. Don't store it near extreme heat or direct sunlight. A water-based lube is recommended. Since this is a quality toy, I use a high quality silicone lube on it. I made sure to do a patch test on it to make sure it didn't discolor or become tacky. This could be travel friendly, as long as it's stored properly.

Sue is a pretty cool toy. I like the way it charges and it's easy to keep. I like not having to deal with batteries and it seems to hold a charge for a long time. That's a big pro for me because I'm wicked forgetful about charging. It works well as a clit vibe; I like the intensity of the steady vibrations. I really don't get much out of the patterns. I sometimes cycle through them just for the novelty of them, but on land back on steady. I can achieve climax fairly easily. As far as G-spot stimulation, I get nothing from it. When trying to insert, I get a ton of drag, so I have to use lots of lube if I'm not incredibly aroused. I have a Pure Wand and other compatible G-spot toys, I'm not even going to think about using this one for that.

I'd recommend this toy to someone with no experience or someone with a huge vocabulary of sex toys. The vibrations carry really well through the toy. Whether you like pinpoint or broad stimulation, this one is good for either. Use the tip or just turn it over or around.
Follow-up commentary
1 month after original review
I liked this when I got it, but I started to love it after a few uses. It's now one of my go-to clit vibes. I never have problems with the magnetic charger. Great toy, highly recommended.
This product was provided free of charge to the reviewer. This review is in compliance with the FTC guidelines.

Thank you for viewing
SinFive Sue
– clitoral stimulator review page!