The Velveteen Rabbit
You've heard the phrase that all that glitters isn't gold and vice versa, right? Well, sit down and let me tell you the story of a rabbit that seemed plain, odd, and costly. There weren't any bells, whistles, or shiny parts to her but she had amazing features to boast of hidden underneath...
Published:
Pros:
~ 100% Silicone
~ Waterproof
~ Rechargeable
~ Powerful
~ Flexible
Cons:
~ Lint Magnet (Like Crazy)
~ Clit Attachment Doesn't Sit Quite Right (On Me)
Meeting the Rabbit

Once upon there was a rabbit. She arrived in a pretty white box, complete with a storage bag, information packet, and charger. She was nestled safely in a plastic cut-out, waiting to be accepted into her new home. When she was pulled out of the package, the first thing her owner noticed was that she was purple and rather velvety in texture. Hence she was named - the Velveteen Rabbit.

The silicone she was made of, while a very safe material, had quite a bit of drag to it. Her owner knew it would take a fair amount of lubricant to smooth her out. She also had a seam run down her body all the way around. Her owner didn't mind so much since it wasn't pronounced enough to be felt in use but she did sigh at the imperfection in her costly new pet. She also noticed in the very short time she had her new toy out of the box that it was already covered in small pieces of hair and lint. The rabbit worried for a moment that it would turn her new owner from her but instead she just got a bath.

Her two buttons built underneath the silicone were also appreciated for being completely sealed underneath her material, allowing her to be completely submerged. And, of course, her charging port was neatly and subtly placed at the end of her body. It could have almost been missed without looking for it, creating smooth lines to her form. And the care was really put in here in her design because it's intended to keep water out.

But her owner didn't overlook the most impressive parts of her. First was her large appendage with a beautiful, thick curve made to hit the G-spot just right. The neck where it met the body was fairly flexible, as well, allowing her owner to pull up or down on it without bruising her insides while adjusting the second appendage to the best position. With that being said, the second appendage was quite interesting. It was flipper-like, being rather flat and very flexible. Her owner was most certainly intrigued by this design and specifically picked her out for this unique feature.

Her lady put her aside for a brief moment to pull out her included instruction pamphlet. Oh how wonderful, she could hear her owner say, It comes with a travel lock feature. But before our Velveteen Rabbit could revel in this praise, her owner picked up the charger, plugging one end into the wall.

Then her mistress plugged her in to charge...

Playing with the Rabbit

And she came alive! Well, she felt alive that is. Her little LED light on the side opposite the buttons starting to flash, letting her lady know she was charging up. It took a few hours to fully charge but it was easy enough to do considering there wasn't a "wrong" way to put the cord in or have it fall off like magnetic ones.

When she was done and energized, that LED light shown steady. Her owner picked her up and, after giving her yet another bath to get rid of the lint, pressed the top button on her body. The LED light under the button pulsed until her owner released the pressure. Her new rabbit was relatively quiet, though not the whisper-quiet promised on her packaging. But my she was powerful! This first button controlled the power of the main appendage and it wasn't even turned up all the way yet! Her mistress held the button down again, watching the LED light underneath it pulse faster and faster until it reached top speed and the LED light shown steady. Ah, that's an easy way to turn you up, the lady thought. She was very pleased and that pleased the rabbit.

Just briefly pressing the same button again, all power stopped. And though her lady wondered if that would pose a problem of accidentally losing power in the middle of playtime, it was more welcomed to have a quick shut-off. She then turned her attention to the second, lower button on her body. She did the same thing with this one and held it down until the pulsing of the LED light glowed strong and steady, reaching the height of power for this second motor. Huh, that's interesting, thought the lady. This second motor isn't actually in the clitoral attachment. Instead, it felt like the motor was in the handle, underneath the second appendage. This motor was strong too, enough so to vibrate the whole rabbit! So maybe that wasn't a lost cause. The power just didn't translate as intensely into the "clit flap" as she had hoped and it muted further still if she bent back that little flipper.
Experience
Now our little Velveteen Rabbit doesn't have any patterns of which to speak but her mistress liked her that way. And in discovering her G-spot rather recently, this rabbit really fit into her owner with sweet bliss. The only issue the lady had was with that little flipper. It's not that it wasn't powerful, it was about the positioning. Of course, the rabbit fretted over being abandoned by her new owner for not matching her body perfectly. The flap just fell short of reaching where it needed to and in flexing the neck of the G-spot appendage, it put way more pressure on the G-spot than the owner could take.
But this was the first pet that her lady owned that she was ok with not hitting her clit just right. That G-spot curve was just too beautiful to fault her for the rest. She made up for the lack of direct clit stimulation in other creative ways. It could even be used externally since the tip of the G-spot curve carried such powerful vibration.
How the Story Ends
As you may be guessing, this rabbit was not thrown into any fire and was bathed with love and put back into her box for the next night's playtime. Her owner loved her and gladly added her to the collection. Only water-based lubricate was used on her and she was never charged near the water for safety reasons. Our rabbit was officially welcomed into the family and hasn't been without a charge since.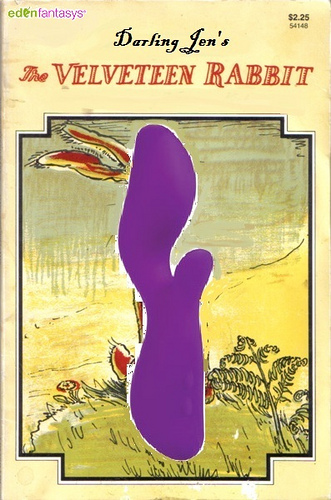 **
I do not own or presume to have any rights over the Velveteen Rabbit story by Margery Williams.
**
This content is the opinion of the submitting contributor and is not endorsed by EdenFantasys.com

Thank you for viewing
Vanity Vr4
– rabbit vibrator review page!