These Kept Me Squirming All Night
I thought this was a great kit for the price. The vibrator and panties are fun, and the accessories are pretty nice too. It's fun for public or private wear and is wonderful for teasing or as a warm-up toy.
Published:
Pros:
Fits body well, many accessories included, quiet
Cons:
Runs on watch batteries, lube and toy cleaner contain parabens
The Vibrating Panty from Pipedream is a fun and unique toy to bring into your toybox. The set not only comes with a vibrator and panties, but it comes with a whole bunch of extras too. The set includes a 1 oz sample of water-based lube a 1 oz sample of toy cleaner, a silicone blindfold/mask, and batteries. It's a great set for couples to use and can be used in public or private.
Vibrator
The silicone sleeve the bullet sits in is about 5 1/2" long and is about 1.5" at its widest point. It's not really meant for insertion, but it sits in the panties and hugs against your body. For me, it fit great against my body and was pretty much a perfect fit. The bullet fits inside rather snugly and can be difficult to get out.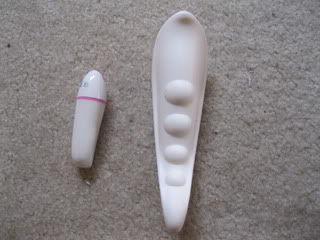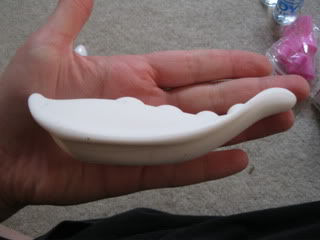 Because the sleeve is made out of silicone you will want to make sure to use a water based lube because a silicone based lube can damage the toy. Fortunately a bottle of lube comes with the toy if you'd like to use that one, but you can use any water based lube with it. To clean it I take the bullet out of the sleeve and wash it is anti-bacterial soap and water. A toy cleaner or bleach solution would work as well. Just be sure not to get the bullet wet because it is not waterproof. The bullet shouldn't get too dirty because it doesn't come into direct contact with your body during use, but if it does get dirty just be extra careful when cleaning it not to get water inside of it.
The vibrator is about average strength compared to other vibrators. It was definitely strong enough for me, but it won't be strong enough for everyone I am sure. It is a remarkably quiet toy, the silicone sleeve does a wonderful job muffling the noise. Because of this its possible to use in a public place such as a bar or loud restaurant without anyone hearing it. To change settings, just push the button on the bullet. There are 7 vibration settings: low, medium, high, low to high, medium pulses, fast pulses, and pulses that are 3 short one long. To turn it off you will need to scroll through all the settings and press it again to turn it off. The vibrator runs on three LR-44 watch batteries and last for about 30-45 minutes of use.
Panties
The panties that come with the set are white with pink polka dots and pink bows in front. They kind of remind me of little girl underwear, so the style might be off-putting to some. They are comfortable when worn, and really they just feel like a typical pair of underwear. They are made of 85% polyester, 15% spandex blend so they are really quite stretchy. There were some care instructions on the tag of the panties. It says that they are to be hand washed in cold water and dried flat. So far I have just thrown them in the washing machine in a lingerie bag with my other underwear and that has been fine.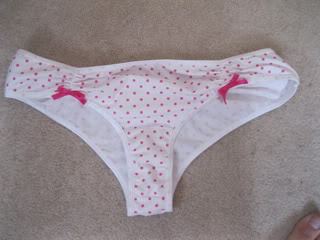 The panties are listed as Queen size and the packaging says that these panties will fit up to a 44" waist. I am inclined to believe that and I would say that even 1 or 2 inches more would probably work. I have about 41" hips and usually wear a size large (7) when it comes to panties I buy at most stores and these fit me just fine. I think if you got much below 40" around the hips these might be a little too big.
Since the size or style of the panties may not work for everyone, it is lucky that they can be adapted to other sets of panties pretty easily. So don't despair if the panties don't fit you! This toy can definitely still work. The only thing that really makes the included panties different from any other set of panties is two elastic pieces that run across the fabric. If you are a crafty type, you can easily buy some elastic at a fabric store fairly inexpensively and sew a couple of strips onto a set of panties that will fit you better. I was also able to adapt the toy to other panties was by cutting a couple of hair ties and tying them around the panties and then sliding the vibrator underneath it. I was able to make this toy work for both bikini cut panties and thong panties, but it would not work well with a g-string.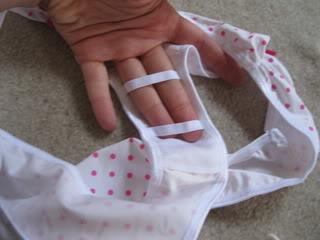 Here's a picture of a thong that I was able to attach the vibrator to with hair ties.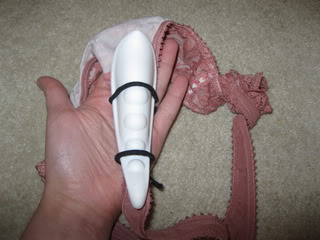 Experience
(Continued)
Lube
The set comes with a 1 oz sample of water based
lube
. The lube that came with this set wasn't that great in my opinion. It works pretty well I suppose, but it's definitely not my favorite. It's a fairly thin consistency and gets pretty sticky after a few minutes. The bottle it comes in is pretty easy to spill as well, so be sure and keep the lid on good when you are not using it.
The full list of ingredients is: aloe vera, nettle extract, rosemary extract, balm mint extract, ginseng extract, water, glycerine, hrdroxyethyl, ethylcellulose, diazolidinyl urea, corbopol, sodium benzoate, methylparaben, peg 6-32, triethanolamine, nonylphenol, and citric acid.
Toy cleaner
The antibacterial toy cleaner did not have any specific instructions with it, but it seemed to work as well as other toy cleaners. I used a cloth to wipe off the toy using the cleaner and then rinsed it off and let it dry.
the ingredients in the toy cleaner are: Water (aqua), Ammonium Lauryl Sulfate, Cocamidopropyl Betaine, Cocomide DEA, Sodium Corboxymethyl lauryl Glucoside, Sodium PCA, Propyl-paraben, Methylparaben, Diazolidinyl Urea, Citric Acid.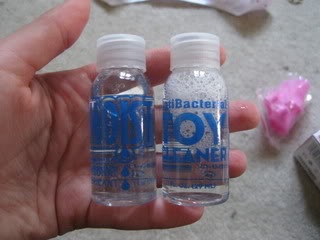 Mask
The mask is made of silicone and is fairly stretchy. It is a little over 16" in circumference and can be adjusted to fit smaller heads, but it might feel a little uncomfortable if it needs to be stretched too much to fit someone. The masked worked pretty well and was able to block my vision, though it doesn't block light completely. It did tug on my hair a little bit, so it isn't my favorite mask I have. Overall though it's a good mask and serves its purpose well.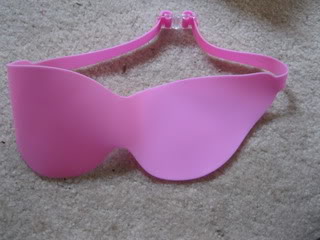 My Experience
We really thought this was a fun toy. We tried having me wear it to a bar and it was definitely discreet enough to do so, you couldn't really hear the vibrations at all and the vibrator can't be seen under clothing. The only problem was that there really is no way to discreetly change the settings. My favorite use for them though was for teasing while at home. He likes to have me wear them while we are doing something like watching TV until I get so worked up that i can't stand it.
Follow-up commentary
3 months after original review
We still have a lot of fun with these. The only problem is that they eat through batteries so quickly. Everything has held up really well and I'll be looking forward to a lot more fun with these vibrating panties in the future.
This product was provided free of charge to the reviewer. This review is in compliance with the FTC guidelines.

Thank you for viewing
Fetish Fantasy Elite vibrating panty
– strap-on vibrator review page!