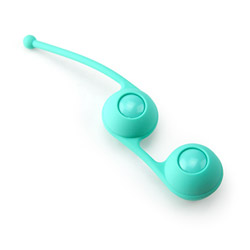 Asana Kegel balls
Vaginal balls
by EdenFantasys
Working out down there
These Kegel balls are easy to clean, use and maintain. They're a very straight forward toy you can insert and go about with your housework. They are recommended for vaginal use only. You can wear them under clothes in public or around the house and get a good workout down there. My wife recommends that every woman should have at least one set in their toy box even if it's just for them.
Published:
Pros:
Silicone
Weighted
Easy to use and clean
beginner friendly
Cons:
Wish the balls where silicone as well.
First Impressions:
First out of the box, the wife was raving about the love of the blue coloring of the toys we've received recently. She's a big fan of having a multi-colored toy box. I don't really care as long as it works and gets the job done, but I'm glad she likes my picks and I look forward to continuing to do so.
Packaging
The packaging for these was a lot different than typical packaging. This item came in a nice box, and there is some information about Kegels on the back. It also states that you can wear them when you want to and enjoy better orgasms later. It's very simple and pretty, however not blatantly obvious with the toy plastered all over the packaging as many sex shops have. We really like how this is done and think it looks very giftable. The inner packaging works well for storage afterward, however, we didn't keep it. We don't have the biggest toy box for packaging to go in as well.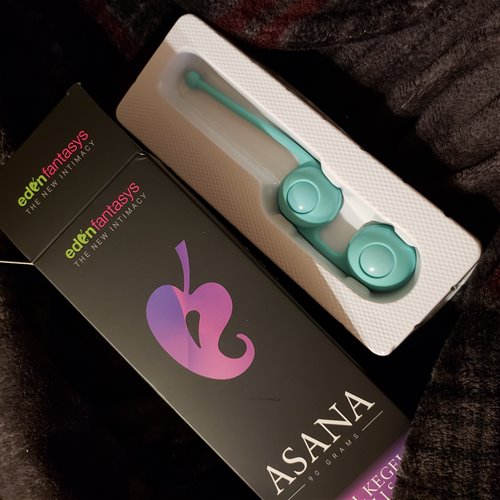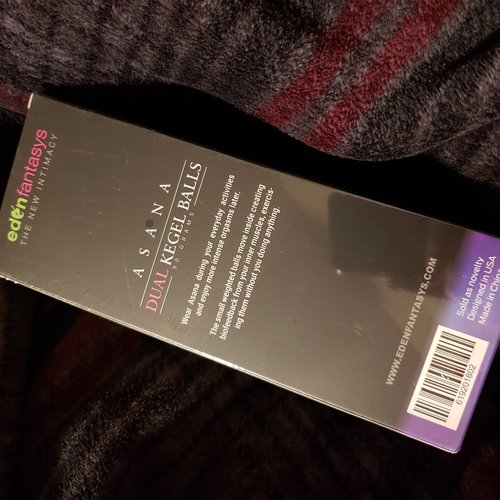 Design and Size
These are very common looking Kegel balls. Most sex shops have similar ones in different colors and variations. We like that you can take the balls out of the silicone sheath however it does make them a little more interesting to get out later. Luckily this is a one-way zone that these go in so there's no real worry of them getting lost. The cord to pull out the sheath is very long but comfortable to wear under clothing. There are not any sharp corners or edges on it that may cause damage or be uncomfortable. However, always check toys over just in case, prior to insertion.
The total length is about 7 inches and insertable is about 4 inches including both balls. Each ball is about an inch across and an okay weight. My wife says they're just right for beginners, not so heavy that they may pull themselves out but just enough weight, especially together, that you can feel them tugging down a little. She also enjoys that they aren't too big, some of the ones she's had in the past have been quite large and harder to insert and remove making it uncomfortable to do and enjoy.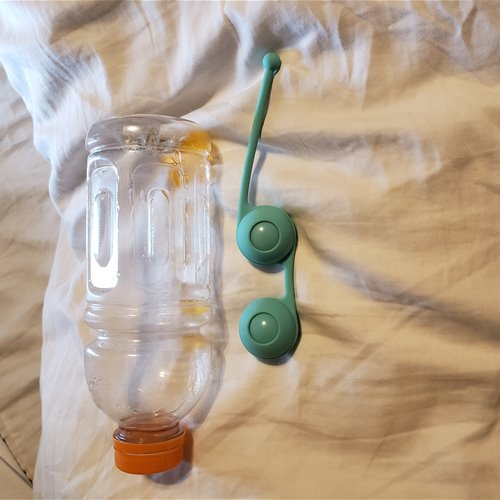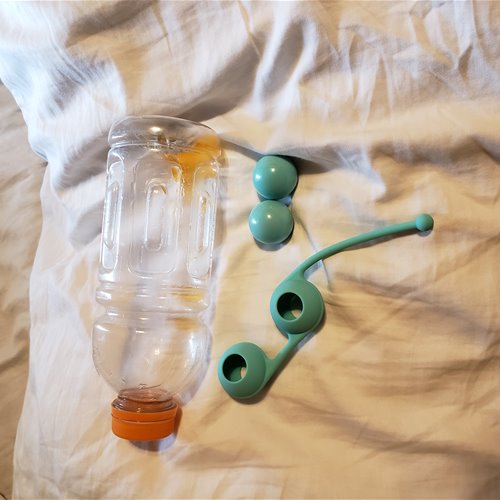 Material and How to Maintain It
The sheath with the pull cord on it is made of soft, slick silicone that is easily inserted with a little bit of water based lube. The balls, however, are hard plastic with a little weight inside. I'm assuming something possibly metal or heavy plastic that gives it this slight rattling feeling when you shake it. As shown above, you can use the balls in or out of the sheath. They are easy to use or remove, however, it can add to the sensation depending on how you prefer it.
Silicone is easy to maintain, it's nonporous and can be easily sanitized in the dishwasher or with toy cleaner or mild soap and warm water. Plastic is a little different, this surface is porous so we do not recommend using these with more than one partner or sharing it without protection.
The only lube that is really safe to use with silicone toys is water-based. Personally, we recommend water-based lube overall to make sure there is no reaction to the toys and to us it's much easier to clean up.
Personal Experience and Comments:
My wife loves items like this. She says that pelvic floor health is extremely important. Kegels with balls like these help strengthen the pelvic floor and help you from becoming incontinent, and possibly helping work out those inner walls to make things tighter downstairs. There is research behind it and she lives by these words and wants to help others maintain their sexual health. She even says they help with having stronger orgasms that shake you to the core. Personally, I cannot confirm nor deny them since, well, I don't do Kegels. But, with a third kid on the way, I'm going to take her word on how to do things down there.
We enjoy playing with this. It's easily worn under clothes and in public if the wife wants to feel a little risky. It's like our little secret. Personally, I enjoy teasing her and slowly pulling them out as she's trying to hold them in. Be wary doing this though because you do not want to hurt your partner and a sudden or rough tug may make them feel uncomfortable.
This product was provided free of charge to the reviewer. This review is in compliance with the FTC guidelines.

Thank you for viewing
Asana Kegel balls
– exerciser for vaginal muscles review page!