A Different View
I've gotten a ton of the Eden Fantasys vibrating cock rings and I've never liked them because of the scarce vibrations and the squishy TPR. Only until my millionth one did I discover the potential it has. I juiced it up and I started to become fond of them.
Published:
Pros:
Quiet, price point, alternate uses
Cons:
weak, poor materials, doesn't last long
I know this ring has a million reviews, but I thought I'd give my input with some alternate uses.
What we have here is an EdenFantasys sponsored vibrating cock ring. Pretty self explanatory. Slide it on the shaft of the penis and it adds stimulation to the clitoris and penis with vibrations. It's not like the cock rings that hold tight at the shaft of the penis to help maintain and erection because it is very lightweight and stretchy. Its main purpose is vibration.
It's made of TPR silicone, which rates as a 6 on the safety scale. TPR is a man made rubber, so it's blended with silicone. It is also hypoallergenic, nontoxic and phthalate free. The low safety rating isn't really a huge deal on this one because it is meant to be disposable. It is very squishy, pliable and flexible, so the ring is gonna fit around anyone who wants to wear it. The ring is a somewhat transparent purple and the plastic bullet is pink. it measures 1.5 inches top to bottom. The diameter of the hole is just under .75 inches. It can be stretched up to 6 inches before it feels like it will snap. There's a textured butterfly on the bullet. I assume that is for added stimulation to the clit when it comes in contact with it. It operates by one tiny little on/off switch on the side of the bullet.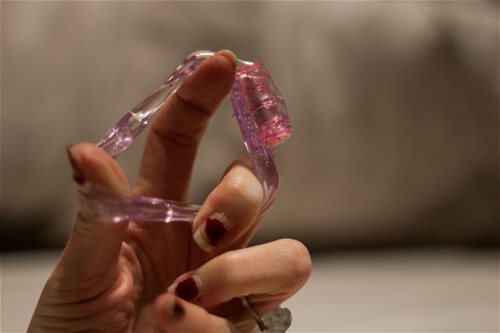 It comes in a little square plastic package. There's a misspelling on the back. That always cracks me up. It says 'Do not use on swallen or inflamed areas'. 'SWALLEN'?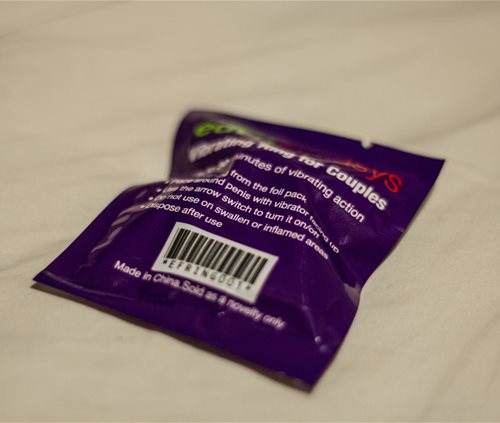 While in use on the penis, I could barely feel the vibrations. The person wearing the ring, said they were very minimal. I've fully informed him what bees and vrooms are, so I trust his judgement when he gives his opinions of them. When he's wearing it, he it rates it with 1.5 vrooms. When I'm receiving, I rate it with barely 1 vroom. The ring is extremely quiet at 1 bee and it lasts for around 30 minutes before it dies. The vibration is extremely buzzy. While I got no pleasure with the internal vibrations, I didn't really get much stimulation externally either. My clit didn't know that there was a nubby butterfly there. It wasn't til my fourth one that I noticed it was even there.
Experience
When I was playing around with it, I noticed that there are small holes on the sides of the ring. I dug around for a bullet and to my surprise, it can fit in the holes. You can fit up to 3 bullets in this thing, making it a super quad bullet ring! How's that for juicing up this mediocre little thing. If you're not feeling that frisky, you can just take out the weak bullet that is provided with it and put in your own and turn it in to an awesome vibrator.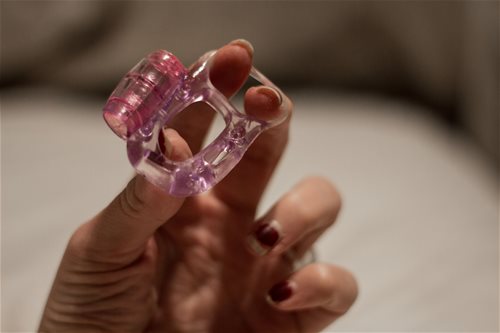 It kind of looks ridiculous with that giant bullet in it, but hey, beats weak, right?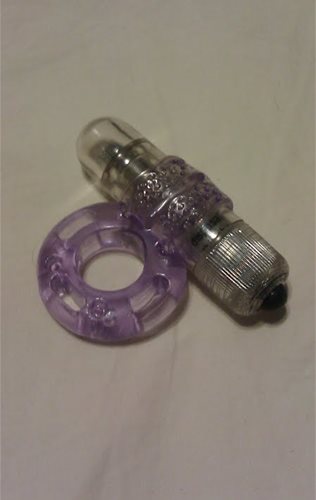 Bored with your male masturbator? Just wrap the Eden ring around it for added stimulation. You can always used the juiced up ring with new bullets, too! My S/O gave that a shot with his Noches Latinas Pocket Vagina. He said the vibrations were completely lost through the material, but when he slipped the better bullet in the ring, he said it did add a bit of stimulation. It can also be added to a glass or silicone dildo, or anything non-vibrating, really.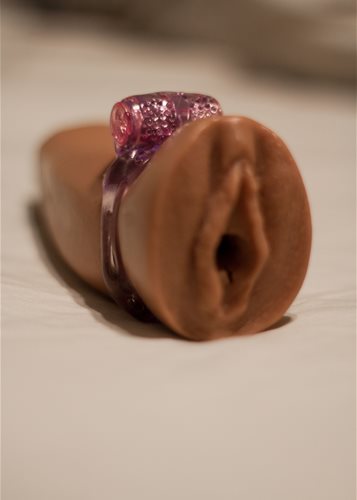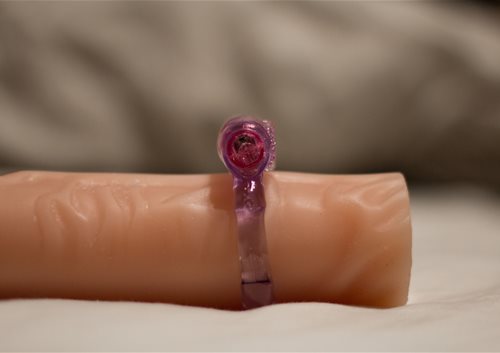 Assuming one actually does keep a new bullet in it, you might wanna use it a few more times and not wanna throw it away. If this is the case, cleaning is a necessity because of the materials. It cannot be boiled, but simple soap and water or your favorite toy cleaner will do the trick.
Honestly, I didn't like this ring at all. It lacked power and I pretty much couldn't tell when my S/O was wearing it, but I've reconsidered when I realized that I can customize it. So this ring does have potential. I haven't had any problems with these breaking. It's completely travel friendly because of its size. I suppose it is worth the few dollars it is, considering. However, I'd recommend spending a few more dollars and getting a quality cock ring of good materials with a decent amount of vibrations.
This content is the opinion of the submitting contributor and is not endorsed by EdenFantasys.com

Thank you for viewing
EdenFantasys vibrating ring
– cock ring review page!