Amiga Latina
Doc Johnson adds to their collection of UR3 masturbation sleeves with this Latina flavored Vagina Amiga. While it is insanely comfortable to grip and use, it will tear easily. My partner said because of the tightness, and how natural it felt he would use it again without hesitation.
Published:
Pros:
Tight, easy grip, feels good
Cons:
tears easily, ur3 has a distinct smell, sticky
Vagina Amiga is another incarnation of the UR3 Pussy Palm Pal by Doc Johnson, its big difference being the tint. Since we were such a big fan of the clear version sans name, we were excited to give this one a shot---not particularly expecting something different, but were delighted by the subtle differences in the end. Being Latina myself the whole box of this toy really cracked me up---right at the top says, "Latin Nights – Noches Latinas". The box is blue with constellations all over it and some paisley flowers, a beautiful Latina (hence the name) also graces the front of this box. For those of you curious, this is an American made product---yay contributing to help our poor economy by buying sex toys!!!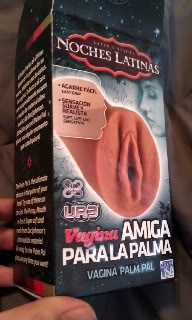 At 5 1/4" in length this should work for most men easily, but not if you are looking for a sleeve that will fully incase you. This is more a sleeve for someone who enjoys a lot more focus on the head of the penis; you will slide in and out of the end hole, giving an added sensation. It has enough stretch that it is pliable but not enough that it is not snug, giving it a realistic feel. Since it is made out of UR3 it is very porous and will keep in yucky things like bacteria, so it is probably better not share this with anyone. UR3 is a thermal plastic elastomer mixed of PVC and silicone---this is where the supple feel comes from. UR3 also falls under the Sil-A-Gel family, which while it bothers my lady parts, doesn't bug my fellow at all, so he really doesn't mind. You can't really go without some sort of lube for this one, so we use water based lube or even sometimes spit will suffice. The sleeve is open ended so lube will slide all over the place but not necessarily get everywhere, after a few times you get the hang of guessing how much you will need. After we are finished I run soapy water over it, especially in the vaginal canal where most of the lube will gather in the ribs. This is one of those toys you really have to mind when drying and storage---it is really sticky so cornstarch can be used to pat on before throwing it back in your storage bag. I used to use baby powder or talc for these kinds of things before I was turned on to a few articles talking about the dangers of talc containing asbestos---so now cornstarch is the only way to go.
On the subject of cleaning this thing is a lint and dirt magnet---roll it on the floor and it might scary you what you pick up, even after a good vacuum. Like all UR3 sleeves you are going to smell it for quite some time---it gives off a cherry sweet smell. With a few of the others we have, the smell has dulled over time and with many washes but it hasn't quite gone away completely. At first it really bothered me, but I think I've gotten used to it now. It helps to change the baggy you store it in on a semi-regular basis, I've changed the baggies out every few weeks and with each bag the smell lingers less.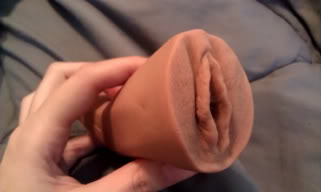 My partner and I really love the grip of this toy; it is really narrow and easy to hold on to for both of us. One of the reasons we really enjoy the open ended sleeves is, it allows a partner the ability to perform oral while also using the sleeve. I will be honest, my hands and mouth sometimes get tired during oral or hand jobs, I think all of us have been there--- with a sleeve it makes the work easier but still as pleasurable. Vagina Amiga is easy to apply pressure to or twist in any which way without getting caught or pulling at anything uncomfortable.
The inside texture is bumpy ridges; they feel really natural and not too heavy. Our main issue with the inside being is during cleaning it is easy for the bumps to start breaking apart, so be mindful of you flip it inside out to clean. Our other one has held up for a long time even with the bumps snagging a little, you can't feel it during use but I think eventually it might become an issue with wear and tear. Luckily you will not pay an arm and a leg to replace it if you so desire.
Experience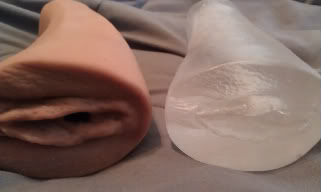 There are some slight differences between the Vagina Amiga and Pussy Palm Clear aside from just the color. But since were on color, the skin tint reminds me of the color of a Barbie doll, not necessarily natural but close enough. It looks cool during use because it does look pretty real due to the great sculpt on the vaginal opening. Secondly, after a Pepsi challenge if you will, we found out that the Vagina Amiga is tighter, not overly tight but tighter than even when the Pussy Palm Clear was new. Third and lastly because this is tighter I think the quality of it might have gone down slightly. Let me explain, I believe the Vagina Amiga is easier to rip, during use you can see the movement of the penis from the outside. The material seems thinner in certain areas of the sleeve. I do think it will hold up for quite some time but we didn't get nearly the same amount of wear and tear on the Palm Pussy Clear this early on. My partner told me he prefers the tightness of the Vagina Amiga but is curious as to how it will hold up.
This product was provided free of charge to the reviewer. This review is in compliance with the FTC guidelines.

Thank you for viewing
Noches latinas vagina palm pal
– pocket pussie review page!