So realistic and natural, but so dry
The Noches Latinas is a fun hand held vagina from Doc Johnson. It has a nice caramel color and realistic labia. It's soft and gently textured and will be sure to spruce up a boring old hand job. It feels terrific in use and so realistic. But beware, this toy is fairly high maintenance!
Published:
Pros:
realistic, feels great, easy to use, will fit most
Cons:
porous materials, high maintenance
The Noches Latinas Palm Vagina is another nice sleeve produced by trusty Doc Johnson. The translation of Noches Latinas is Latin Nights. It's meant to be a male masturbation aid. It's great used solo to spice up any masturbation session or even better with a partner to enhance your average old hand job. It's really neat because it can be used as a break during oral when you need to stop and catch a breath of air! Bring it in the shower, pool or bath and have fun. It's totally waterproof! It's extremely easy to use, just slide it on his penis and thrust. This palm vagina will surely fit most men as it has a great deal of give and stretch.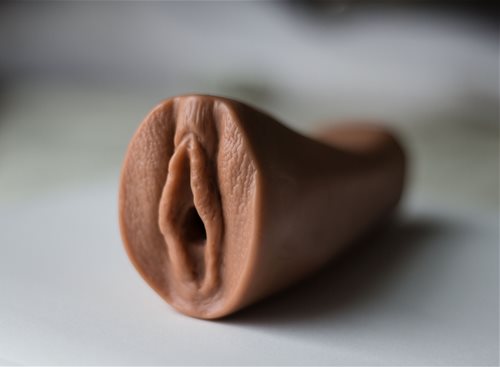 It's made of UR3. UR3 is a thermoplastic elastomer, which is what we know as TPE. It's usually a rubber and plastic blend, which is why it's a lowly 2 on the safety scale. This material has a large amount of porosity, so it is easy for this toy to harbor germs and other icky things. It's not compatible with oil or silicone lubricant at all. They can make it sticky and tacky, so I advise using only water-based lubes. I suggest being generous with lube. It can dry up quickly with this toy; it can create a fair amount of drag and won't thrust properly.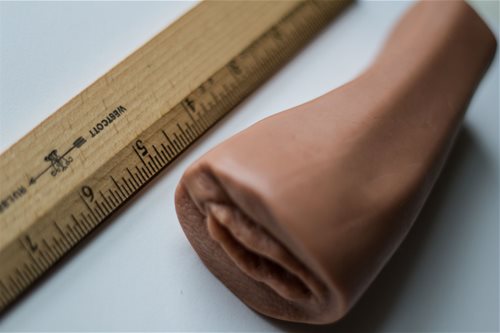 One of the good things about this material is that feels awesome because it can be so realistic! When nice and slick with lube, it feels fantastic. It's completely smooth on the outside where it's held in the palm and very textured and soft where the labia are. The inside is mildly textured. It can only be felt a little when you're inserted in there. It has little nubs that are only slightly raised. Each end has a hole, and creates an awesome amount of suction. It measures 5 inches in length and is very stretchy and pliable, so I imagine this will fit even above average lengths. The end of it has the Doc Johnson imprint. It's about a 1/2 inch to 1 inch thick, but pressure of the hand of whoever is using it can still be felt when in use. The hole is about a half inch wide, but stretches plenty to accommodate. The smaller end that will be grasped is about 4 1/2 inches in circumference and goes up to about 6 1/2 inches in circumference. It's sized really nicely. It's a nice caramel color and nicely molded, fairly realistic smaller sized labia.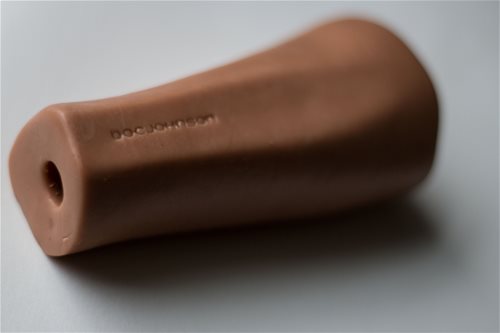 It doesn't really taste like much, but it smells like cotton candy and vanilla. It reminds me of the smell of the laughing gas I used to get at the dentist when I was little. It's not the material that smells this way, it's only the powder it was covered in to prevent it from becoming tacky. After cleaning with a mild antibacterial soap and water or toy cleaner, it needs to be generously dusted in corn starch, so you can prevent the tackiness, as well. Remember, don't use talc! I like to saturate it in my favorite California Exotics toy cleaner and let it sit for about 30 seconds. Then, I'll flip each end over and make sure the inside is saturated instead of turning it inside out completely because it can tear it. I'll stand it up and let it air dry. Using a chamois towel will prevent getting lint stuck to it like a regular towel. I like to rinse it before use sometimes, too, just to make sure it's clean, bit it's not absolutely necessary. For me, storing it in the plastic bag and box it came in is the best option. Though it is not discreet at all, box is small enough to keep on my shelf and keep dust and hairs away from it. This thing loves to collect stuff you do not want on it! If you leave it out and have pets, over time it will look like you have a new odd shaped animal. A ziplock bag will do just fine. Don't store it in direct sunlight or extreme heat. Definitely don't let it touch other toys, too. It can absorb other colors from the toys and become really nasty. I would not recommend sharing UR3 toys.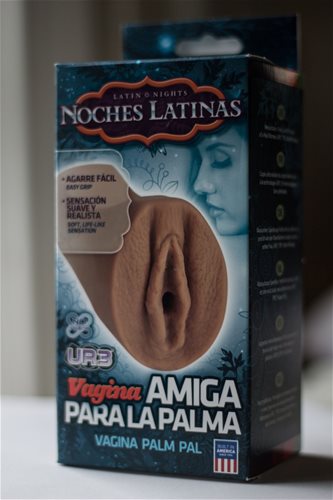 Experience
This is a pretty high maintenance toy because of the design and materials. I treat it as if it were somewhat disposable. I either don't have time or completely forget to starch it, so I'll throw it away after it starts getting a little sticky or starts to tear which is usually about 10 uses.

My boyfriend loves these compact vaginas, so when I saw this one, I thought it would make a nice little gift for him. Out of all the ones we have, he says this one feels the most realistic! We really like it. He's not huge in to wild textures, so the gentle nubs were enough to please him. I love using it on him to spruce up a handjob. If we end up deciding to have sex after using this, I have to make sure he cleans his man parts, because I have a sensitive urethra. This material and scented products can irritate me and create not fun things like a UTI. He's about 7 inches in length and this covers him easily because it stretches with each thrust. When you push the whole toy down on to the pubic bone, then the head will be exposed.

I'm easily giving this a high rating. But, not the highest because of the materials, maintenance, and the fact is sucks up lube like a sponge. Other than that, it's easy to use and it feels terrific!
Follow-up commentary
1 month after original review
This one is going strong. My S/O really likes it. I usually toss them after a month or so and get a new one, but he became attached to the Noches Latinas sleeve so it is going to stay put a little while longer! After a few uses, it got tiny tears, but they haven't increased at all. It still has that faint smell that it came with, but it's really not a bother. Definitely recommended.
This product was provided at a discounted price in exchange for an unbiased review. This review is in compliance with the FTC guidelines.

Thank you for viewing
Noches latinas vagina palm pal
– pocket pussie review page!