"Blow me" Masturbation sleeve
The glow in the dark stroker is a perfect pocket blowjob to pullout when you need a helping hand. It is portable glows in the dark, and extremely starchy to accommodate the size of any guy. It has an oddly sweet smell, a perfect addition to any masturbation session.
Published:
Pros:
Lightly textured, Fits most sizes, Glows, Sweet smell, Soft,
Cons:
Wasn't long enough
My boyfriend is not nearly as toy obsessed as I am, so when I can I try to get something for him, or something that we both will enjoy. We tried a couple of tanga eggs. It was obviously time to upgrade. He was not too sure about trying one of the sleeves, because he says it freaked him out. When we were able to try out one for free we both, jumped at the chance. The stroker is supposed to simulate oral sex.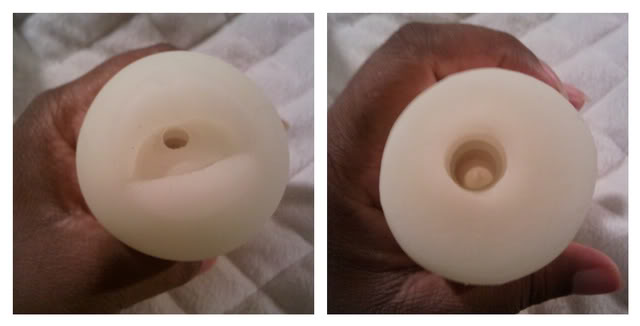 When you receive the glow lip masturbator, it comes in a rather large box. If feels a little heavy too. The box seemed to be a little weak, or the toy is too heavy one or the other. The toy almost seem like it was going to bust trough the bottom of the box. The box is not close to discreet, but if you are buying this for your boyfriend, you do not have to worry about discreetness. If it is not for your boyfriend, and maybe a fellow guy friend then maybe privately or in an adult setting this would be perfect to give to someone. The box does not have anything too sexual on it. The toy is pictured on the front and back. There is a female on the box, but she is covered up in a bikini. The box does have some information on it, but nothing uncommon to the average person. When you open the box the toy is sitting in a plastic bag, so the toy does not touch the actual box. You can keep the plastic and the box for storage if you do not have any. We choose to use it for storage, because we have nothing to put the toy in when he is done using.

The toy itself is extremely soft. When he first opened it, I just sat there and held it in my hands. I loved the feeling of it. I almost wish I was a guy, so I could see what it felt like when using it. When you open the box, you will notice that the toy is a different color compared to the picture on the box. Well that is because the toy is glow in the dark. The picture of it is the item glowing. In order for the toy to glow, you do have to expose it to some kind of natural or artificial light. If you do not, it will not glow when the lights are off.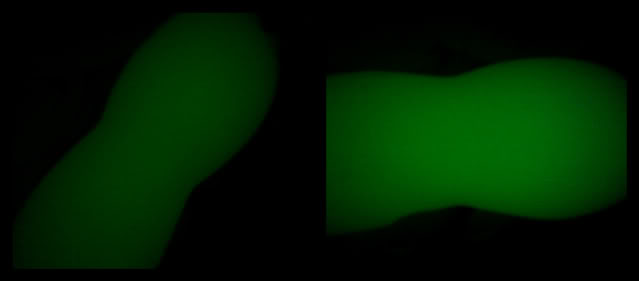 The toy is about 6 inches in length, and as far as girth it could fit anyone. It is made up of TPR which can be extremely stretchy; you will also notice the smell. I personally enjoyed the smell it was a sweet smell. I was not expecting that. My boyfriend did not have any thoughts about it because he has never smelt the horror of Rubber and jelly items. When you are, using any kind of masturbator you should use a generous amount of water, or silicone based lubricant. It does have a lite texture on the inside, nothing that would turn you off.
To clean your little masturbator friend you should use some warm and antibacterial soap. I do not feel just using a toy cleaner will do much for this, you should always use soap and water. You need to makes sure you get in there and clean it very well. It is a perfect toy for you fella to use on his own, or with your helping hand.
Experience
My boyfriend said he genuinely enjoyed it. More, than he thought he was going to. He says that the blow job masturbator feels life like, and the texture on the inside was perfect, not too much and not barely there. The only problem he had was that it was too short. His member kept coming out the other end. We were both unsure if that was normal or not. He would have liked it more if it was a bit longer. With that said, he stated that he would not stop using it because of that reason
This product was provided free of charge to the reviewer. This review is in compliance with the FTC guidelines.

Thank you for viewing
Glow in the dark glow lips
– blow job imitator review page!