Daisy Dukes for Men
These are the type of briefs that you can wear anywhere and be comfortable. You can wear them to a hockey game, go to work in them or even to surprise your lady friend...or she could even surprise you in them. They don't fit me right but it's ok, they're not going to go to waste.
Published:
Pros:
Made of spandex and nylon
Very comfortable waistband
Cons:
Thigh bands cut into me
Feel constricted
Very short
What is it?
These boxer briefs are made by Coquette, an international lingerie and costume distributor. This product is advertised as boxer briefs for men. You can wear them comfortably under clothing to any event or function. The breathable spandex lets you wear them all day without any issues. They can also pass for evening wear in the bedroom. Surprise your partner with some sleek fitted briefs before a night of loving.
What is it made of?
The briefs are made of 90% nylon and 10% spandex, excluding the band. The mix of nylon and spandex gives the briefs their stretchiness and breatheability. It's a great product to do sports in as the fabric moves with you. It is soft and comfortable, and not itchy in the least. I have sensitive skin and experienced no irritation whatsoever. The care tag sewn in the back also was not bothersome.
How's the fit?
The sizes that are offered for the briefs are: Small, Medium, Large and X-Large.
Coquette's size chart is as follows:
S - 28"-30" waist
M - 30"-32" waist
L - 32"-34" waist
XL - 34"-36" waist
Mine are the XL and they are a decent fit for me. I am a size 38 pant and the waist fits me perfectly. The 1.5" waistband doesn't cut into me and it is very comfortable. The only downfall for these is that I feel very constricted in them. I feel like my package is in a vice most of the time or I feel like my butt is hanging out. The thigh bands cut into me and are not very comfortable to wear. All together it just doesn't look right on me. I do have a rather large butt and my measurements do fall outside the size chart, so I feel that the sizing is accurate and others who fit within the size brackets should not have the problems I had with the sizing.
For those who may still be wondering about size, I have measured the briefs laying flat and come up with some measurements for you.
The waistband is 16 3/4" across.
The briefs are 10" long.
The thighs are 11 1/4" across.
There is a great deal of stretch to the fabric, with a bit less overall stretch to the waistband.
There is a little pouch in the front of the briefs which I didn't even realize they had until my girlfriend tried them on and a flap was formed. I had never noticed any allotted package space as I feel very restricted in them.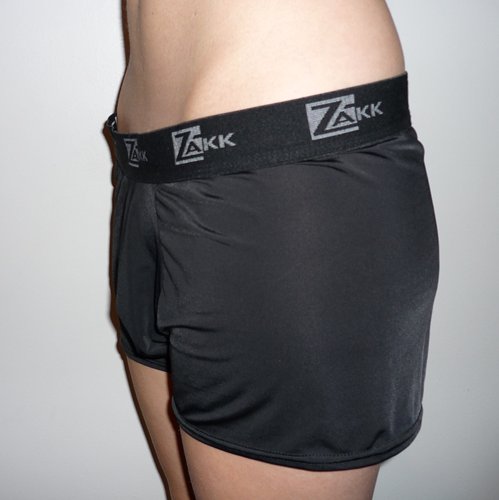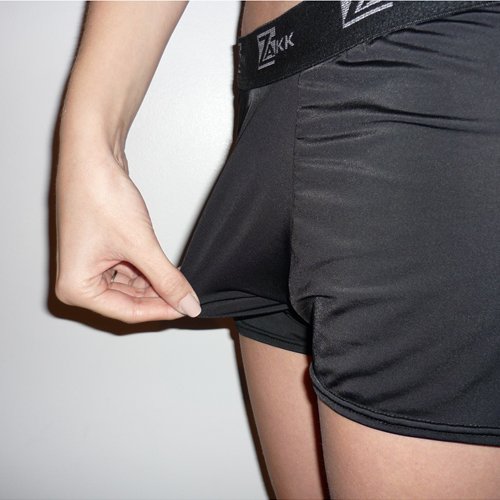 Note that she wears size 25 pants and they were not falling off of her. Of course, they were quite easy to pull down and the waistband was not hugging her hips, but rather it rippled around her. I won't be the first to complain about this easy access though.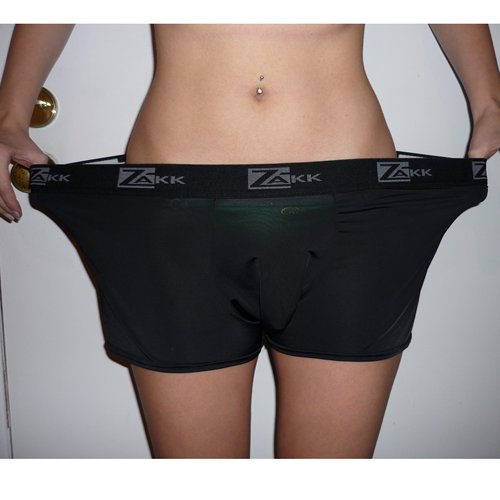 Also, with the nylon and spandex composite, the briefs are a little see through on the crotch and butt area when stretched. Since they are so tight on me, my girlfriend pointed out that she could see my butt crack when I turned around to model them for her.
What's the quality like?
The quality of this product is great. It is well made, the seams are strong and there are no loose ends. The spandex allows the briefs to be very durable. I did not find anything wrong with the craftsmanship of the briefs.
How do you take care of it
The tag on the inside at the back on the briefs say that they should be hand washed and hung to dry. Personally, I just throw them in the wash with all my other clothes, as well as putting them in the dryer. Everything seems to be doing fine thus far. I haven't noticed any tears, pulls or anything of the sort. These briefs are very compact, so they can be stored in your drawer with all your other underwear.
Experience
What's it packaged in?

The briefs come in a clear plastic bag. The only thing indicated on the bag is a sticker that has the model number, color, size, brand and bar code of the product. Inside are two throw away Silica Gel packets to keep the briefs fresh before you get them. Attached by a safety pin on the briefs is a tag that has a picture of the front of a man wearing the briefs. On the top right there's the logo of ZAKK with the model number at the bottom. The back of the tag has the same sticker as the bag. There are also illustrations on how to wash the briefs. There is also a website www.zakkonline.com that I tried to visit, but it does not work. The briefs can be found on edenfantasys.com, as well as on the Coquette website (though I did not find further information or care instructions there either).

What are my final thoughts on it?

I gave these briefs a good try but I just cannot wear them. The thigh bands cut into me too much making them uncomfortable and painful at times. I do not like to strangle my willie. I much rather it be as free as it can be.

Though the size issues I had won't be the same for others, the main reason I won't wear these is that they just look bad on me. They are too tight on my butt and just don't do me any favors. My girlfriend will vouch for this. The style may work for others though. Keep in mind that they are very form fitting and extremely short; think booty shorts short.

I gave the briefs to my girlfriend to see if she would like to wear them around the house, of course they are huge on her but she thinks they're comfortable and I think (aside from the goofy pouch hanging down) they look pretty hot on her.
This product was provided free of charge to the reviewer. This review is in compliance with the FTC guidelines.

Thank you for viewing
Black boxer briefs
– shorts review page!