Honey, are you wearing my shorts?
These are much shorter than we expected. My partner went from this sexy manly thing in long boxers to a tiny pair of panties in seconds! I highly recommend forgetting these if you're looking for comfort or sex-appeal and going with one of the Bamboo items instead. However, girls, these are the most comfortable pair of shorts I own to date!
Published:
Pros:
They're a dang comfortable pair of shorts for the girls!
Such comfortable material.
Cons:
They roll up.
Fit/look like women's booty shorts.
Penis peeks out short leg.
No opening.
The solid black boxer briefs are very comfortable for the right person, but basically seem to be the type that will not work for most men. It's a little tough to say what they're best for since they're not good for everyday wear under jeans, and look-wise, they're nothing any more sexy than a regular pair of boxers. Unless you're interested in them only for their too-short length, they're really not that special or useful. Or I suppose if your name happens to be Zakk, if you always wanted your name to be Zakk, or if your icon is Zakk Wylde, these would be for you, otherwise, I don't know who Zakk is supposed to be.
The simple design, and form-fit gives the impression that these boxers would be efficient for everyday wear and provide the wearer with plenty of comfort, but that's not the case. Also, being made by Coquette, my expectations were high. I'll get to that later, though. Honestly, in our case, these boxers are a better fit for women because they fit like a comfortable pair of lounge shorts. They length and size is very similar to the look of one of my girl shorts!
Material
95% Cotton, 5% Spandex, exclusive of waist band.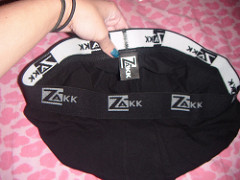 The 1 1/2" wide waist band is black with this Zakk logo all around it. The "Z" and "A" are in black lettering and have specks of a white background behind them. They are larger than the two "K"'s, which are done in this weird speckled white. It doesn't stand out much, and looks similar to what you see on underwear bought at a sporting goods store, so if your waist band tends to be visible, nobody will know these are made from a manufacturer (Coquette) who also sell women's lingerie. The back of the waist band is reinforced by a zig-zag stitch.
Coquette did pay attention to the waist band because the inner part that comes in contact with your skin is a white, soft and almost fluffy feeling material, which is comfortable and prevents digging in or leaving marks. There are also three rows of stitching to ensure that waist band doesn't come apart!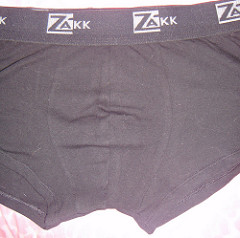 These do not have a crotch hole for ease of urinating. Instead, there's what I call a "crotch panel" (shown above), which is 5" across, and similar to the way the Excite boxers are. There are three stitches running long-ways. One stitch is right down the crotch, and the others on either side of it. There's also one seam right up the butt-crack.
Caring for Boxers
Hand-wash only, drip dry, no bleach or ironing.
There's one tag in the back that says "Zakk" along with some super-hard to read information. Could easily be cut out, but it hasn't been a problem.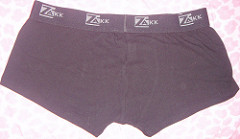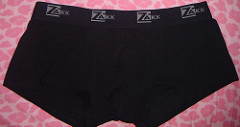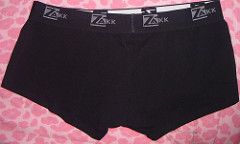 Boxer's Measurements
15" across waist.
Almost 9" from waist band to leg hem.
Leg space: 10" wide, so up to a 20" around leg will fit.
18" across butt.
20" across entire bottom.
9" long from waist band to crotch.
3 1 1/2" space between legs.
These teeny shorts only weigh 0.2 pounds, so it's not like they'll take up much room in your drawer. In fact, they'll likely be tinier than your everyday boxers.
My Measurements
Jean/shorts/size: Zero
Weight: 93lbs
Height: 5 2"
Waist: 26" Lower waist. Where I'm a bit wider, the love handle area where the boxers sit: 29"
5" across crotch panel.
My partner is a little over 6 1", weighs somewhere around late 150's - 160, and normally wears a size 34/36. These hit only right below his butt! One slight movement, such as twisting or bending and well, my lovie went from wearing small shorts to booty shorts! Besides that, they fit him well in the waist, the crotch was uncomfortably tight though.
Experience
Oh how bittersweet our experience has been! I was happy thinking I'd found him another pair of boxers that'd be comfortable. I knew by the product page that these would be short-ish, but since he's had good luck with the Bamboo Boxers and the fit of Excite were good -- just uncomfortable, I didn't think these would be *that* short, just shorter than what he's used to. This is the bitter part: when he put em' on! I got a kick out of seeing this manly partner of mine wearing shorts the length of mine! He was not amused or impressed. We had a good laugh, but I hate that they didn't work for him.
So he tried them on and after we'd seen them in person, we didn't have high hopes anyway, but sweet mother of pearl! We didn't know they were going to be *this* bad! Here's exactly what happened...
As he was sliding them up he was shaking his head no! I force him to continue this journey "come on, now! Pull em' all. The. Way. Up."
Oh. My. Lord! They were so short! I couldn't resist. For once it's him in the spotlight with a new, risky clothing piece, so I had my fun. "Turn around! Let me see what you're workin' with," I kept saying. Had he moved more than 2 inches, it'd have been all booty baby! It literally looked like he slapped on a pair of women's booty shorts! He wanted to take them off, but agreed to wear them under his jeans so that he could give a proper statement (or to lengthen my amusement?)
This is the good part. He bent over to pick his jeans up and put them on over these horrid undies and... let me try to put this nicely... he was beginning to come out of the leg. Not only that, but the shorts immeidately rolled up really far, giving the appearance of not booty shorts, but panties! Panties!
Where's the sweet part? Me getting a new pair of comfy girl shorts! Ha. Poor lovie, though. Try not to laugh at the penis-sag I have. Needless to say, this journey did not last much longer, and I got my statement alright! He tried, poor thing, how he tried. But they kept rolling up so badly at the legs. They're impossible really. And this is why I said most men will not find these useful. However, the ladies -- enjoy! They have made one hell of a pair of comfortable lounge shorts all week long! I love them, and if it weren't for the crotch sag giving me the appearance of having my own secret, I'd wear them out, perhaps to the tanning bed or for walking my local track, somewhere comfortable like that, but I can't scare off the kiddies. I'll have to snip and sew to prevent me from having the penis-sag. These are defiitely the most comfortable, lightweight shorts I own now though. They are a tad baggy in the waist, but surprisingly, they fit pretty well when worn low-rise style. Besides the penis-sag (shown above)I have going on, you wouldn't ever know these weren't my own shorts, would you?
Follow-up commentary
1 day after original review
Do note, I personally like these for myself, but they were awful for their intended purpose -- as boxers for men.
Unfortunately, there's no size chart available for Coquette's men's boxers, so you only have Male Power or Magic Silk's chart to go by. Now though, you have my review for a better "size chart." According to Male Power though, a size large would fit a 36-38" waist, and Magic Silk's underpants would fit a 36-38" waist. Naturally, I assumed these Coquette undies would be about the same, but I do doubt this large Zakk boxer will fit a 38" without being somewhat snug. I would recommend going up to a size if you're a 38". However, they will definitely fit a 32-36". And they certainly fit my 29" waist, but are loose. However, the thick waist band saved these boxers from being useless since they aren't so loose they fall off of me. So basically, I'm wearing the boxers in this relationship! Only they fit like any other pair of my shorts.
Packaging
These come packaged in a non-useful plastic-y box. You won't want to use it for storage since a box with a male sprawled wide open on the front with either take up more space than the boxers or not be something you want to see each time you go to wear them. When these arrived, I didn't see the male's photo when I first picked them up, and so it kind of slapped me in the face like "bam! Here I am, a half dressed dude wearing tiny shorts, with my legs sprawled really far apart." Not something I enjoyed. I had almost thought these would be worthy of gifting in their own box without me having to take them out and find something more suitable. However, the box was also torn down the side anyways.
It has a hanger hole and opens/closes with flaps. It's a grey-blue color with "Zakk" on top, front and sides, a "Z" & sticker on the back. The other side had washing instructions in 4 different languages, and their website is on each bottom portion.
This content is the opinion of the submitting contributor and is not endorsed by EdenFantasys.com

Thank you for viewing
Black boxer briefs
– shorts review page!