Good For A Little Fun
In the end, the Edenfantasys vibrating ring was fun to play with at 1st, but it lost my interest quickly when it just didn't make contact with any areas that I wanted it to. At the very least, it's easy to care for as it is just use and toss. It also operates just fine as a regular cock ring and prolongs a hard-on. Now, if only I could convince more men that cock rings are not an insult.
Published:
Pros:
Keeps Penises Up.
Easy to Figure Out.
Good Starter/Test Ring.
Cons:
Doesn't Do Much for Female Stimulation.
One Vibration Setting.
I have about a half dozen of the EdenFantasys vibrating rings in a drawer in my closet. I'll admit that the idea of using one was kind of exciting, but quite frankly, the opportunity was never there. Finally, after 20+ years, I found a whopping one man who actually uses a cock ring. Thankfully, I could pull one of these out without accidentally insulting someone or their longevity in bed.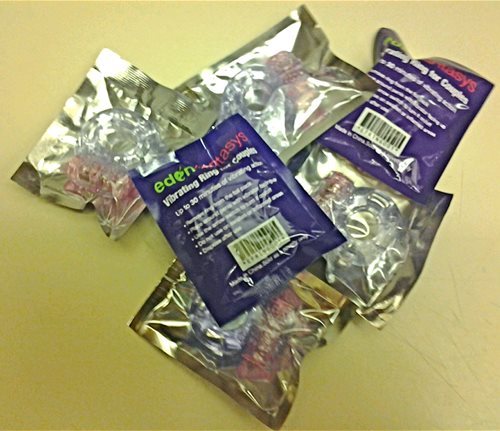 The thing about the vibrating ring is that I have so little to compare it to. I've officially seen one cock ring ever besides this one. It didn't vibrate, and therefore I didn't actually feel it. He just used it to stay harder for longer. Somehow I assume that the main function of cock rings is exactly that, but the vibrating factor should be some kind of booster. I can't really say that the vibrating added anything significant to this item, but it did keep my partner "up" for a good thirty minutes. After that, it was basically out of juice anyway.
I did enjoy the other reviewers tips to use this item in conjunction with a dildo. That would make this item of use for singles as well as couples, so way to go, innovation! I also enjoyed the little butterfly on this item. The arrow on/off button was easy to find, and it keeps me from accidentally turning this ring on or off. Finally, there was a good deal of stretch to Edenfantasys vibrating ring. I could wear it as a ring or stretch it out to fit around my wrist. One just hopes not to accidentally get snapped with such a stretchy ring.
This ring is made of TPR silicone and should be used in conjunction with a water-based lubricant (if you do, in fact, use a lubricant). TPR silicone is a 6/10 on the safety scale, but since this item is really only meant for one use, there is no worry about sterilizing to share this item or cleaning and storing it. One person uses it for 30 minutes, and then it gets tossed.
The one-time use is also the reason why this item comes in a tiny square with a notch for tearing. The information on the packaging is pretty basic. It says that this item can be used for up to 30 minutes, it says to face the vibrator side up, it says to use the arrow to turn it on/off, and it says to dispose after use. Well...I did skip one part..."Do not use on swallen or inflamed areas." Swallen was a chain of retail stores in Ohio, so don't go and get busy in any retail establishments. Just kidding, of course, but I did find the situation a little humorous.
Follow-up commentary
13 days after original review
As I mentioned, I have several of these, and they are finally getting some use. They're average, but there is nothing that necessarily gives me an aversion to them...which is more than I can say about some of the similar products.
This content is the opinion of the submitting contributor and is not endorsed by EdenFantasys.com

Thank you for viewing
EdenFantasys vibrating ring
– cock ring review page!