Great Product, But Girthy Men Beware!
Overall, this is a great, high-quality product... for men who have an average, to less than average girth. If you, or your partner have a thicker penis, this may be a tad bit too tight on you/them to fully enjoy it.
Published:
Pros:
realistic, discreet, adjustable suction, textures
Cons:
more difficult to clean, not as comfortable for a man with a lot of girth to his penis
I decided to review this product, which includes both my own, and my partner's perspective. I don't have a penis, so we had to use his to be able to provide an extra useful review.
I had seen Fleshlight products before, but never had I seen one in real life. This is the same for my partner; it is his very first Fleshlight product.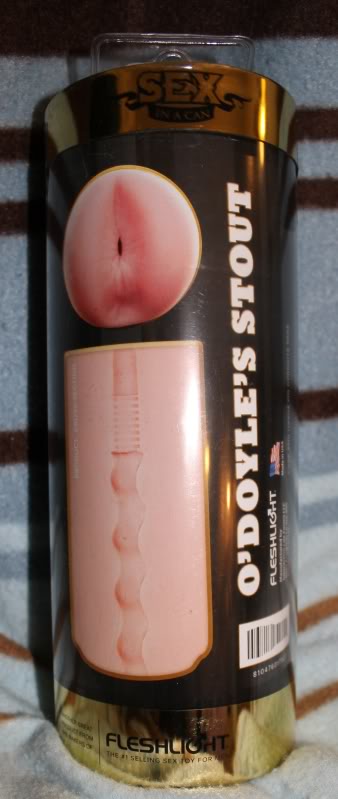 The packaging for this product is quite simple. The product comes in a transparent plastic tube, with a piece of paper facing outward inside of the tube making up the cover of the product packaging. On this paper, there is the product title, product photo, company information, and barcode. On the reverse of this paper you'll find the care and usage instructions. The product packaging is not discreet at all. When my partner first seen the can, he loved the look of it.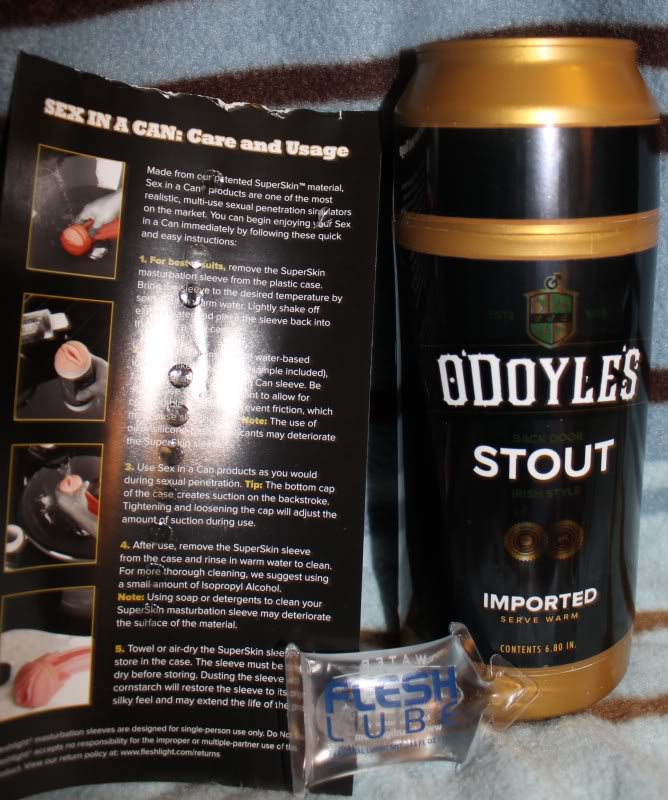 There are a few important things to note from the instructions:
-Water-based lube only with this product.
-The bottom of the can has a lid that you can adjust for strength of suction power.
-To clean, use warm water only. DO NOT USE SOAP. They suggest a small amount of Isopropyl Alcohol for a more thorough cleaning.
-Sleeve must be completely dry before inserting back into the can.
-They suggest dusting the product with cornstarch to extend the life of the product and to keep the silky feel.
-For best results, soak sleeve in warm water before using the product (not required).
-Do not share this product with other people.
If you do not have any water-based lube on hand, don't fret! The O'Doyle's Stout comes with a single-use Flesh Lube sample. The sample is .33oz (10mL). The sample can be found by untwisting the suction-cup at the bottom of the can. The sample is right inside.
The can opens with a twist top lid, which is very easy to open and close. The bottom of the can has the same type of lid. The bottom lid can be adjusted to control the amount of suction it has. The tighter the lid, the stronger the suction.
When I opened the top of the can, I was overwhelmed with a very "salty" odour. The best way I can describe this smell is by comparing it to salt and vinegar chips. I imagine that if I were to lick the product, it would be so salty that my mouth would twist. However, I did not lick it, I'm just trying to explain the smell as best as I can.
The sleeve material is Superskin which is an incredibly realistic soft and smooth material. It is non-allergenic, latex free and retains heat well. It feels absolutely amazing to the touch. I don't have a penis, but I can only imagine it feeling sensational. It's extremely smushy (you can see this in the photo below), and feels ridiculously realistic. The inside of the sleeve has a ribbed and wavy texture.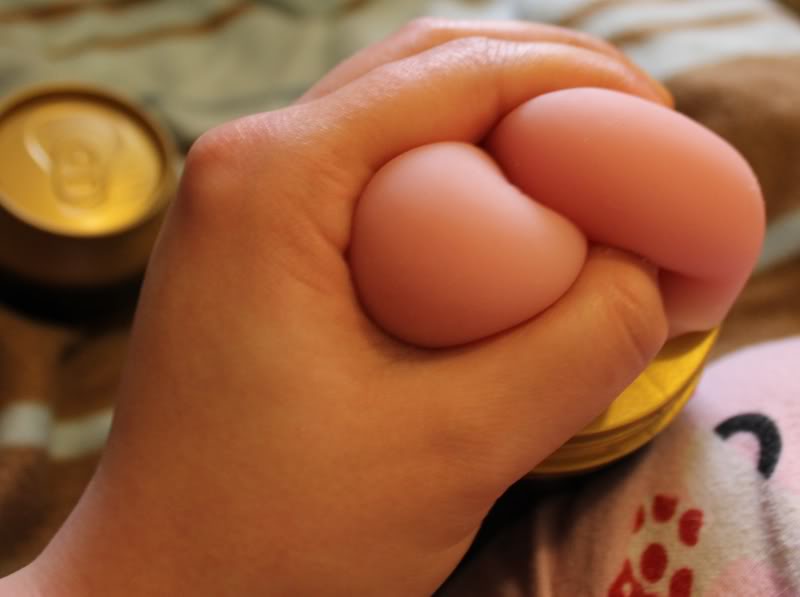 The product measurements are as follows:
Case Dimensions: 7.75" x 2.80"
Sleeve Dimensions: 6.80" x 2.60"
Texture: Overall Length: 5.5" (Starts: 1.0" from Orifice)
Texture Diameter: 0.25" to 0.90"
When I took the sleeve out of the can for the photo, I had a heck of a time getting it back in. I inserted the sleeve from the bottom and pushed it upwards. It kept suctioning, which made it take a lot longer to finally have the sleeve back in its proper place. Also, with longer fingernails, I was concerned that I would tear the sleeve (which I didn't). I would just suggest being careful when putting the sleeve back into the can.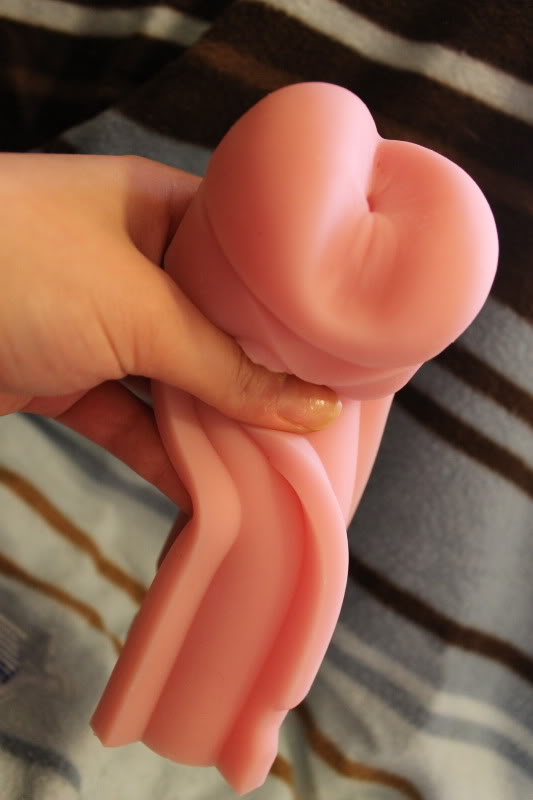 The can is relatively discreet, as long as you keep the lids on the can. The only non-discreet aspect of the product is that on the outside of the can, there is text that reads, "Sex in a Can". Other then that, no one would suspect anything. Though, if a person were to pick up the can, they would notice the smaller text (which from a distance you cannot read) that could giveaway what is truly inside.
Caring for the sleeve requires a bit more work than most sleeves available by other brands because of the material. Like I had mentioned above, the instructions state to dust the sleeve with cornstarch to keep it feeling silky and in pristine condition. It does not mention how often you should do this, but we will dust the product every couple of uses.
Experience
..continued

Also as mentioned in the instructions, do not use any other type of lube other than a water-based one. Using oil or silicone may deteriorate the sleeve. Unlike the other sleeve we have, this sleeve cannot be turned inside out for cleaning. This makes it a bit more difficult for both cleaning and ensuring the product is fully dry. When you are finished with the product, DO NOT USE SOAP to clean it. Soap is another thing that can cause deterioration of the sleeve. Just wash the product thoroughly with warm water, and for a more thorough cleaning, use a bit of Isopropyl Alcohol (which is also known as rubbing alcohol). Most dollar stores carry rubbing alcohol.

Lastly, if you DO decide to share this product despite the fact that the instructions say not to, be sure to always use condoms.

As for my partner's experience:

Like I had mentioned above, Jon (my partner) really liked the look of the product. This changed when he had to use the product in a sexual way. He said that holding a sleeve that looked like a beer can to his penis did not really make it easy to be excited. If you or your partner need a sexy visual, this may not be the product for you. If you do decide to get this product and need a visual aid, I suggest watching a film or show that will arouse you.

Jon enjoyed the feeling, and said that the texture was noticeable when he used it. He felt that the texture really added to the experience.

When he first used the product, he had to apply lubrication a couple times before it was comfortable. This could be because it had not yet been used, or because it was extremely tight on his penis. My partner has quite a bit of girth, so it was extra tight for him. Even at the lightest amount of suction, he found it a bit uncomfortable.

Half way in between, I took over. I blindfolded him so that he could focus on the feeling. If you use this on your partner or on your self, be sure that your hands are dry. If you have lubrication on your hands, it's going to be harder to keep a handle on the can.

There was a bit of noise that came from the suction of the product when in use. I found it to be quiet enough, but my partner said it was a bit distracting.

The other sleeve he has, is the Sue Johanson's head honcho. When I asked him which he preferred, he surprisingly said the Sue Johanson product. He prefers his other sleeve because it is a lot easier to clean, and he finds it a lot less tight in comparison to the Fleshlight sleeve.

Jon says he would recommend this product, but more for the men who have less girth to their penis as it may be too tight for them.

He told me to rate the product a 3 and a half (which is not possible). So we decided it is a 4-star product overall, but will be much more enjoyed by a man with less girth.
Follow-up commentary
3 months after original review
Both my partner and I still think this is a great product, but he has not used it since the review since it is too tight for him. We'd love to see this product available for larger, more girthy men so that my partner could own one that he would be able to actually use. It's great for those with less girth though and we would recommend it highly.
This product was provided free of charge to the reviewer. This review is in compliance with the FTC guidelines.

Thank you for viewing
O'Doyle's stout
– masturbator review page!