I have a point of view TOO!
This cock ring is okay for free. I will not look a gift horse in the mouth. Even if your experience isn't that great, one can still learn something from it.
Published:
Pros:
Free, Learning Experience
Cons:
Not reliable
Why Mwar? Why another review on this one?
I know, I know. There are about 150 review on the cock ring that Eden usually give out as a free gift with your order. There are literally about a hundred pictures of the darn thing and just about everybody who has had more than one order with Eden has acquired on of these in their day. With that being said, why the heck am I writing a review on this darn cock ring? To out it simply: I review every product that either I or my partner happen to own. Whether it has one review or a hundred reviews, you all get to read my opinion about it.
Fine. Get to the review. Anything is better than reading your intro.
Very well. The Eden Fantasys Cock ring is designed to fit on the shift of the penis. Cock rings are made to restrict the blood flow going out the penis. That way, erections can be harder and last longer. If using a cock ring, it is best not to use it beyond 30 or so minutes at a time. The blood in the penis needs to circulate back through the body to get nutrients and oxygen. It's also good to take a break from a cock ring for at least an hour (preferably more) if you want to use it more than once in a night. This all keep the penis happy and healthy.
This cock ring is made of TPR silicone. While I would normally talk about material in more detail it doesn't really matter since this cock ring is disposable. The cock ring is designed for one of a few uses. It is not meant for long term use. Technically, you could buy a motor that could fit in the sleeve of the cock ring, but you're honestly better off getting a more durable cock ring. The jelly stretches and should accommodate the majority of the male gender. It can fit around my wrist.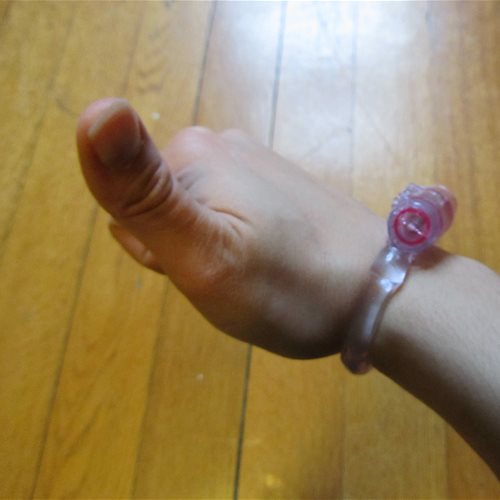 The material can snag and capture hairs, so be careful when putting the ring on. The bulge where the bullet is should face upwards. This can increase the chance of the vibrations hitting the clitoris during some positions. This ring is designed to go on the shaft only, it's not really meant to go behind the testicles like some cock ring styles. This cock ring doesn't have any overt odor to it.
How did it work?
For free, it wasn't bad, but I wouldn't willingly spend 6 dollars on this cock ring. The first ring we tried didn't really cooperate. The motor would turn on and off at will. It didn't give out reliable, consistent vibrations. The vibrations, when they did decide to work, were quite buzzy. Buzzy vibrations tend to numb the sensitive parts more than deeper, rumblier vibrations. The vibrations are very quite compared to other toys. You should be able to use it behind a closed door with nor worries.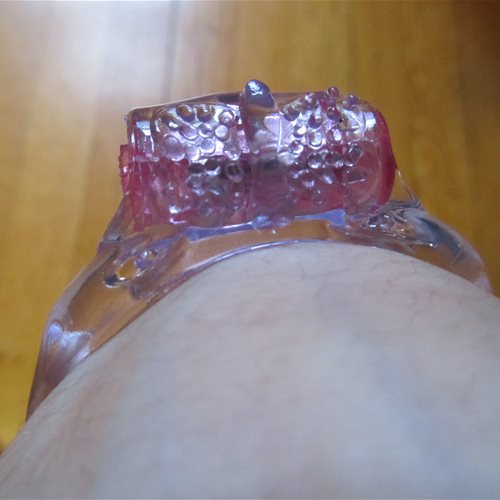 The top of the cock ring has some texture. The texture is shaped like a butterfly. The wings have these long, nubby jelly protrusions that remind me of shag carpet. It creates a little grip but the texture is far from extreme. The bullet is removable and pink. It is made with plastic and is transparent. The switch gets stuck often on ours.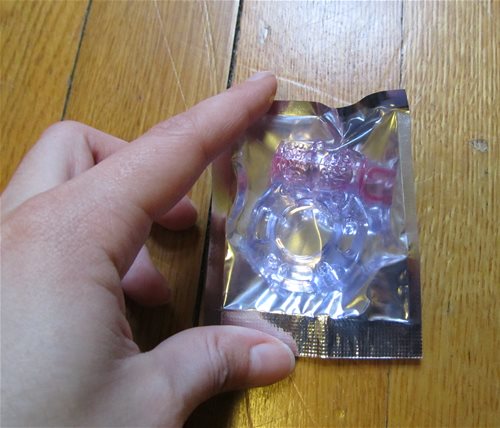 The bullet came in a foil package. It advertises Eden and includes some information about the cock ring. it is disposable and the motor is intended to last from 30 to 40 or so minutes. The packaging is not discreet since the other side of it has clear plastic showing the cock ring. It is easy to tear open but is not designed for long term storage. You can use this toy a couple of times if the motor is still going. If you decide to do this you can wash the cock ring with some mild soap and water. Do not use silicone lubricants since it has silicone in it.
Experience
This was our first cock ring, and it seems to have set the tone for my partner that all cock rings suck. It took a while for him to be willing to try it and I was excited when he did. However, between the hair snagging and unreliable vibrations, the cock ring was frustrating. When the vibrations did work, my partner wasn't pleased. He said it made his penis numb and he couldn't feel anything. He said he felt like a glorified sex toy (nut not in the fun way). Even when we removed the cock ring, he still said he felt numb for a while after.

I don't know how long it'll be before I can try a different cock ring. I found the vibrations okay, but I don't want to make my partner numb selfishly. Perhaps we'll try a better quality cock ring that has more rumbly vibrations. Perhaps that will help.
This content is the opinion of the submitting contributor and is not endorsed by EdenFantasys.com

Thank you for viewing
EdenFantasys vibrating ring
– cock ring review page!