"I live my life a quarter mile at a time." Dominic Toretto
It's fun; it's well made and well designed, but it's not for people with larger penises. The tire texture is a bit awkward and not as fun as I thought it would be.
Published:
Pros:
Fun looking, Soft, No Smell
Cons:
Ouchhhhhh!!
First Impressions
I honestly wanted to like this, but it would appear that Eden Fantasy's hates my penis. This is the third cock ring they have sent me that has tried to make my penis fall off. I really don't like most of the TPR or soft cock rings; it's not anything against them, I just don't like them. When I got this ring, I was impressed with how rigid it was while still being really soft. The tire radial texture seemed like it could be both fun, and enjoyable for my partner, so I was excited to use it. As a licensed stunt man, the idea of slapping a tire around my cock seemed epic... Then I did it....
Wrestling a tire onto the rim
It's safe to assume that most people have never put a tire on the rim the old fashioned way, with your crowbar. I have; it took three people, like five hours, and some WD-40. Needless to say, it's a pain in the ass. This cock ring simulates that quite well, only in this case, the tire was the wrong size. It's important to understand that I am shaved, and I think, if you were not shaved, you would be after trying to wrestle this thing over your dick. I've written other cock ring reviews where I gave the exact dimensions of my cock and balls. Let me make it simple, it's above the national average, but not something people run screaming from. Just under eight inches, and I will be honest, I have huge balls and can often only get through one at a time on most cock rings. So, it took me fifteen minutes to get this thing on. Once I got hard, which was difficult as it was already cutting off circulation, it instantly started to hurt. I had sex for about ten minutes before I pulled out, and moved the ring to my shaft alone. Another ten minutes and I could not feel my penis at all. I pulled out to check if it was still there, and it looked a wonderful egg plant purple and just as swollen as one too.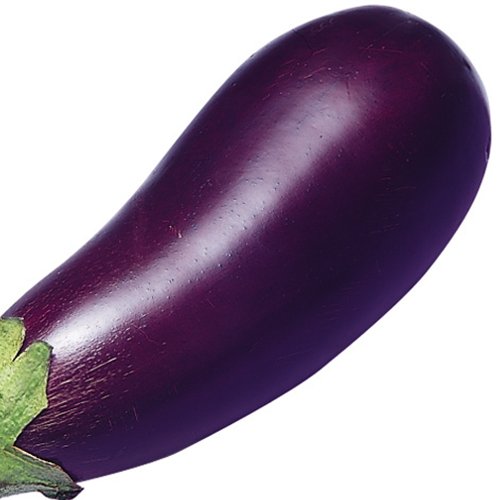 Pictured an accurate representation of my cock apparently.
I grinned and bared it too. I'm a Sadist; I've put my lover through worse; I can deal. She hopped up top, and within five minutes, complained that the thing that is supposed to make me bigger, has taken away about two inches of her cock. The Rally Ring is so blasted thick, not unlike the
Tantus Beginner C-Ring
, the difference is that this is soft, or at least I thought it was. I can be mean with the Tantus. This thing just works like a washer; at an inch thick, I lose an inch. I don't care how much a cock ring gets you to swell, you'll never make up a whole inch. My girlfriend can take a lot as
this
is one of her favorite toys, but she couldn't get the ring into her while riding me. Also, the texture would make that terribly uncomfortable as the texture isn't designed to tease that way. So she told me to get it off, which was great because I couldn't feel anything, and my cock was in throbbing pain at that point.
So basically...
This is pretty much like buying a new car, but you could only afford a Yugo. I mean, sure, it's a new car, but it's really just a paper weight with tires. I think, if you have a slightly smaller penis than me, this would work wonders for you. If your bigger than me... No.
Basic Facts
The Rally Ring Enhancer Racer is from California Exotic Novelties. It is made of TPR Silicone which means do not use silicone based lubes with it, water only. TPR is a seven on the Eden Fantasy's safety scale. You can clean this with your favorite toy cleaner but no boiling and no sticking it in the dishwasher. As I mentioned before, the Racer is an inch wide, six and a half inches in circumference, on the outside, and three and a half inches in circumference on the inside, which is deceptive because of all those little nubs to look like the rim which make it even smaller so it is likely much closer to two inches. It has a two inch diameter. All in all, I think Cal Exotics assumes all racers that are so into racing enough to buy a tire cock ring must have small dicks. Oh, the package is subtle, but says cock ring all over it, and is recyclable. Like all California Exotic novelties, it has a thirty day warranty that you must register at www.calexotics.com
Follow-up commentary
7 months after original review
I still can't use this, I suppose I didn't really expect that to change. However it's been sitting around the house for awhile now, and it's still in really good shape so that is one extra positive thing I say about this.
This product was provided free of charge to the reviewer. This review is in compliance with the FTC guidelines.

Thank you for viewing
Rally ring enhancers racer
– cock ring review page!