Like stockings for your butt - just watch those nails!
These have quickly become one of the sexiest pairs of trunks that I own. They're revealing without being over the top and the front panel lets you retain a little modesty. Just be careful not to snag them and these should spice up any man's underwear drawer.
Published:
Pros:
Sexy; Comfortable; Sheer; Airy
Cons:
Could snag easily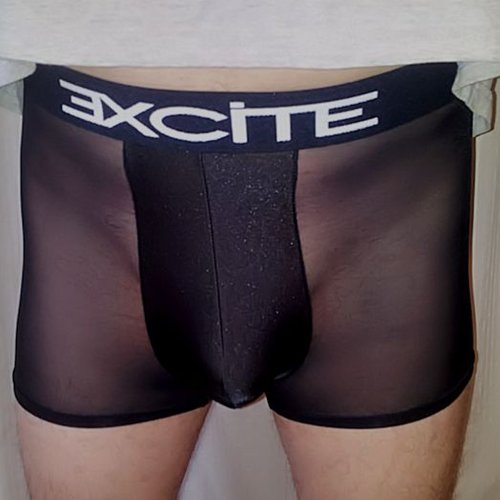 What a difference a day makes! 24 hours after our
Naughty People Boxers
review goes up, the latest offering from Fantasy Lingerie arrived on my doorstep today and I couldn't wait to try them on. This is my third pair of boxers from this maker (second if you consider that the previous
Striped Mesh
pairs were the same, just different colours) and I'm definitely not disappointed.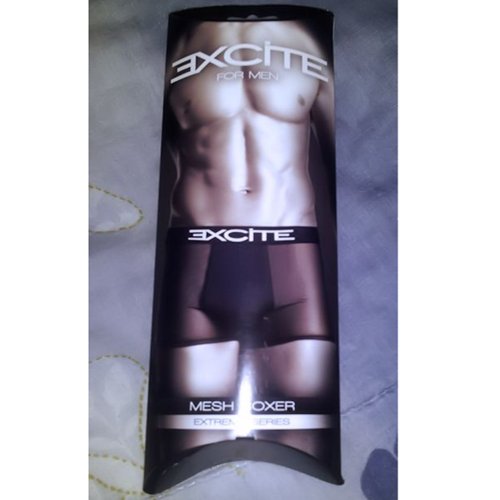 Nice package - yes I'm talking to you, Mr Cardboard box!
Packaging is very similar to their other offerings, featuring the body of a man who doesn't exist in real life (at least that's what I like to tell myself) wearing the very briefs that were soon to be on my eager body. Would I look like that? Never in a million years, but I was still excited. Hmmm, I wonder if that's why the word 'Excite' adorns the waistband in big white letters? I have to say that I really like this packaging. It's one of those little psychological things that eases the pain of spending this kind of money on a pair of underwear.
After my last attempt at throwing the Naughty People boxers into the washing machine, I paid special attention to the care label on these shorts. They're made from 90% Polyester and 10% Spandex and should be hand washed (with non-chlorine bleach if necessary) and drip dried. Frankly, you don't want to mess around with these. They're not so delicate that they'll fall apart just from wearing them but they do have the feel of a nice pair of stockings, so if you snag them on something then you're going to have an expensive rag on your hands.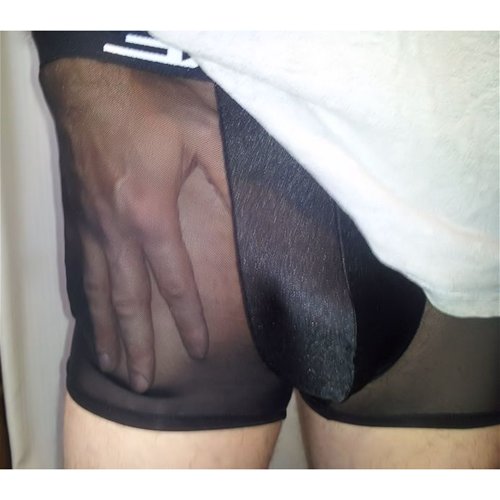 So this is what was under Al Bundy's jeans all along!
Once on, I didn't want to take them off. These things feel great. They're a little long in the leg but that's something I like and although it's hardly a breathable material on paper, the mesh means that air circulates really well which I found to be a little unusual for a pair of tight-fitting trunks. Notice that I keep referring to these as trunks despite them being listed as boxers. That's because boxers to me tend to be a little shorter and not as form-fitting.
Although these are sold as One-Size (O/S) which generally tend to work for my body size of 6' tall, 180lb, 32"ish waist, I took the following measurements:
Waistband: 13 1/8" relaxed, (can stretch to 16" but probably wouldn't be very pretty)
Leg: 8" from bottom of waistband directly down to bottom of leg measuring down the front of the thigh. I'm of 'average' size and found that the pouch on the front left a fair amount of room for growth. Bigger guys should have no problem fitting your package into these.
Here's the sizing chart from Fantasy Lingerie's own site. From my experience, these measurements are spot on. If you find it difficult to read, it states that O/S underwear is for waist sizes 32"-36"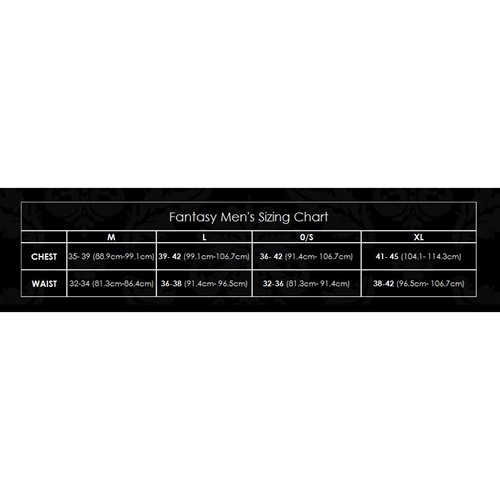 There's a little stretch in the body of these trunks but not a hell of a lot. Once again a stocking comparison is probably in order. The more you stretch these, the more sheer they're going to be and the more vulnerable to tears or ladders (this may be the very first time I've been concerned about laddering my underwear!)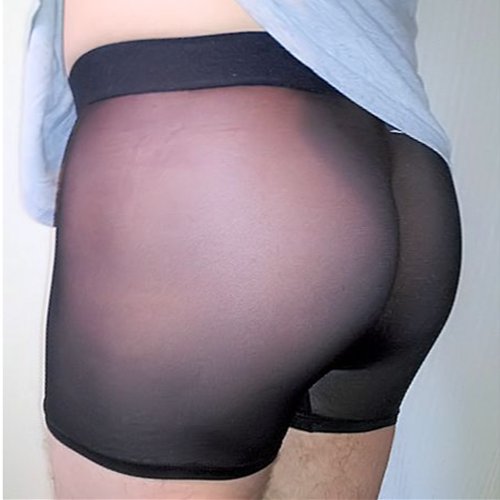 Ohhh - NOW I finally get that pantyhose/tights fetish thing!
Experience
I've previously owned one similar pair of trunks to these, bought by my wife when we first met. I can tell you from that experience that care should be taken when putting these on, taking them off and if you need to pee. I know that sounds really bizarre but what I found was that my old trunks eventually got a quarter-sized hole right under the waistband where my thumb would hook in for all of the previous actions. It was probably my own fault since those were so comfortable I wanted to wear them more often than I probably should have, and could see this happening here too. For that reason, these probably wouldn't make good 'every day' undies even though you might want to wear them all the time.
Follow-up commentary
2 months after original review
These haven't exactly been a 'go-to' pair of trunks but are holding up well. Two months on and there's luckily been no snags, tears, ladders (!) or other signs of wear and tear although to be honest they've only been worn about 5 times. And while these cost around the same as most other male undies here on EF, I have to say that the price is probably worth it since you can't easily get anything like these at your local Wal-Mart or anywhere. So with Christmas coming up, I'd definitely recommend these as either a gift to yourself or the man in your life :)
This content is the opinion of the submitting contributor and is not endorsed by EdenFantasys.com

Thank you for viewing
Mesh boxer with logo waistband
– briefs review page!