Cute and comfy - Definitely! Sexy? Not so much.
While these are extremely comfortable (there's that word again!), they're really maybe worth half the price. Not because they're not nice and well made, more because the only thing they offer over any other pair of cotton briefs is the printed design. And I'm really not convinced that a cute design on a pair of underwear is worth doubling the price.
Published:
Pros:
Comfortable; Fun; Original design; Can be worn all day, any day. Did I mention comfortable?
Cons:
Expensive for what they are; Can't wear them around the kids!
If you've tried shopping for men's underwear either here on EF or on any other adult shopping site, you'll have noticed that the words 'Sexy' and 'Men's Underwear' don't often go hand in hand. The Naughty People Boxers don't really try to fall into the sexy category, which is just as well because the best word for these is 'Cute', followed closely by 'Fun'. I'll be honest and say that after reading the other reviews and descriptions of these cheeky shorts, I was expecting something perhaps a little sexier, but these are really not much more than a regular pair of cotton trunks with a naughty (and entertainingly original) pattern.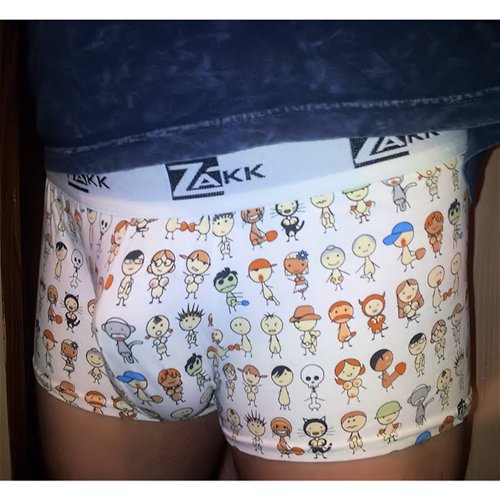 The timeless joy of wearing underwear that features people with bigger naughty bits than you
Sure, you can get the type of underwear that you can shove dollar bills into and the occasional piece that's sexy but not over-the-top, but sometimes we fellas would like something comfortable we can wear all day long. Well, what's more comfortable against your skin for hours on end than good old cotton (well, a 50/50 blend of Cotton and Polyester if you want to be pedantic)? These briefs by Coquette have comfort all over, from the stretch waistband that doesn't dig in to the actual fabric itself. I imagine that these would be great to wear at any time of year. They're working well right now in the middle of a heatwave on the East Coast USA and would doubtless be just as comfortable under a pair of jeans in the middle of winter. Speaking of the fabric, the attached label states that these should be handwashed only and hang dried. Being a fairly typical man, I didn't read the label and machine washed them cold then threw them in the clothes dryer and they were perfectly fine. I'm not saying that's what you should do, just that mistakenly doing so didn't kill them.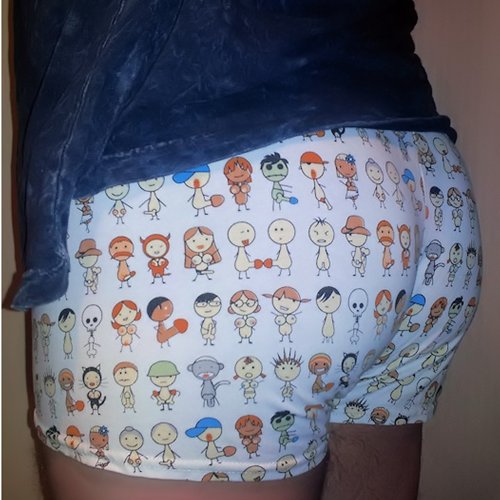 I'm thinking I should change my eHarmony Profile pic.
So why isn't this a 5 star review I hear you asking? Well because of the price and fit I reply. Maybe I've been spoiled by recently buying men's underwear that has some spandex and stretch to it, but I was really hoping for something with more of a snug fit. While that's not the manufacturer's fault, this is yet another product that just doesn't fit quite like the pictures suggest it might, and oddly enough they even look tighter in my pics than they actually are. I'm about a 32"-34" waist and ordered the Large but in hindsight I think I could have maybe got away with Medium.
Right from the start these felt incredibly comfortable and that's both a good and a bad thing for me. Good for obvious reasons - you don't want underwear that's not comfortable (well, not outside of BDSM, but that's another story). But I really didn't bank on buying an almost $20 pair of men's shorts that felt like I'd been wearing them for years. So here's the dilemma: do you want something that feels nice and new or something that feels like it's been an old faithful? Right now I'm torn, but in the meantime I think I'll order another pair just in case I run out of really comfortable undies :)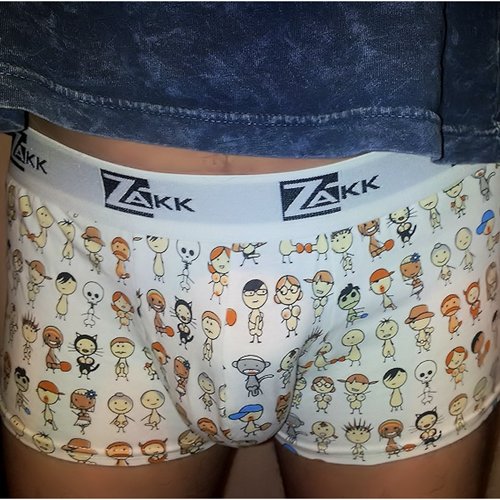 I was hoping for a pouch. I got a suitcase.
Experience
As most of you will doubtless know, it's easy to find women's underwear. Whether you're looking for something sexy, flirty, funny, comfortable or any combination of the above, the chances are you'll find something for you or your girl with just a few mouse clicks. What's not so easy is finding something similar for men although EF are making some nice little in-roads lately - thank you guys. So although I'd recently picked up some of the sexier men's offerings here (most recently the
Striped Mesh Boxer
), I was still looking for something that would work as sexy everyday underwear. Although I wouldn't call these sexy, they're still cute, and my wife had fun turning me around and checking out the little characters dotted around the place.
The only problem is that we've got a toddler who's used to seeing us walking around the home at night in our underwear. I've had to learn to throw on a pair of pyjama pants if I need to get up and check on her since she'd be the first to stop and point out that the little people on my shorts have got no clothes on!
Follow-up commentary
2 months after original review
I still like these shorts and they're maybe getting a little more comfortable with more washing & wearing. The downside with the increased comfort is that they feel even less sexy than they did in the first place. They were never particularly clingy to begin with, but they're getting much more of a cotton feel to them, meaning that they're feeling a tiny bit looser. The novelty of the design has pretty much worn off now though since my wife and I are both used to them. Now when I wear them I just get a reaction of "Cute" rather than "Ooooh" and once you've worked your way around the little cartoon characters once there's really no reason to go exploring them again. I'd still recommend them though, you just might want to pick them up when EF has one of their many sales.

Oh and my wife's worn these once or twice as a bit of fun and finds them very comfortable too (although they're a little too big for her). She doesn't like them enough for me to send for her own pair but they're still something that might appeal to both men and women as comfortable 'lounge around' shorts.
This content is the opinion of the submitting contributor and is not endorsed by EdenFantasys.com

Thank you for viewing
Naughty people boxer brief
– briefs review page!