"Naughty People Boxer Brief" are comfortable, and make your man's jewels look extra yummy!
The "Naughty People Boxer Brief" underwear are super sexy, and make my man's jewels look extra yummy. These underwear are actually comfortable, and can be worn as lingerie or for every day ware. The print is hilarious, and reminds me of a South Park type of cartoon stick figures. This would make for an awesome gift for your man, or you can steal them and wear them yourself!
Published:
Pros:
Sexy, comfortable, good for every day wear, fun print.
Cons:
No opening in crotch region for peeing, can shrink if accidentally placed in the dryer.
Use
Are you looking for a fun pair of every day boxer briefs? Well, the Naughty People Boxer Brief by
Coquette
, is just that! They're super sexy on, whether your man wears it, or you. They're stretchy, and made for every day wear. The "Naughty People" print adds a little fun to these every day, comfortable boxer briefs. These can be worn as men's lingerie, or for regular every day wear. These boxers will make your man's package look extra yummy! (Yes, I had to add extra photos of the model wearing these boxers, as they just look so yummy and sexy!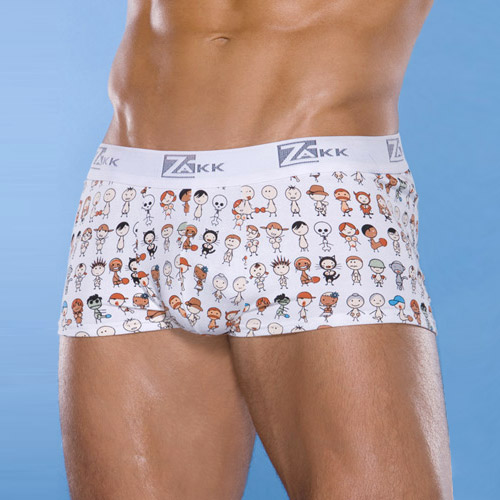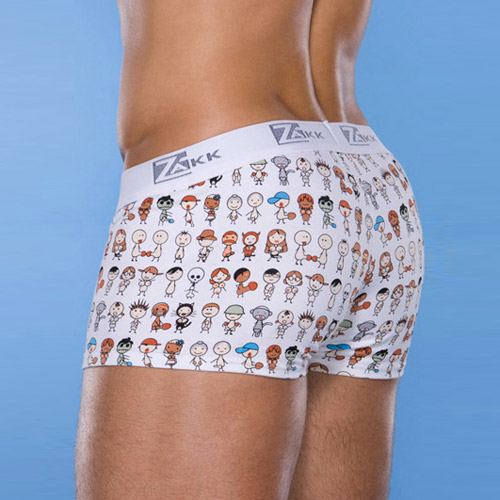 Design / Craftsmanship / Material / Size / Fit
There are three labels on the Naughty People Boxer Brief underwear: The Logo tag that says the brand "ZAKK Menswear", the size label, and the Coquette fabric label with washing instructions. The label states that the boxers are 50% cotton, and 50% polyester, and was made in China.
Starting from the top of the boxers at the elastic, it measures 1.5" in height, and 16" in length from left to right, and 32" around. With that said, this is a size large, which equals 32" in the waist. The elastic is white and grey in color, and has the name "ZAKK" in black and white all over (9 x's). The elastic is quite firm, yet stretchy, and is fairly soft against the skin.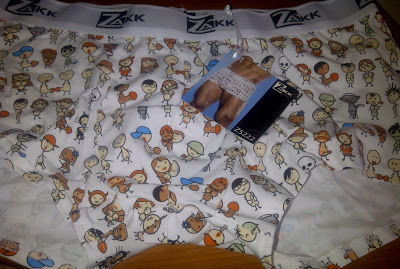 From below the elastic is the cute "Naughty People" printed fabric, which have a bunch of naked cartoon people. The cartoons kind of remind me of South Park, as they're naughty in nature, doing naughty things, and very simple stick people type of art. The background of the patter in solid white, whereas the cartoon people are all skin tones, and in many different colors. Measuring from below the elastic to the inseam it's 8" in length. The crotch region is sewn to add a little extra room for your man's jewels, however, there is no opening or pocket to help when it comes to going to the washroom. With that said, he would have to pull them down in order to pee, but is doable. The length of the leg portion from below the elastic, is 7" in length.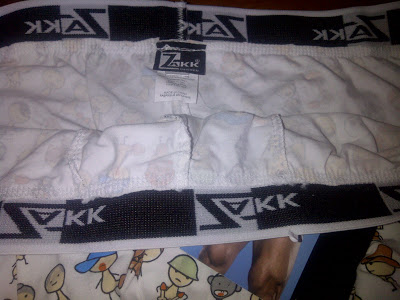 The inside of the boxer briefs have no lining, so the seams will be directly against your skin. If you find that they're stiff, that will disappear after a few washing. You may also find that you would want to remove the inside tags, as they tend to get a little itchy for some.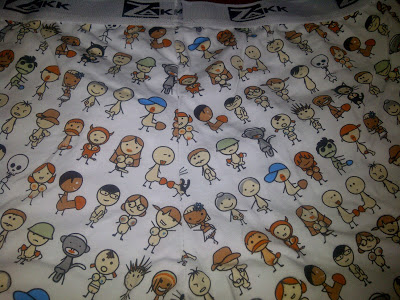 Care and Maintenance
This item you will want to wash by hand in cool water, and use a detergent that is mild. I personally like to use zero for my lingerie. You will also want this item to air dry. Even though this item doesn't look very delicate in nature, you will not want to toss this in the dryer, as it would shrink. I find that you could toss this in the washer, but be very careful in doing so, as it should really only be with delicate clothing and light colors.
Packaging
The boxer briefs came on a clear hanger that had the Coquette logo in the middle. The hanger has a groove on top at both ends, to help hold the lingerie in place. Everything came wrapped in clear plastic and was sealed. The original cardboard Coquette product tag came pinned to the lingerie. The product tag had photos of a model wearing the lingerie, with only the front view. The label also has "ZAKK Men's Wear" printed on it. On the label it had the washing instructions stating to hand wash the item. The washing instructions are little pictures, one is a washing machine with an "X" through it. Excellent presentation when it comes to the packaging.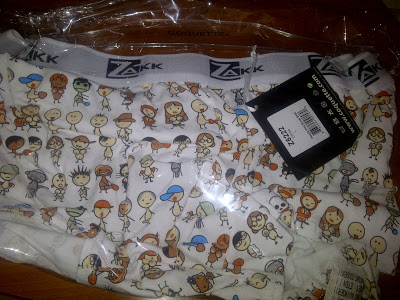 Experience
I purchased these boxer briefs as a gift for my fiance, and I have to say that they look and feel great. He has not tried them on yet, as they are a Christmas gift, however, I tried them on myself. They are super comfortable, and look awesome on. With that said, either male or female could wear these. There's a little extra room in the crotch area for his jewels, so for the petite sized woman, they may be a little big in that area. I personally like stealing my man's boxers and wearing them around the house, and these will be one of them.
If you find that the seams are a little stiff, wash them a couple times and they get softer and more comfortable. I personally didn't find them annoying, but for my fiance I know he doesn't like boxers until they're washed a few times to break them in.
These are excellent quality, and if you're a woman thinking of purchasing them, they would look great matched with the
Naughty People Chemise
.
Follow-up commentary
26 days after original review
My fiance received these boxer briefs for Christmas this year, and I must say that they look super sexy on. I've heard no complaints from him wearing them, and they hold up well to multiple washing. These underwear are excellent quality, and look super cute and sexy on. I like to steal them, and pair it with the Naughty People chemise!
This product was provided at a discounted price in exchange for an unbiased review. This review is in compliance with the FTC guidelines.

Thank you for viewing
Naughty people boxer brief
– briefs review page!