Not just for beginners!
The Beginner C-sling from Tantus is a great cock ring for those new to cock and ball rings. The size is great for those less experienced with putting on rings around the whole package while still providing a decent amount of restriction. The perineum simulator works well for some extra stimuli during solo time or sex and overall makes the package look bigger.
Published:
Pros:
Comfy, Silicone, Perineum simulator,
Cons:
Seam.
"Beginner C-sling" just from the sounds of the name you might think that this will only be a good cock ring for those with less experience, so not true. After 20 some odd years of cock ring use, I found this C-sling to be a joy to wear and stimulating to use.
Aside from all the benefits a good cock and balls C-ring should have, you also get an extra bonus of having a perineum simulator as well. Even better is that this ring is sized to make it easy to put on, sure it may not be the best at providing lots of restriction but that just means you can wear it for a longer period of time. Because of this, if you are below average in girth you may need to look at something smaller if sustaining an erection is needed.
This ring is designed to go around the "Whole package", of course if you have a 2" diameter cock this ring could be worn around the shaft too. Overall the ring is 2 7/8" across making the ring 1/2" thick with an inside diameter of 1 7/8". The ring will take up 5/8" of shaft length. The perineum section is 2 3/4" long and starts from about half way down the side of the ring.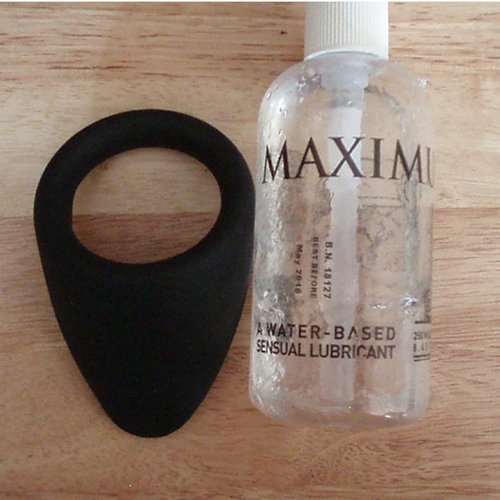 Tantus has used a wonderful matte finished silicone for this ring, this gives a bit of drag so lubing up before putting it on is pretty much mandatory. Water based lube works great although depending on how long you wear it you may need to put a few drops of water or reapply the lube to keep from pulling skin or hairs. If possible, an oil based lube here will work better. The silicone is of medium density so it does have some stretch but not quite enough to put the ring on when fully erect.
One thing that really surprised me is a seam that runs around the inside of the ring and along the outside as well. This marks a first for Tantus; I have never had to deal with a seam on any of my Tantus toys. It cannot be felt during use but still, shame on you Tantus.
Placing the ring onto the penis can be done one of two ways; push the balls through first and then the penis or penis first then the balls. Apply lube to the ring and your package first to make it easier. Removing the ring after your erection has gone down is the easiest way for sure.
There are few ways this ring can be worn; the standard way is to place the triangular shaped section so that it applies some pressure to the perineum. You could also reverse it so that it 'cups' the balls and it may provide some anal stimulation to your partner. Another way might be to put the perineum section towards the top so that it stimulates the clitoris or possibly increases your girth at the base of the penis. The later is something we did not try, the silicone is quite firm and I was worried it may cause more pain than pleasure.
Care for the Beginner C-sling is pretty easy; wash with warm water and mild or antibacterial soap, toy cleaners, boiling for a few minutes or a 10% bleach solution. Storage can be done in a zip top bag, the original packaging or just tossed in a drawer. If you go with the drawer option make sure it does not come in contact with dissimilar materials.
Tantus send the ring is a clam shell type plastic container; it has the ring proudly displayed on the front and useful info on the back such as descriptions about the material and instructions on how to put it on.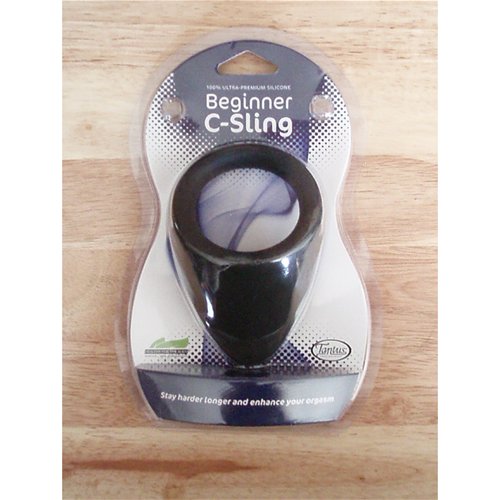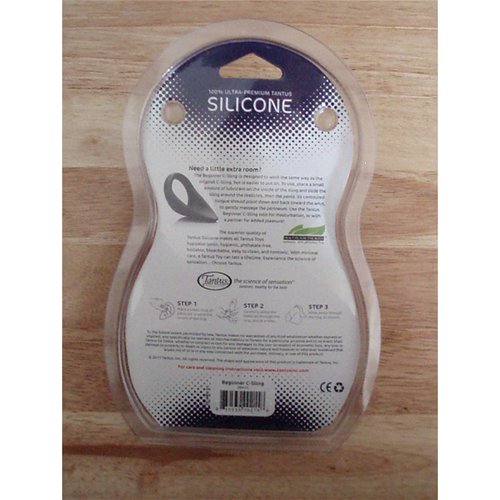 Experience
This sling may well be my new favorite C-ring, I love how comfortable it is to wear, the perfect amount of restriction and extra stimulation to my perineum is wonderful too. I can wear it around the house before sex to surprise the wife or just to make my package look bigger through my pants.

I am bummed about the seam but that is not really a big deal as it does not affect performance. I just hate when companies do not take the time to trim them or spend a few extra bucks for a better quality mold. I guess for the price it may be too much to ask but coming from Tantus I expected more.

In conclusion, if the size is right for you this will make a nice addition to your cock ring collection. Great for those new to cock and ball rings due to the size and more experienced users will enjoy it too.
This product was provided free of charge to the reviewer. This review is in compliance with the FTC guidelines.

Thank you for viewing
Beginner C-sling
– sex toy review page!