Numbs!
This really does work to prolong erections, just make sure that you let the balm absorb in to the male before using the erection. It also works great to desensitize for inserting large anal toys.
Published:
Pros:
It Works
Numbing
Smells good
Cons:
Taste
Shunga Exotic Arts sensations balm
Blazing Cherry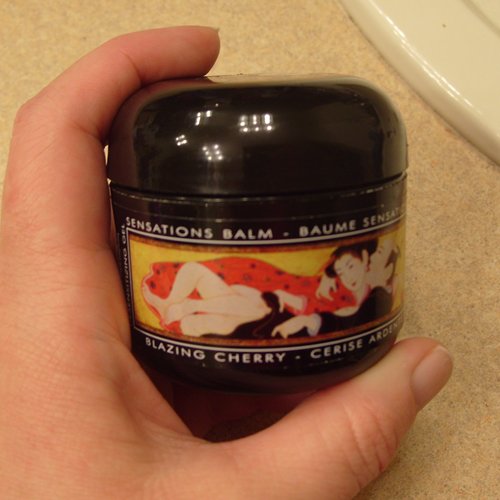 Use
This is used to help desensitize the man's penis for extra play time. It is best used when the penis is mostly erect and rubbed into the head and shaft of the penis. The benzocaine in the balm is the desensitizing agent and it really does work in this balm. Be sure to let it absorb into the penis before you use the penis or both partners may end up becoming numb. Also let it absorb before giving any oral services or you will numb your throat. This one numbs so well that I would use it for a sore throat! The numbing of the penis is to increase the time of play before the dang thing goes off!
This also works very well as a desensitizer for anal play if you experience discomfort and want to get yourself used to anal this may help. It also helps to try to get larger sized anal toys into place.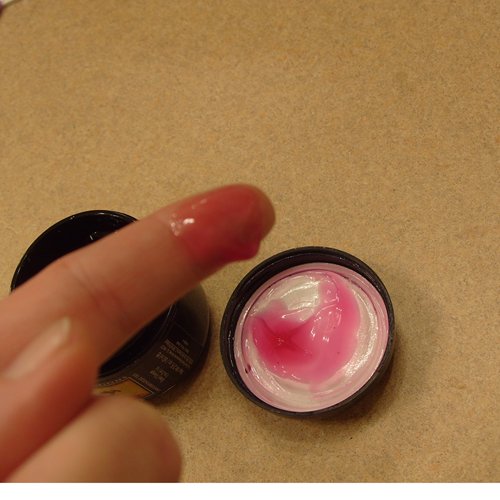 Viscosity/Consistency
The balm is about the consistency of a warm jelly. It is slightly sticky but that goes away without the sensation of having to clean up. It is absorbed into the skin nicely with only a slight residue remaining. When you dip your finger into the jar the balm will stay on your finger, it doesn't drip. It also doesn't run.
Performance
This balm really does work, It numbs the penis allowing the user to maintain the erection longer. Only a small amount is needed to achieve it's purpose a dab about the size of a pea will work on the head and starting down the penis. We were able to prolong our lovemaking session for at least another 10 minutes or so. ( I couldn't tell him I kept peeking at the clock!!)
Taste/Aroma
As it does taste bad it tastes better than the sta-hard version of the numbing agents, I would not say that it tastes good and it does numb my tongue from placing a fingertip in the jar and then on my tongue. It smells good like a strong cherry medication. The benzocaine doesn't taste good in any products.
Ingredients
The main ingredient is benzocaine 7.5 % which is pretty standard percentage of numbing agent in this type of product. It is the same amount in the cherry sta-hard. Benzocaine is also included in several over the counter sore throat products.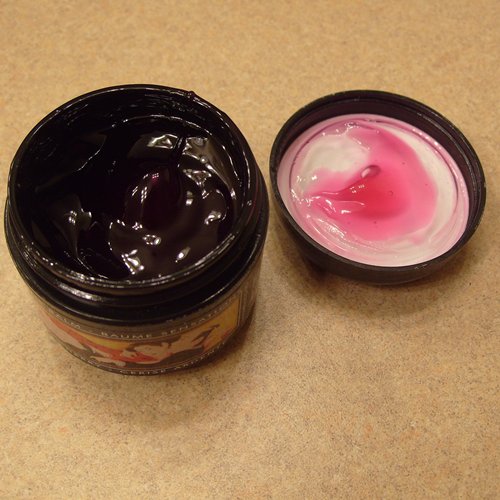 Inactive Ingredients
Water
PEG 8
Glycerine
Propylene Glycol
Flavor
Triethonolamine
Carbomer
Propyl paraben
Sucralose
F D & C Red # 33 and 40.
Methyl Paraben
A note on Parabens: The Parabens are commonly found in most cosmetics, shampoo's, lubes, toothpaste. Parabens are man made preservatives. They are used to fight bacterial and fungus. Parabens can mimic the hormone estrogen, which is known to contribute to the development of breast cancers. According to the FDA's web site "Parabens are safe as used in cosmetics, They are safe in levels of up to 25%, Typically parabens are used at levels ranging from 0.01 to 0.3%".
Glycerine is a sugar and may cause some women to develop UTI's and Yeast infections. If you are allergic to any of the ingredients be sure to not use it.
Packaging
The balm comes in a 2 ounce jar. It has a clear plastic overlay over the balm so it doesn't spill out when you open the lid. The jar is black in color and the shunga logo is on the front of it. It really isn't discreet.
Follow-up commentary
2 months after original review
This one really isn't doing it for us, It worked well initially but then it failed. It does work great for rubbing on tooth aches though. The taste is actually not bad.
This content is the opinion of the submitting contributor and is not endorsed by EdenFantasys.com

Thank you for viewing
Sensations balm
– cream review page!