One Hit Wonder
The toy is only for one use -- something for a special occasion, maybe. It gets the job done, and then it's done. The vibrations are quieter than most, but it should be bigger. It's not the most exciting toy in the world, but when you get it for free with your order, how can you complain?
Published:
Pros:
Lasts 30 minutes, pretty, discreet, small
Cons:
Not powerful enough, one time use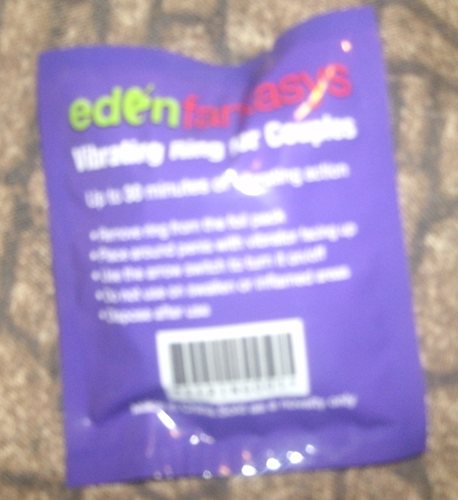 I like that this toy is stretchy, and that it vibrates. It worked great the first time around, but once ya pull it off, ya might as well trash it with the condom. It twists up or breaks after much wear. For a one or two uses, it works pretty well. There is no smell. I have not tasted it, so I am not sure, but I wouldn't think it would have much of a taste. It was pretty quiet; much more quiet than most cock rings that we have used before. This one is much smaller, though, and it has a lot less power. We didn't put it on any dildos or anything; as the title says, we only could use it once, with comfort and sterilization.
It is made of
TPR Silicone
. TPR is a silicone base rubber compound and should only be used with water-based lubricant. Toys manufactured from TPR Silicone should be cleaned before and after each use with the warm water and antibacterial toy cleaner or mild soap. I am not sure if this toy is safe for boiling or putting in the dishwasher, but if it is, I would love for someone to comment on that for me. Please let me know, so that I may add that into my follow up review.
Be careful which toys you store the ring with; some materials may stick together. Store it in a cool, clean, dry place.
This toy is very small and discreet. It could be taken anywhere, and it doesn't make a lot of noise. I would give it one bee while during sex, and one bee and a half otherwise (I know they don't make those!).
The Vibrating Ring for Couples comes in a small, plastic package. It is purple on one side and clear on the other, so you can see the toy. The purple side has the Eden logo and the name of the toy. It also says it lasts for up to 30 minutes. There are step-by-step instruction on how to apply it, as well.
The packaging does say to to dispose of the ring after use. If you do decide to keep it, keep in mind that it won't last long because it's not meant to.
The ring is a clear, light purple color, and the vibrating part is a clear, light pink with nubs of all sizes on it.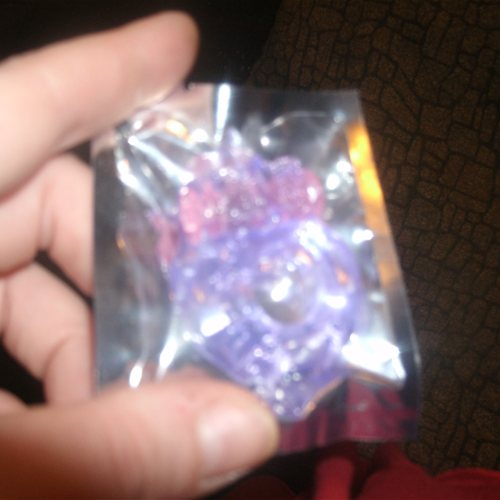 Experience
Sorry about the pictures; the packaging is really shiny, and it was hard to focus on. Also, sorry there aren't more pictures. I had 5 kids in my house for 2 weeks while trying to write 3 reviews, and I couldn't be around them while doing so.
Follow-up commentary
3 days after original review
Not much to say about it now. It was a one-time use item. Probably wouldn't use one again. If I get another free one I will give it to a friend with my code, or something.
This content is the opinion of the submitting contributor and is not endorsed by EdenFantasys.com

Thank you for viewing
EdenFantasys vibrating ring
– sex toy review page!