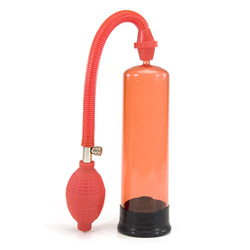 Fireman's pump
Vacuum penis pump
by California Exotic
Pump away brothers!
Increases size tremendously, and gives prolonged arousal, need I say more? sometimes we keep people around for this, but since this toy is less than thirty dollars, I say it's worth having less drama.
Published:
Pros:
Easy to clean! Great suction!
Cons:
Really, it is what it is. It works just fine for me.
This pump is amazing! I am addicted to it. It's even shown up in my dreams, which has been interesting. I am
pumping|Pumping Technique
everything!
I am a transguy and I have been on testosterone for seven months now, so I have a bit of growth. My little guy is about an inch and a half long, but there is a lot of excess skin down there which is very "pumpable." I place the pump only on my guy, lips outside, and pump away. It hurts a little bit, not gonna lie, but what growth! He stands a third of the way up the tube. I stay fully pumped for about 5-8 minutes, let him relax, and I reposition, and repeat about 3 times. After that, I can retain about 60% of the growth. He also remains hard, and stimulated for about an hour. He's big enough to grab my hand around and jack off like a guy, which is quite fun. Also, I like to pump, and then use my
Feeldoe|Feeldoe slim - vibrating double dildo
(also found on EdenFantasys) and I am incredibly aroused. Also, my partner is able to feel me rub against her clit as I am penetrating her with
Mr. Feeldoe
! It is fun times for all! I can't imagine a life without
pumping|Ball Pumping
! It allows me to get off many times in a row. It's almost as if the excitement just stays in the tip of my fella, and can be reworked many times.
In the future, I am researching getting "the release" – the surgery that releases the enlarged clit from the hood – and I hear that pumping helps with the final size result of that surgery. There is a lot of growth while
pumping|Man's guide to Penis Pumps
, it sort of creates a swollen look and the arousal is unbelievable! When I put my clothes on after pumping every step is exciting. I definitely recommend this
penis pump|Fireman's penis pump
! It has great suction, and is very easy to clean! Pump away brothers!
Experience
I have also tried the Fireman's pump on my nipples. I had top surgery in April, and the sensation in my nipples has not yet returned fully, but I find when I lightly pump them, and more blood rushes to them, they are much more sensitive. Also, I want to get my nipples pierced, so pumping them a little helps give them height, and therefore make them more pierce-able.
This product was provided free of charge to the reviewer. This review is in compliance with the FTC guidelines.

Thank you for viewing
Fireman's pump
– vacuum penis pump review page!