Silky, Sheer and Soft Shorty Short Shorts
These boxer shorty shorts are a silky feel good undergarment! They are light, soft and comfortable. The sizing is right on, but the product pictures are misleading. They are not as thick or as long as the photos show. Although the product pictures are an illusion, the boxers overall get 5 stars from us!!
Published:
Pros:
Soft
Comfortable
For Men! Finally!
Easy to Wash
Cons:
Different from Product Photo
Thin Fabric, Sheer
Like I previously stated in my other Men's Boxer Review:
Accent Cotton Blend Brief by Fantasy Lingerie
, my husband gets neglected a lot when it comes to orders from EdenFantasys. I order about 7 things for me, and maybe 1 for him. So recently, I decided to surprise him with a couple new pairs of boxers, including these.
Packaging:
Just your everyday average faceless man body
The Black Knit Silk Panel Short Shorts from Magic Silk come in a simple rectangular box. The box is black with gold accents. There is sizing information, care instructions and of course your typically half naked man with no head featured. He is wearing the short shorts (ever so fabulously may I add!)
The box is not discreet. It is obvious what is inside. The box is just like you would find in the men's undergarment section of any department store.
Made in China.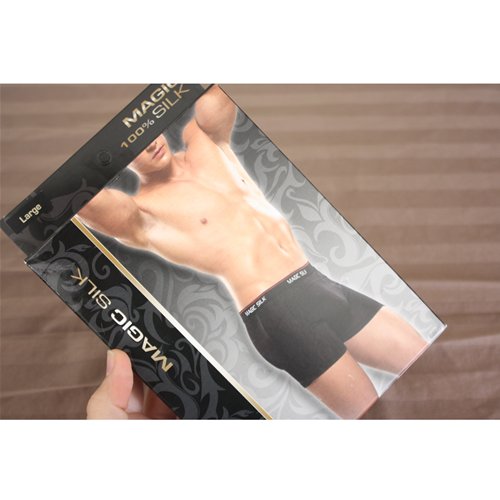 Care/ Maintenance:
Silk Care -Take Care
When washing these short shorts you want to machine wash delicate in cold water only. No bleaching (why would you anyway?) and tumble dry on low heat. The instructions for washing are not typical to the rest of my husband's boxer shorts, so it might be hard for him to remember to do the washing differently when he does his own. But luckily, I am the one that takes care of the laundry most of the time, and hopefully I would not forget since the boxer band says SILK SILK SILK all over it! That is like a red flag to wash more carefully!
Design/Shape/Size:
Sexy Strut
These short shorts come in the colors: black or red.
The sizes available: S, M, L, and XL
The design is simple yet adds a special touch. From the top down - The waist band is about 1 inch thick, stretchy and smooth. It has a red line across the top, has a black background and says "Magic Silk" 5 different times on it in bold white letters.
On the silk shorts themselves, there is double stitching creases on both sides of the shorts. There is additional details of creases on the front and the crotch. The crotch seams (3) allow for the package to protrude a little. This gives what is inside the boxers a bigger look! Yes there are plenty of seams, but have no fear, the seams are comfortable and lay pretty flat.
In term of sizing.. we got the
LARGE
size based on the chart. He weighs about 180lbs and has a nice fit 34-36 waist. Here are the sizes I measured:
Across Top Band: 14" (Stretched 19")
Down the Side: 10" (Stretched 13")
Leg Opening Circumference: 20" (Stretched 26")
Fullest Back/Butt Portion: 19" (Streteched 21")
From Crotch to Bottom: 1/2"
Size Reference from the Company:
Small 28-30
Medium 32-34
Large 36-38
Extra large 40-42
The boxers fit well in the waist and leg openings. But they were very short compared to the model in the photos! He would like an extra inch or so on the in seam.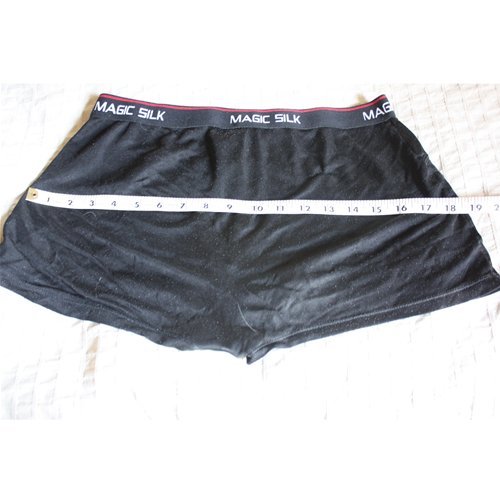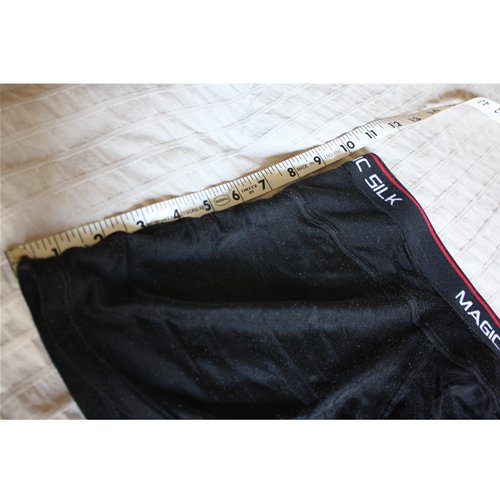 Material/Texture:
So so soft
Material: Silk
Weight: 0.2 lb
The silk is a nice smooth silk. It isn't slippery, it is comfortable. The soft silk material is thin and see through if you are looking close up. Since the fabric is so thin, it might eventually tear easily. These boxers are very breathable and moveable.
The quality of the shorts is - well made. The seams are finished and done. the band is secure and sewn well. The silk is nice and of high quality.
Sheer Fabric: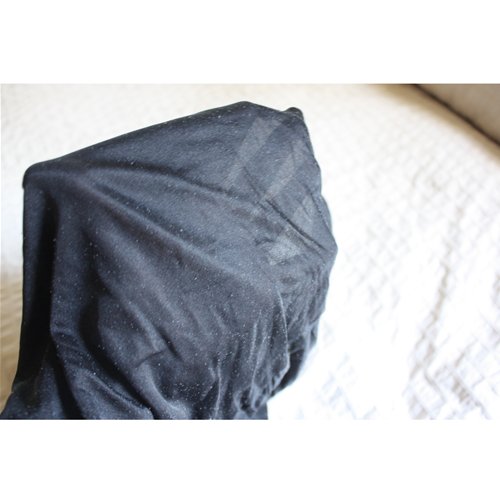 Experience
Personal Experience :
First come, first served
As soon as these come out of the wash and back into the clean underwear drawer, they are the next ones to leave the drawer. My husband loves these silky shorts, chooses them first and wears them often! He picks them over many of his old favorites. His one complaint is he wishes they had a front flap. But then again, when I tell him his package wouldn't look as good, he is quick to re-evaluate!
Conclusion: ★★★★★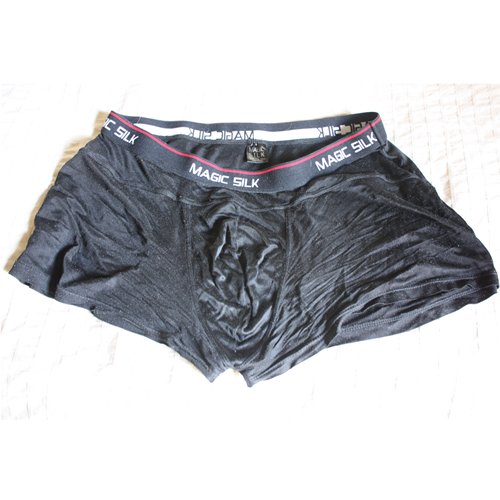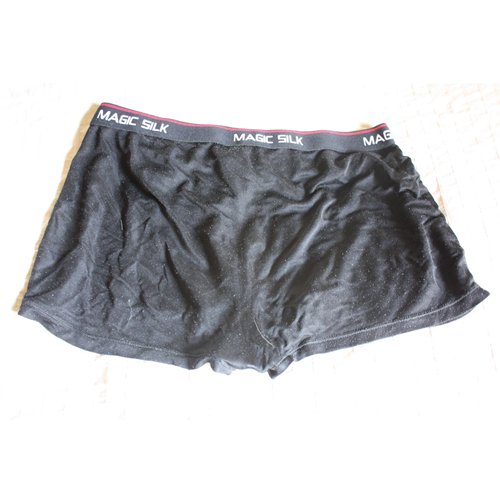 Follow-up commentary
9 months after original review
So, it has been almost a year! How are these holding up? Not great, but pretty close. They get worn about every two weeks and washed in the regular washer and hung to dry. They are not as silky and smooth as they were to start. They also have balled up all over, which I didn't think was possible for this fabric. They aren't as sexy, but they are still just as useful! They are more sheer than originally, it is like they are getting thinner! I guess this is great from summer coming up!
This content is the opinion of the submitting contributor and is not endorsed by EdenFantasys.com

Thank you for viewing
Black knit silk panel short
– shorts review page!