Sophia, your love hurts.
If abrasive entry holes are your kind of pleasure, allow me to introduce you to Ms. Sophia Rossi! If not, you may want to find another lady friend. Although she isn't highly pleasing, she will make a great gag gift and she is very affordable.
Published:
Pros:
Makes a great gag gift
Easy to use
Price
Cons:
Not very pleasing
Kind of creepy looking
Entry holes are kind of abrasive around the edges
Sophia is a lovely lady meant for pleasuring the penis of whatever man is willing to give her a go. Honestly, I wasn't expecting much, but I knew my girlfriend would get a kick out of watching me have a go with Ms. Sophia. I have never had the pleasure (pun intended) of a love doll, though I have experienced many masturbators, so I was excited to see what the difference would be.
Sophia arrives in a colorful retro box proudly displaying all of her features, and also an alluring photo of the woman contained within. The sides and back of the box all display more photos of Sophia Rossi and give information on the material she is made of and the manufacturer. To get to the point: the box is not discreet at all. Everyone will know what is inside even if they don't bother to read the details. On the inside Sophia is nicely folded in a plain plastic bag. There are also instructions (in several languages) and a repair patch just in case you get a little rough with her. Or ya know, drop her on a pin.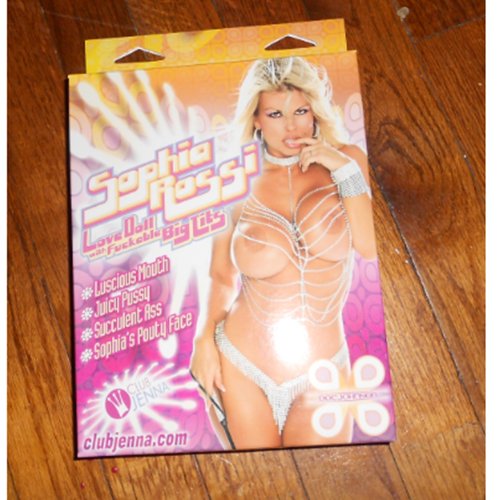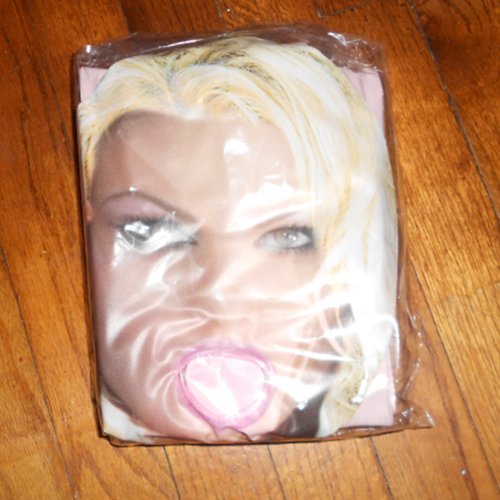 The instructions say to use an air pump, but I didn't have one so I used the good old mouth to nozzle method and Sophia quickly rose to life. I wasn't turned off by the smell, but my new lady friend had a little odor. But hey, if you were made of PVC you would probably smell like a beach ball too! Fully inflated she 'stands' 58 inches tall (and then her legs give out and she falls over). I'm not saying that Sophia Rossi isn't beautiful, because she certainly is, but you wouldn't know it by looking at this love doll. Her face has been painted on, and because her head is so generically shaped and bulbous it distorts her features and gives her an almost creepy look. What I admired most where her breast. They are made of a thicker, more durable, and smoother than the rest of her body. The nipples stand erect, and would be easy to suck on, though I wouldn't suggest biting them unless you plan on doing some repair work on your lady friend.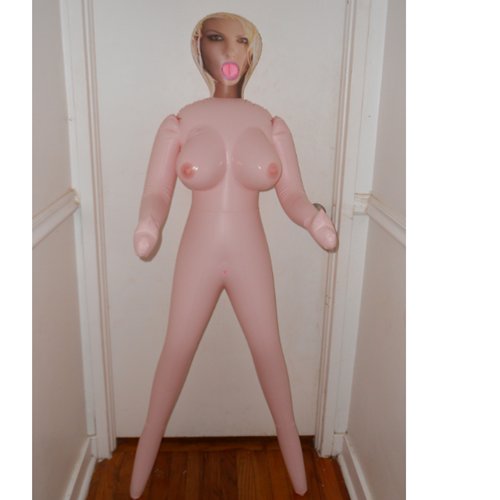 Luscious mouth, juicy pussy, succulent ass, and Sophia's Pouty face! Well, that is what the box claims, but it isn't entirely true. I decided to start with the luscious mouth, and in my excitement I forgot to lube myself up! Sophia just wasn't having any of that though. She wouldn't let me in an inch. Don't make my same mistake, grab your water or silicone based lube and get slippery first! The outside opening of her mouth is about 5 inches in circumference, but it does not have much depth. When inside it has a nice tight feeling and is very smooth. With some time I could have got off using her mouth, but I didn't want to before I was able to test her other 'features'.
Next up was her 'juicy pussy'. As I was in a somewhat slouched sitting position it was hard to get to, because her legs bend, but never in the direction you need them to. Ger legs don't spread and her pussy is in an awkward place. Juicy? Not so much, actually. It was tight enough and again, it was smooth, but not juicy at all. Painful is a word I would have used. Sophia comes with what is called a hygienic seal on both her vagina and her ass that has to be removed. When you remove this seal it creates a rough edge that didn't feel so fantastic on my man meat. Because of the irritating, uncomfortable feeling, I abandoned her painful no-so juicy pussy and flipped her decided to go after her succulent ass. It was the exact same story there, except it was easier to access.
Before removing hygiene seal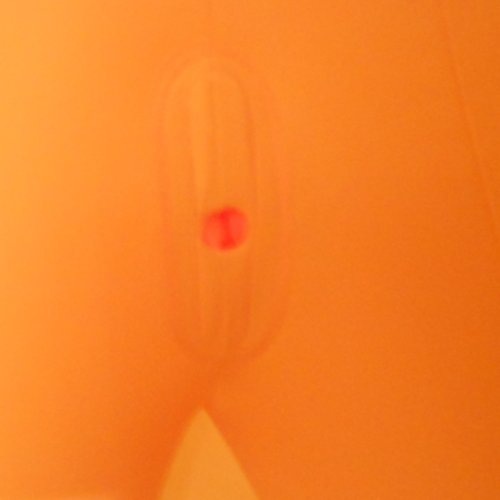 After removing seal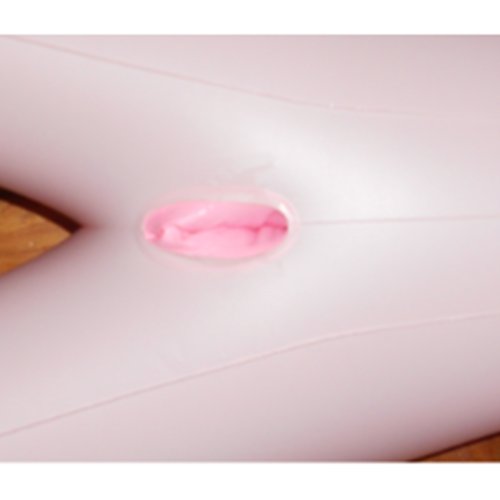 I decided not to finish with Sophia, but I still needed to give her a cleaning. This was even worse than the rough edges. The insides of all three entry points are folded and have creases making it hard to clean and even more hard to dry. I'm really thankful I didn't finish in any of those holes.
Overall Sophia was fun, and as I thought, my girlfriend was very humored by Sophia. As a lover Sophia is willing, but she isn't very kind. For this reason I have decided that we are going to continue as a strictly platonic relationship until further notice. One thing is for sure, for our next pool party Ms. Sophia will be in attendance, since I am lucky enough to have pals that will be able to appreciate her sunning poolside and bikini clad.
This product was provided free of charge to the reviewer. This review is in compliance with the FTC guidelines.

Thank you for viewing
Sophia Rossi love doll
– female love doll review page!