The Life Of An Expensive Whore!
The Fuck Me Silly 2 Mega Masturbator made by Pipedream is exquisite. We named her "Slut" and keep her on our dresser for easy access and use. Slut is very willing and horny all the time. She gets wet and sloppy from lubricant, so we know she is enjoying herself. Slut is a great starter way to get your girlfriend into threesome fantasies with another woman. You can practice going down on her and strap-on sex as well. She is worth every penny, but she is a very expensive whore.
Published:
Pros:
+ Velvety to the touch
+ Feels Realistic
+ Looks Realistic
+ Makes A Great Fuck Doll
Cons:
- Keeping Her Clean And Sanitized
- Price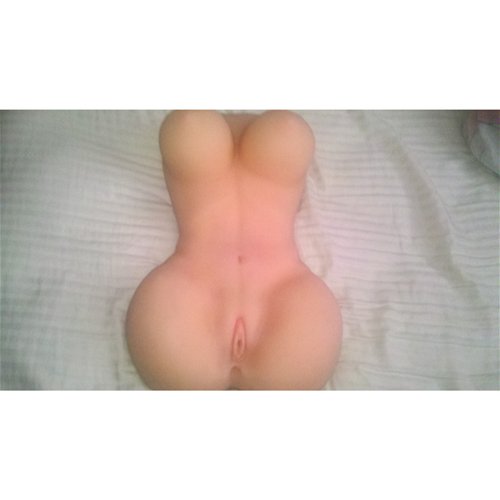 Fuck Me Silly? Yes, Please!
The Fuck Me Silly 2 Mega Masturbator made by Pipedream is such an exquisite piece of sex toy madness for men and women. Do you want to fuck her silly or do you want your partner to pleasure her while you fuck her silly? She is great for threesomes. She is a little quiet but her vagina does make a nice slopping sound when she gets wet. Her breasts make great handle bars for fucking her hard and fast. You don't even need to be careful while fucking her, she loves it all! She loves being fucked in the vagina and the ass! She is willing and waiting to be used for your pleasure. She is the perfect sex doll. She isn't shy at all. She is completely at your disposal day or night. She is always ready for you and she wants you all the time. She sits there and waits for you to get home from work and lays there waiting for you to get some more pleasure later on that night. She makes a man's life very fruitful. She even allows woman to suck on her nipples and lick her vagina clean after being used. You can definitely put on a strap-on as a woman and fuck her too. It is great practice for pegging as well as going down on a woman. She makes life worthwhile.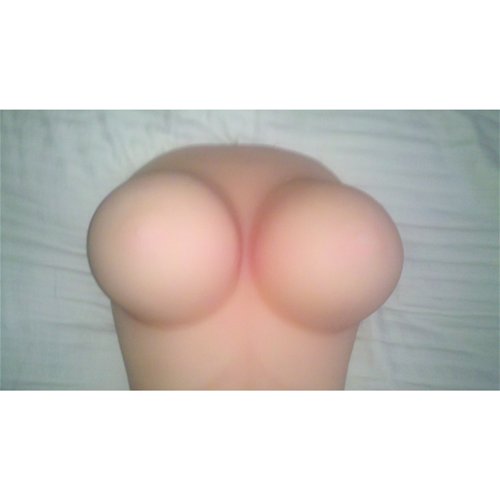 Reason you bought this realistic sex doll..?
She looked so erotic and sexual that I just had to get her for my boyfriend. I got it as a joke at first but as soon as he used her, he was hooked. He loves how she feels and loves how she is quiet. He did get a kick out of the fact that she has no head, arms, or legs. We really should name her.. we are debating her name endlessly. Don't fret though! You can name her whatever you want. Her current name is Slut. We like that so far, but she needs a real name.. unless we just keep calling her Slut. She makes a great cuddle buddy as well because she doesn't squirm. You can just hold onto her and fall asleep. It can be a great present for any man or woman who wants some real quality time with such an amazing girl. She makes the lonely less depressed and makes the horny.. sexually frustrated. When you look at her, you MUST use her. You can't get around it. She needs to be used, and used she will be.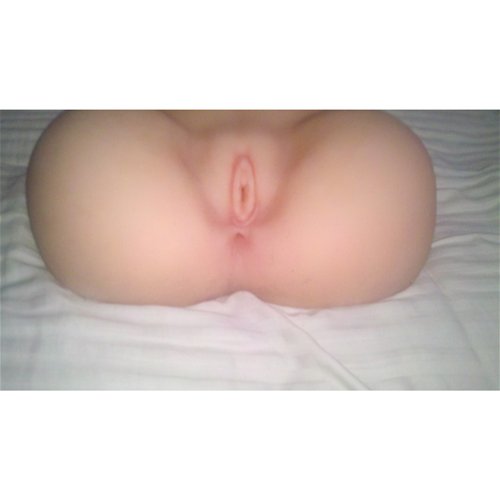 What is she made out of?
She is made out of TPR. She only has a safety rating of 7 on the Eden safety scale, but she is really easy on the eyes.. err.. nipples. TRP is a rubber polymer blend or compound that exhibits a thermoplastic character. TPR has an excellent flexural fatigue resistance and high impact strength. It start out soft and have product added to make them harder. This type of material is ideal for manufacturing a variety of textures.
She has no taste, but does have a slight smell. If you just wash her down the first time before use, the smell goes away completely. She comes with lubricant, toy cleaner, and a "revive" powder.
I really love how she feels from my point of view. From my boyfriend's point of view, he feels that her breasts feel too fake. He likes natural things. He does love how tight her vaginal and anal area is, even though it does get stretched after the first use. He really loves the fact that he can just feel her up and down and she is as quiet as a mouse, but gets sloppy when she gets too wet. You can do many things with her, keep reading and I'll let you know what other kinds of things you can do with this beautiful girl.
What are her measurements?
She is in the color of Beige. She is about 21" in length. She can fit up to 2 and 1/2". Her width is 12". Her height is roughly 6". Her vaginal depth is 7". Her Anal depth is 7". And she is as a while, 12 pounds. Her vaginal opening and her anal opening join together into one hole when you only have a little bit of your cock, dildo, or what have you, inside of her. She is also completely flat on her back.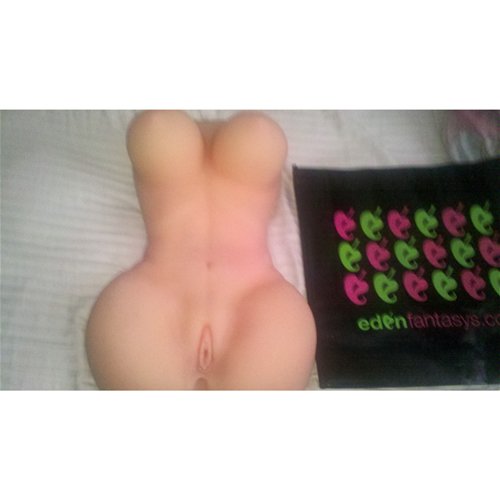 Experience
continued..
How do I clean her?
She is obviously made of TPR. TPR is less porous than cyberskin but more porous than silicone, so we recommend using condoms when sharing. TPR toys cannot be disinfected with boiling water. You can wash them with warm water and toy cleaner or mild soap. You can use silicone and water based lubricant on her.
I personally clean her before and after use for my boyfriend. He isn't much into cleaning, so I keep her nice and clean at all times. There is a hole in the back of her to help clean her out properly. I personally get right in there and scrub her out with warm water and toy cleaner. I dry her completely as well. I always want to keep her in the greatest condition since she was so expensive. It would be such a shame if she came apart or wasn't properly cleaned and maintained well.
What is the most exciting thing that you have done with her?
My boyfriend/Master had all kinds of ideas, we have tried all of them. First off, she was put on my back and she fucked her. It was an interesting and dominating thing that he could do to me. This fuck doll was on my back, and he was fucking her. It was quite erotic, actually. After he did that for awhile, he wanted me to practice eating her out. I had never gone anywhere near another woman's vaginal area, but hey, this was a sex doll, why not? I instantly got horny when I was going down on her and it actually sparked my interest in having another woman in the bedroom (a real one). This is a great starter way to get your woman to want to have a threesome with another woman. It really worked for me. He has me eating her out while he fucked me from behind, and it was a pretty erotic experience. I enjoyed this fully. As for him, he really enjoys using her.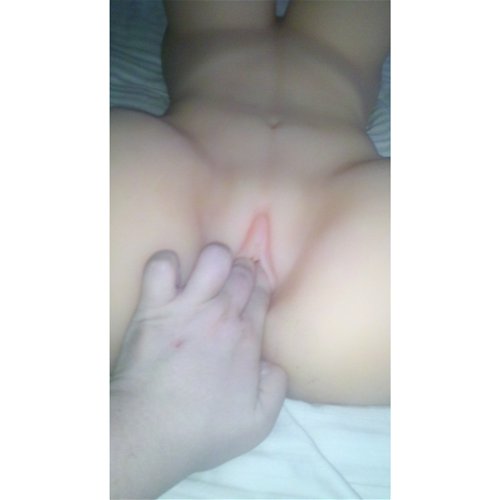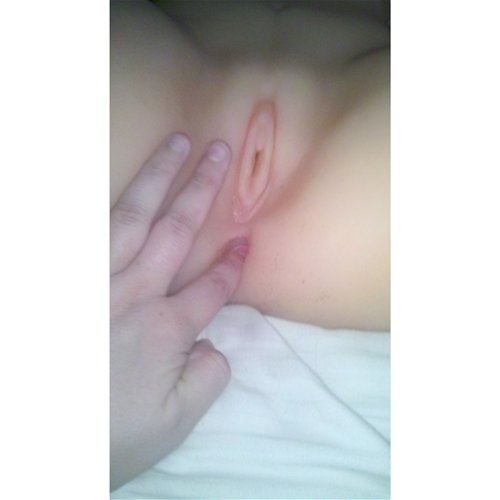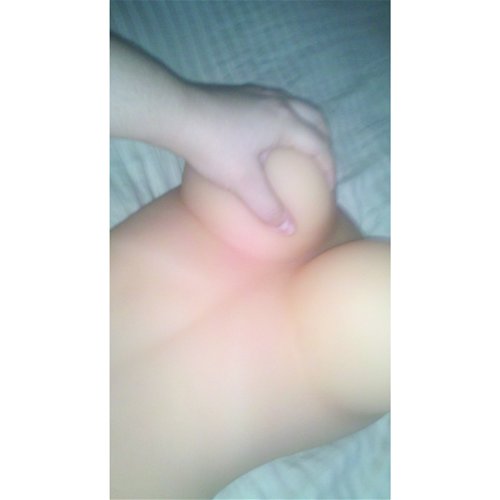 When I'm not in the mood, she is definitely being used. When I have a headache, she is being used. When I have a stomach ache, she is being used. Basically, whenever I am not quite in the mood, she is there to step in for me. How kind of her, huh? What a doll.
In Conclusion..
She is great. She is a little pricey for our taste but she really is worth every single penny. I even got her on sale for 30 percent off. That is winning in my book. My boyfriend enjoys using her, and I enjoy being involved as well. I enjoy watching him use her and he enjoys showing his dominance while using her. I love his dominance being used on me, but it is definitely a turn on when he uses her and not me. Don't get me wrong, I love sex. I just like being "made" to watch and just watch. Kind of a fetish. Overall, she is a keeper. She sits on our dresser, just waiting to be used.
Watch Video To See Her In Action!
This content is the opinion of the submitting contributor and is not endorsed by EdenFantasys.com

Thank you for viewing
Fuck me silly 2 mega masturbator
– realistic vagina review page!