~*A Few Shades of Grey*~
As expected, Sasha doesn't make my "Hot 100" playlist — no surprise since I'm outside of the target audience for this CD. I knew it was a long shot, but I like to try different things. For my purposes — picking up 'dirty talk' tips — the CD is ineffective. However, for anyone who just likes to hear a woman audibly enjoying explicit sex, it's completely worth the $7.
Published:
Pros:
+ Raunchy and explicit detail
+ She sounds like a young woman, not a *little girl*
Cons:
- Sudden jumps in volume level
- Shorter than other CDs in the series
Long before
Fifty
made "Grey" the color of sex, there was Sasha Grey —
porn star
, actress, author, model and
musician
. If you've never seen her…
wrong!
You've seen her, you just didn't know she was a porn star. She's in
American Apparel ads
, an Eminem
video
, a Steven Soderbergh
film
and
Season 7
of HBO's hit show,
Entourage
. Sasha Grey is everywhere, and now she's on your music player.
The
Talk Dirty to Me
audio CD is
60 minutes
(ignore the "over one hour" claim on the box) and divided into
24 tracks
in total. Sasha starts off with a nearly three minute solo masturbation scene, then engages in a blow job and a hand job, followed by PIV and anal sex in the cowgirl, doggie and missionary positions. Some of the tracks are under a minute in length, but the average run-time is between four and five minutes.
Surprisingly, Sasha does significantly less talking than Bree Olson did on
her CD
. The blow job tracks are practically half sex sounds as Sasha sucks away. In other positions, she spends a lot of time gasping and making primal sounds of pleasure — unnecessary chatter is kept to a minimum. Sasha also tends to go at a slower overall pace, but she's likes it rough and I don't detect bad acting. She easily goes from low, studious sucking, to screamingly loud orgasm in seconds. (That's something to consider when setting your volume level — make sure you protect your hearing.)
As far as I know, Zero Tolerance did not release an interactive DVD of Sasha, but
it's my impression that this CD was recorded at the same time as a DVD
. I can't say it with 100% certainty, but I have a hunch…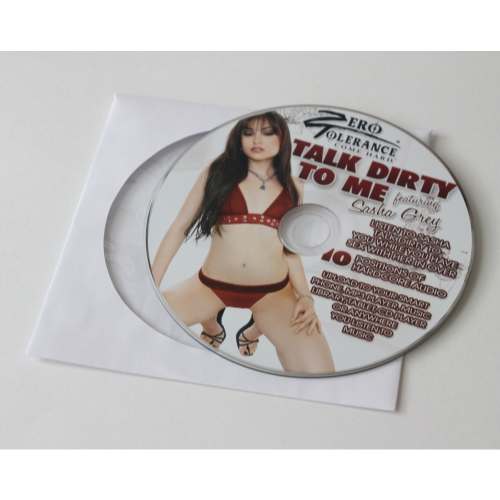 The CD comes in a cardboard box large enough to hold a CD in a hard plastic CD case, but no, they only give you a paper envelope. Check the CD when you take it out because any packaging debris will need to be cleaned off the disc. At least the box is presentation worthy if you plan to gift this.
The disc can easily be transferred to a computer or MP3 player (
instructions for ripping in WMP
,
instructions for importing CDs into iTunes
). There are no weird DRM protections or enhanced content that might mess with your OS. The
CDDB
or iTunes can do a primary tagging job, though you will probably want to go in afterwards to clean up the titles. You will need to find your own cover art since neither Windows Media Player or iTunes can locate it.
Experience
Skip the intro. Really. It's only 20 seconds, but it's delivered in such a bored, dead voice you're likely to turn off your player before reaching track 2. There's enough content here that you don't need to waste time, or hard drive space, on the first track.
I like this CD marginally more than the
Bree Olson one
, probably because Sasha spends a lot of time making sounds, which I find sexier than Bree's constant, high-pitched "Oh Yeah!" Sasha also has a handful of lines that can possibly be adapted for my own use. Another plus is her voice. It's not deep
à la
Kathleen Turner, but she sounds womanly, not like jailbait.
The listener's "cock" is mentioned frequently, so this is definitely geared towards males, though I think a voyeuristic female listener might also enjoy it. The gagging and chocking sounds are off-putting to me, but that's what "fast-forward" and "next" are for.
I think that if I was a male and wanted nothing more than to hear Sasha Grey's voice over my headphones or speakers while pleasuring myself, I would rate this as 5-stars. However, I was looking for material to spice up my own dirty talk, in which case it deserves 1-star because Sasha delivers only one or two lines worth stealing. It earns an extra star because from a voyeuristic standpoint it's enjoyable to listen to, however I think Zero Tolerance missed an opportunity by not including a small CD booklet of Sasha photos.
Talk Dirty to Me with Sasha Grey
is not something I'll play often, but I will leave it on my MP3 player for when the mood strikes me. Meanwhile, I'm going to find out if it has a DVD counterpart. Sasha is smokin' hot, so this is something I might enjoy
watching
.
Follow-up commentary
9 months after original review
"Sorry Sasha, you didn't get me into
the mood
and did absolutely nothing for my husband. Then came the near-embarrassing-iPod-moment with
that other CD from the Talk Dirty series
and…well…you had to be deleted from the player. It's not you, it's me. I'm more of a book person. But thanks for trying! Yours truly, P. Valentine."
This product was provided at a discounted price in exchange for an unbiased review. This review is in compliance with the FTC guidelines.

Thank you for viewing
Talk dirty to me with Sasha Grey
– erotic audio review page!