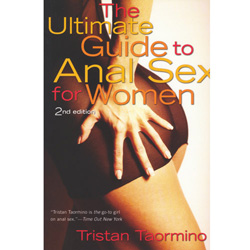 The Ultimate Guide to Anal Sex for Women
Book by Cleis Press Inc.
A Very Good Guide
The Ultimate Guide To Anal Sex For Woman is the ultimate guide for a new explorer to the realm of anal play, providing start to finish advice, tips and info on how to have the best anal sex possible.
Published:
Pros:
An excellent, complete manual for someone newer to anal sex and anal pleasure
Cons:
Lacks in dept information on advanced topics
Tristan Taormino is an anal expert - from her long running PuckerUp.com website to her award winning porn to the buttplug designed by and named after her, she's a huge superstar in the world of ass. Tristan's writing style is punchy, fun, and upbeat...plus it's hard to beat her straightforward and frankness.
This book is designed as a good, solid, complete how-to manual for those curious about anal sex. It starts at the very beginning (assumptions people make about anal sex, and the truth behind them); spends time focusing on anatomy, safer sex, preparation (mental and physical); works through 'the bases' of anal sex (massaging, rimming, fingering, fucking); and ends up on some advanced play including fisting. For someone new to the world of anal sex, this is probably the most perfect book to choose as a guide, and likely the only one you'd ever need.

For someone already well aware of how to prep for an execute anal sex this is perhaps going to be a bit too basic for the most part, with the advanced later sections really holding the meat of the book and being perhaps a bit too basic. For example, fisting is an expert subject; but someone looking for info on anal fisting would be well advised to look for a more specific book - or class - on the subject instead of looking to this book.

I think I would prefer to see a book about anal sex that is not gender specific, per sae, because the ass really is the 'gender neutralizer'. Everyone has one, regardless of gender. Besides, so many of the pieces of advice in this book - safer sex, gentle (/awesome) sex techniques - are going to apply to the asses of any gender. That issue aside, the sex depicted and discussed in the book is delightfully pansexual and broad in scope.
This product was provided free of charge to the reviewer. This review is in compliance with the FTC guidelines.

Thank you for viewing
The Ultimate Guide to Anal Sex for Women
– erotic book review page!