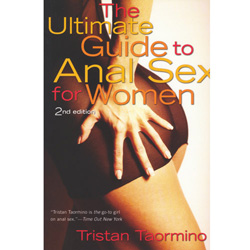 The Ultimate Guide to Anal Sex for Women
Book by Cleis Press Inc.
Bottom's Up
Not only does this guide have very informative knowledge and serious tips, but I found humor in it as well. I really enjoy the guide from front to back. Also with the included illustrations, this book is very easy reading and simple to understand. It is well-made, educational, and written by an expert author.
Published:
Pros:
Informative, Added Humor, Educational, Expert Author, Well-Made, Illustrations
Cons:
None at this time.
This guide has held much praise including comments like, "America's anal sex guru." -Penthouse. Written by Tristan Taormino, "Tristan Taormino is the go-to girl on anal sex," writes Time Out New York. If you have read the first edition, pick the second up! It is packed with even more information and an extended Ask the Anal Adviser section!

Tristan teaches sex and relationship workshops around the world and does private coaching sessions for individuals and couples. If you would like more information on Tristan please visit her website at www.puckerup.com.

The Ultimate Guide to Anal Sex for Women is a comprehensive guide with information on all aspects of anal eroticism and health. It is wrote for all women; heterosexual, lesbian, or bisexual who are eager to learn how to enjoy anal sex solo or with a partner. The book covers the following key points: building trust and communicating your desires, pleasurable anal penetration and how to give and get it, illustrated discussion of anatomy, how to please your man anally, expanded chapters on power play, butt bondage, and fisting, answers to questions on aspects of anal pleasure, helpful tips on safety, preparation, and hygiene, and where to buy sex toys, accessories, and safer sex supplies.

The guide is broken up into 19 chapters.

1. 12 Myths About Anal Sex
2. Our Asses, Ourselves: Anal Anatomy
3. Beyond Our Bodies: Emotional and Psychological Aspects of Anal Eroticism
4. Preparing the Ass for Pleasure
5. Enemas
6. Safer Sex
7. Lubricants
8. Anal Sex Toys
9. Doing it Yourself: Anal Masturbation
10. Let Your Tongue Do the Walking: Analingus
11. Anal Penetration
12. Anal Pleasure for Men
13. BDSM and Anal Play
14. Butt Bondage: Long-Term Butt Plug Wear
15. The Art of Anal Fisting
16. Troubleshooting: Common Problems and Issues
17. Anal Health, Anal Ailments, and STDs
18. The Ultimate Frontier
19. Resource Guide

As you can see from the chapter layout, this book has it all! Anything you would ever want to know about anal sex is in this guide. For me, I found the lubricants, penetration, and Beyond Our Bodies chapters to be the most helpful for myself and my situation. I also got a kick out of the myths chapter. One that stuck was the myth that "only sluts, perverts, and weirdos have anal sex."

The Ultimate Guide to Anal Sex for Women was published in 1997 by Cleis Press. It is a paperback selection that is 9"x 6" and is 200 pages long. The book has solid binding and is very well made. It has a glossy finish on the covers and is decorated with a lovely woman's bottom on the front cover. The print on the covers is a mix up of orange, yellow, white, and red and looks appealing. The book is not discrete but can be concealed with a book cover for public reading. It is written by Tristan Taormino and illustrated by FISH. The book includes an acknowledgments page that the author has written to thank all who supported her and inspired the writing of this guide. Next, there is a contents page that is very clear and easy to follow. The chapters are followed by an index, about the author, and about the illustrator page. Also the back of my book includes an offer from Cleis Press which was 4 books for the price of 1. So there is a nice deal in the back if you are interested.
This product was provided free of charge to the reviewer. This review is in compliance with the FTC guidelines.

Thank you for viewing
The Ultimate Guide to Anal Sex for Women
– book review page!