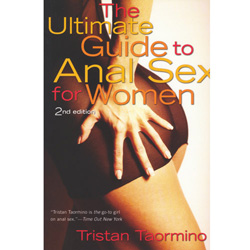 The Ultimate Guide to Anal Sex for Women
Book
by Cleis Press Inc.
Ultimate Guide To Anal Sex for Women
This is great for both beginners and those who are more experienced with anal play. It covers all the basics such as anatomy, safe sex, lubes, preparation, anal toys, etc. in addition to some advanced anal play like fisting, enema play, and more.
Published:
Pros:
Well written. Easy to follow. Humorous.
Cons:
Reads like a textbook sometimes.
Tristan Taormino's easy to read, 220 page
Ultimate Guide to Anal Sex for Women
; 2nd Edition is a book that every woman who wants to enjoy anal sex should have. Unlike many 2nd edition books, this one is a complete revision of the 1st edition featuring many additions such as up to date information, new ideas, and written with a little more experience. You will learn all about anal, your butt, different ways to have anal sex, and some spicy fantasy scenes you can 'take home' all in a sexy informative way.
Unlike Ms. Taormino, who is a sex educator, and self proclaimed addict to anal sex, I suffer from a degree of anxiety around the subject of anal sex. While the idea is nice to me, the act winds up not so pleasant. My two biggest anxiety fears are cleanliness and pain. Not the good kind of pain either. Luckily this book covers those topics as well as numerous others such as difficulty degrees, how to communicate and build trust with your partner, how to properly warm up, and what to do when things don't quite go as planned.
At the introduction Ms. Taormino tells you just how much she enjoys anal sex, how she got into it, and about the conferences and classes she teaches. You are warned first off that anal is not supposed to hurt, not even in the beginning. Which is something I didn't know. You will get to know the author and her dedication to the subject of anal sex enough to follow the advice she gives you.
One thing most guide books that I've come across don't show you, are graphs and pictures. In this guide however you will find both in the anatomy lessons of the anus and rectum. You will see all the great twists and turns of the rectum and the straightness of the vagina. Other labels include where the g-spot and clit is, and the different types of orgasms you can experience and why. You'll feel like you're back in health class, but actually enjoying it.
Since pain and cleanliness are fears of mine I was relieved to see a section dedicated to teaching you the importance of cleanliness, preparation, and safer sex. One sub-section which included different types of enema products and how to go about performing them. This was a relief to read about even though the author (as well as doctors and nurses) tries to give us the comfort and reassurance that fecal matter isn't present in the rectum when not having a bowel movement. I was still thankful for the detail.
Unlike the vagina, the rectum does not self lubricate to give you that natural wetness, so finding the right lubricant is essential. There is a section that goes into how different lubes have felt in her experience and what she recommends for different types of anal play, which includes not only anal sex but anal beads, anal probes, fingering, and fisting as well.
My favorite part of this guide book was the awesome chapter on positions. Doggie-style - which is generally associated with anal sex is my husband's favorite, and my least favorite for anal. I'm not sure why, I've just never liked it. So luckily for me there are other positions that we can try out for better fits and comfort. The one I've found that works really well is the cowgirl position, because then I am in control. If you have a favorite sexual position, it is most likely compatible with anal sex. It also has a section about doing anal play on men and explains the
joys of the prostate.
In conclusion, anal sex can often times be difficult and scary to try, but by the end of Tristan Taormino's `
Ultimate Guide to Anal Sex for Women; 2nd edition
' you will find that not only should you have an easier time enjoying and performing anal sex, but you now have an awesome knowledge of your butt and how to keep it safe.
Follow-up commentary
10 months after original review
This is the book that I recommend to everyone and anyone.The guide really is 'the ultimate'. It's chock full of information and perfect for anyone with apprehensions or curiosity. I cannot recommend it enough.
This product was provided free of charge to the reviewer. This review is in compliance with the FTC guidelines.
Thank you for viewing
The Ultimate Guide to Anal Sex for Women
– book review page!