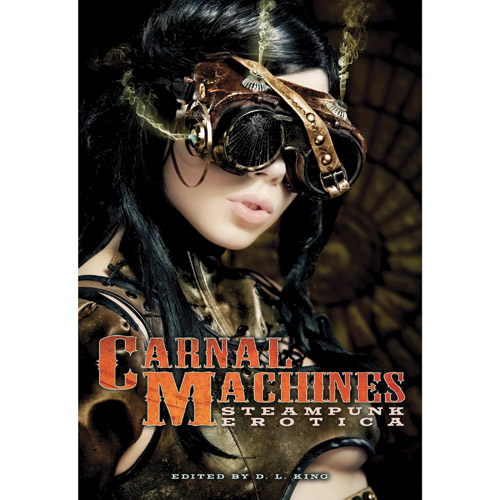 Carnal Machines
Book discontinued
by Cleis Press Inc.
Carnal Machines: 19th Century Steampunk Erotica
I loved this collection of stories! If you love variety in your erotica then you will love this book. All the stories are set in the Victorian era, but the characters are not typical. The main theme of all of them is invention and these author have a wild view of what could have been!
Published:
Pros
Variety in characters and content, Use of sex toys and fantasy, Steamy sex scenes
Imagine a time before sex was mainstream. A long time ago before many of the inventions that allow us the convenience of having our sexuality out in the open. This book is set in the era of inventions and fresh ideas. Some of the fantasy erotica is built upon the idea of milking power from the sexual repressed and the deviant to produce electricity. Some of it is set in imaginary brothels that cater to every kind of kink. The imaginative stories in this collection abound with sexual fantasy.

This is a collection of 14 stories of erotic mechanisms in the 19th century. The clothing and language is of that era. The women, and men, that star in these stories are suave and sexual without being brazen about it. The main characters are so varied; they are prostitutes, scientists, doctors, virgins, brothel owners, ship captains and slaves. They are the privileged and the poor and they all have their desires. The possibilities for this time were limitless and I think the collaborator collected the best of the best. These stories are as varied in their subjects as they are arousing!

The stories and authors in this collection are:

HUMAN POWERED by Teresa Noelle Roberts
THE SERVANT QUESTION by Janine Ashbless
SLEIGHT OF HAND by Renee Michaels
MUTINY ON THE DANIKA BLUE by Poe Von Page
DEVIANT DEVICES by Kannan Feng
THE PERFECT GIRL by Jay Lawrence
DR. MULLALEY'S CURE by Delilah Devlin
HER OWN DEVICES by Lisabet Sarai
LAIR OF THE RED COUNTESS by Kathleen Bradean
INFERNAL MACHINE by Elias A. St.James
DOCTOR WATSON MAKES A HOUSE CALL by Essemoh Teepee
THE TREATMENT by D.L. King
LUCIFER EINSTEIN AND THE CURIOUS CASE OF THE CARNAL CONTRAPTION by Tracey Shellito
THE SUCCUBUS by Elizabeth Schechter

It is hard to pick a favorite from this variety so I will give you a snippet about my three favorites.

In 'Mutiny on the Danika Blue' a new captain is giving orders. The crew now has a new person to take orders from but it is not the man at the wheel at all! The man at wheel wears a butt plug and the lone female on this ship is the Dom in this story of power over power.

'Her Own Devices' is set in Hong Kong. A slave goes to fight for her master's stake in the business as a Westerner is taking over. The night proves sexy and educational as this slave discovers freedom and the secret to the Westerners gender identity.

'Infernal Machine' is the story of two young Russian boys very much in love and lust. One is to be an articifer and the other a nobleman by blood. They happen across a machine of sexual fulfillment and the articifer works hard to get it working again, while wondering if his lover will leave him for his birthright. The articifer ends up bound to the machine, plugged and gagged with artificial cocks until his lover returns with good news.

I really enjoyed these stories. They had a light kink factor and included anal and oral as well as gay and lesbian sex scenes. I really enjoyed each story and there wasn't one that turned me off. I think these stories would appeal to a broad audience of sexual open lovers of adult erotic fiction. I will definitely be re-visiting the stories. They are so far from my reality and steamy hot in their context!
Follow-up commentary
16 months after original review
This book is one of my all time favorite erotic collections. Some of the characters still haunt in my fantasies. This book is very well put together as the stories all have a common theme of steampunk sex and a time when really anything was possible.
This product was provided free of charge to the reviewer. This review is in compliance with the FTC guidelines.
Thank you for viewing
Carnal Machines
– book discontinued review page!